The tide of fashion ebbs and flows season to season, but black + white remain the Rock of Gibraltar of style. That's why we're everlasting proponents of keeping monochromatic and minimalist footwear in our stable of sneakers. They dress up or down with ease, making them ideal to wear when you've got to keep moving, but want to maintain an air of fashionability. Here are 10 of our current favorites, ranging from simple sneaker, to slip-ons, to more futuristic interpretations.
1. Publish Brand x Clae Bradley Mid
SoCal's Publish Brand and Clae paired up to release these suede covered "Night Moves" colorway Bradley Mid sneakers. There's just going to be 500 of these models, available exclusively through Publishbrand.com for $150 on August 4th.
2. NikeLab Benassi Lux Boot
A sneaker interpretation of the moon boot? Real life-sized action figure feet? Modern ninja kicks? You decide, but we think these women's boots embody everything we expect from NikeLab's experimental catalog.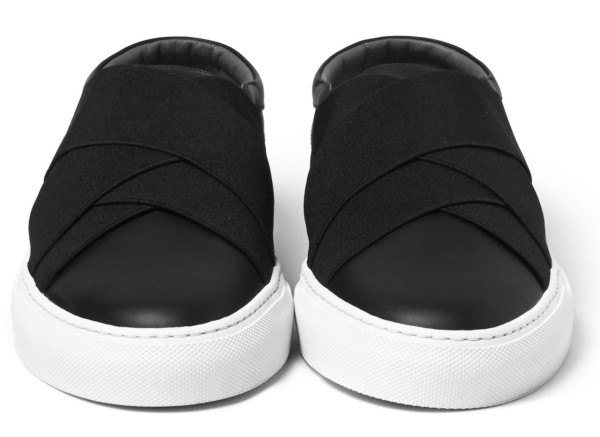 3. Givenchy Elasticated-Strap Leather Slip-On Sneakers 
Supposedly these were inspired by skateboarding shoes, so we're going to assume Givenchy's designers are fans of Vans. These are definitely a lot fancier than our canvas skate slip-on sneakers, made with black leather and two crossover elasticated straps, both for fit and fashion.
4. Converse All Star Modern
Perhaps the most iconic sneaker of all-time, Converse turned to Nike to help update the profile of these once-cutting edge basketball shoes with the aid of Hiroshi Fujiwara, Tinker Hatfield, and Mark Parker, aka HTM. From afar these look almost plain. Peer closer and one appreciates the embossed detailing and the soothing sole pattern.
5. adidas Originals "Polygon" Pack
Be still my geometric-loving heart. These just toe the line and keep within our definition of minimalist, especially in all-white low top silhouette where they take on a Buckminster Fuller geodesic vibe. Watch out for these on August 5th.
6. Stone Island S0222 Slip-on Boots
There's something S&M-ish meets equestrian rider Euro-chic about these slip-on boots. That's not a criticism, just an observation for anyone looking for footwear that fits the bill.
7. Visvim Skagway Slip-on Cords 
Technically corduroy isn't usually considered a minimalist option, but here in dark grey cord matched with black suede the sum operates as casually simple.
8. Acne Studios Adriana Grain Sneakers
Minimalist sneakers with a sly sense of humor. The detachable metallic square at the vamp is detailed with an emoticon graphic that hints its wearer is well aware of their RBF.
9. THEY Two-tone Low
We've already rained praise over these minimalist Japanese sneakers inspired by the Bauhaus, particlarly fond of these black and white colorways that look like a street painting project gone wonderfully awry.
10. Buddy German Shepherd Slip-on Low Smooth Punching
The design is as tastefully minimal as the model's name is onerously long. The sleek silhouette's front panel perforation gives these slip-ons from Japanese cult brand, Buddy, a distinguishing personality that stands out from the multitude of similarly styled laceless models out there today.