Located in the Kharkiv region of Ukraine, this house, by Sbm Studio, features a stainless steel swimming pool designed to reflect the surrounding trees and sky.
London architecture firm PCKO worked with Poland-based MOFO Architekci on this glass house outside of Krakow where the pool makes it look like you could swim right out into nature.
Near Moscow, this house designed by architect Olga Freiman has an electric blue pool within a double-height space that looks out through floor-to-ceiling glass windows.
This mostly underground pool is located in Visbek, Germany, where Reichel Architekten renovated an old stable into a modern house where the pool has unobstructed views of the garden.
Located in East Sussex, the Red Bridge House by Smerin Architects houses a minimalist pool on the lower level where it opens up completely to an outdoor terrace overlooking a stream.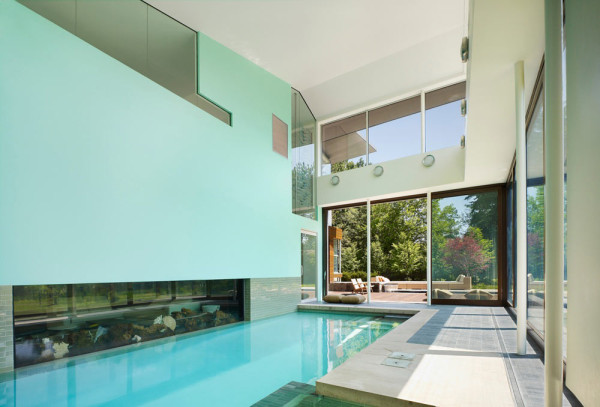 Abramson Teiger Architect designed the Davis Residence so the homeowners could enjoy the house, and especially the pool, all year long. The sliding doors disappear into the walls, which is perfect for summer and during the long Toronto winters, they can remain closed without disrupting the views.
Enclosed in glass, this elongated lap pool in the Battery Point house in Tasmania, Australia was designed by Maria Gigney Architects within a steel structure that lets the waterfront views be the standout.
The Slanted House, by Budi Pradono Architects, sits on the edge of a river in Jakarta, Indonesia with its white steel structure and unusual form making it stand out amongst the rest. On the lower level, there's a long swimming pool that looks out onto various plants and greenery.
Fernanda Marques Arquitetos Associados designed this duplex residence in São Paulo, Brazil that overlooks the city through three windows that are surrounded by green plants.
On the shores of Lake Furnas in Minas Gerais, Brazil, Mutabile Arquitetura designed this pool that can be used year round with its indoor/outdoor design. Garage-style doors open up and the pool continues to stretch out towards the water.