Photo by Lori Andrews
A few weeks ago, I rounded up inspiration to up your curb appeal with 12 Brightly Colored Front Doors. Today, we're thinking that the color should come right on in. Here are 12 examples of bold doorways throughout the house, from inside the front door to the bedroom in shades of chartreuse, tomato red, cobalt, and even hot pink.
Lori Andrews, a Calgary-based interior designer and photographer, who is also known on Flickr as The 10 Cent Designer, features a crisp red door with textured glass and a long chrome pull in her own sleek kitchen.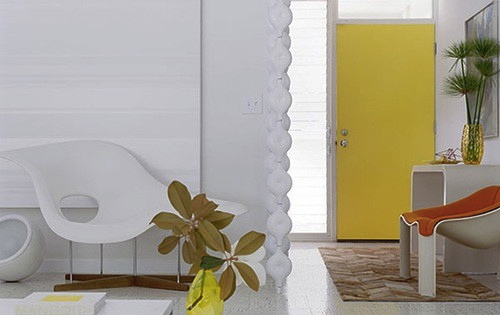 This Palm Spring abode channels the city's laid back vibe perfectly. We did the Kyle Bunting Rug inside the bright door (it's where we found the photo).
Seattle architects Lauren and Kyle Zerbey of the blog Chezerby installed sliding doors painted Benjamin Moore Thunderbird as a privacy solution for their some-time guest room.
This image hails from Living Etc. a couple of years back, though it was Apartment Therapy that brought to our attention this little detail: the door's edge is painted red. It adds a surprising accent that is visible only when the door is ajar.
This Pacific Heights neighborhood townhouse by San Francisco firm Feldman Architecture has a clean palette of white walls and dark wood, except for the punctuation of the chartreuse front door.
Los Angeles-based firm Bestor Architecture used a bright red barn door to close off the plywood kitchen and family room from another space. The black iron hardware pops against the colored wood.

Photo by  Stamers Kontor
LASC Studio, a Copenhagen-based office founded in 2007 by the Swedish/German architect Jonas Labbé and Dutch architect Johannes Schotanus, designed this Swedish home, dubbed Summer House. The turquoise shelving, windowsill, moldings, and door provide brightness, especially during dark winter months.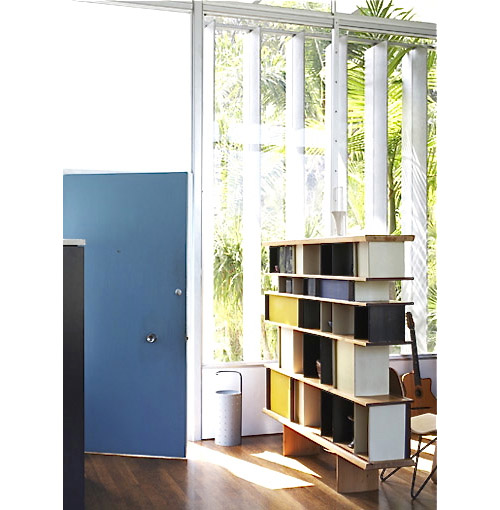 Photo by Ngoc Minh Ngo
One of our favorites, this sedate blue door works in conjunction with the modern shelving divider. The color is technically a primary, but almost works as a neutral.

Photo by Paul Raeside
This acid green entry door makes a crisp statement against the plain black wall and sofa.
Woo and Cheltz, a married couple with five kids, blog about fixing up their 100-year old house on Penelope's Pad. This is their dining room; they painted the door green earlier this year.
We discovered the blog My Pink Door, written by Jenny from Brisbane, Australia through Jen Ramos at Made by Girl. This is indeed Jenny's own home, complete with bubble gum pink door.
For a pale pink take, we love artist Lisa Grues' bathroom door (though the handle's mighty high!) You can find more photos of her home, as well as her studio, on Dos Family.
If you're still cannot commit to a color, click over to StyleCarrot's 45 Colorful Doors for more doorway decor.