Shipping containers meet a variety of requirements: Modern. Check. Low-cost. Check. Environmentally-friendly. Check. See twelve homes that make them work and check out our resources for shipping container builders and plans at the end of the article.
Above: Two shipping containers flank a taller common space in this residence designed by Studio H:T. The bedrooms are in the containers while the entry, dining, living, and a loft is in the center area. The project is planned to be off-the-grid using solar orientation, passive cooling, green roofs, pellet stove heating, and photovoltaics to create electricity.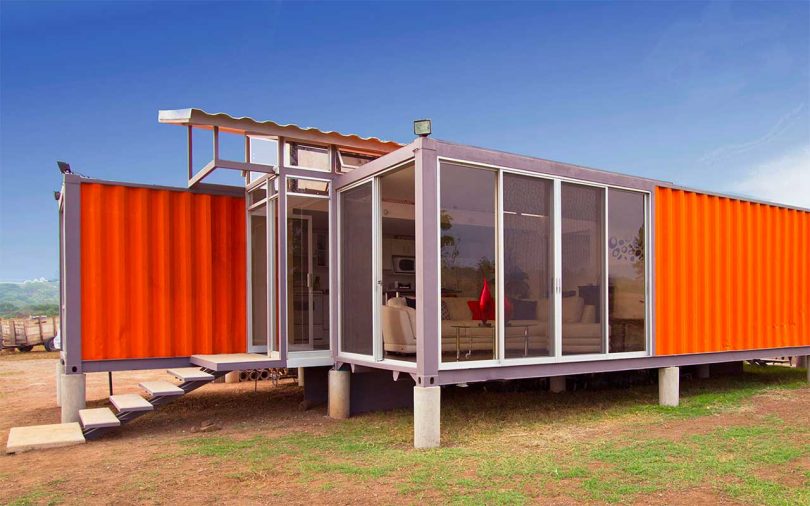 Benjamin Garcia Saxe Architecture designed this orange container home for clients in San Jose, Costa Rica. The goal was to provide them with the spectacular views of the natural landscape. The roof between the two containers is made from the scrap metal.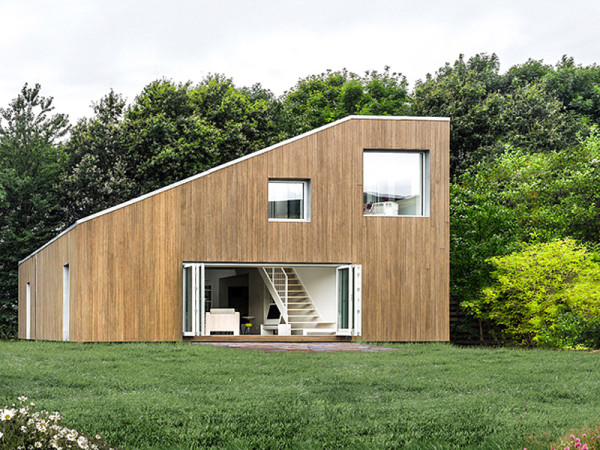 Copenhagen-based architecture firm arcgency created the "WFH House" in Wuxi, China, out of three stacked shipping containers. Upcycled steel shipping containers were used for a steel frame, which was then clad with a sustainable bamboo facade. The home includes a rainwater collection system, solar cell-clad green roof, skylights, and permeable paving.
This structure, which was exhibited at the Whitney Museum of American Art in New York City and the Walker Art Center in Minneapolis is called the MDU, or Mobile Dwelling Unit, and was designed by Lot-EK. It is meant to travel with its dweller to long term destinations. When traveling, its sub-volumes are pushed in to fill the entire container, and then interlock so the container is left flush and can be shipped worldwide. When in use, the sub-volumes are pushed out, and its 500-square-foot interior is suitable for living and working.
Lot-EK also designed this 1,500-square-foot penthouse apartment in New York City. The project involved transforming a mechanical room and adding a bedroom with a patio on the roof. Pictured above is a yellow aluminum container that has been partially deconstructed to become an open outdoor space.
Note the white corrugated wall; that should tip you off that this is the interior of a shipping container home. In fact, this Houston residence is composed of three containers, to make a total of 1,538-square feet of living space. Architect Christopher Robertson of local firm Robertston Design says one of the goals was to make it feel like a typical home.
Poteet Architects, a firm known for its adaptive reuse of existing buildings, designed this 32-square-foot guest house in San Antonio, Texas using a shipping container. The interior is lined with bamboo plywood for the floor and the walls and the deck is made out of recycled soda bottles. It has a planted roof too.
The emerald green-accented Crossbox house in Brittany, France was designed by CG Architects. Two shipping containers are cantilevered above two more, and there's a planted roof too. Like traditional setups, the bedrooms are on top and the living/dining spaces below.
Cove Park, located on 50-acres of Scotland's west coast, is a community of established artists. In 2002, Container City created three cubes made of shipping containers to act as artist retreats, and another six were added in 2006.
This Adam Kalkin Container House in Califon, New Jersey, is three shipping containers wide by two shipping containers tall. Glass on two sides allows ample light to shine in, and the industrial materials continue throughout, with a concrete floor and steel beams and columns. Rustic fir flooring and mahogany closing doors ensures it works in its wooded surroundings.
This perfectly simple, wood clad, absolutely horizontal 40-foot cargo container house sits on a flat site in the Galician countryside of Spain. Its porch and removable awning allow for outdoor enjoyment, which is ideal since it's a summer house. It was designed by architects Severo Fernández and Basilio Rodríguez of Estudio Base.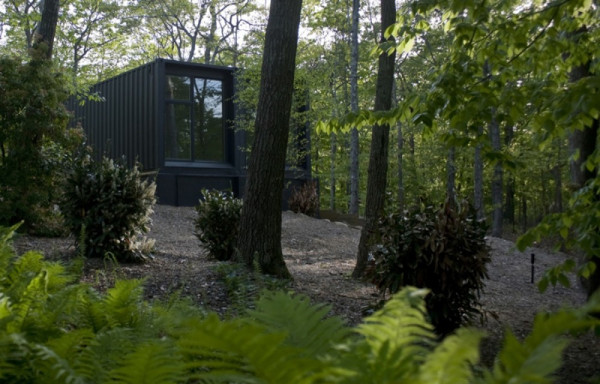 Maziar Behrooz Architecture designed this 840-square-foot art studio next to the client's house in the summer enclave of the Hamptons on Long Island, New York. They used two shipping containers which were painted dark charcoal to match the main house; both blend into the surrounding woods.
Resources: Shipping Container Plans, Architects and Builders
– Off Grid Living: Shipping Container Home Designs
– Shipping Container Homes
– Containerhome.biz
– Shipping Container Home Plans
– Cargotecture
– ContainerHome.info
– Building Lab (Oakland, CA)
– Ecotechdesign (Los Angeles, CA)
– Leger Wanaselja Architecture (Berkeley, CA)
– LOT-EK (New York, NY)
– Container Home Plans
Got a good shipping container builder, architect, or resource? Leave it in the comments and we'll keep our list updated.