For the second year running, Swedish-born Disegno founder and editor-in-chief Johanna Agerman Ross curated Twelve for the Stockholm Furniture Fair, an edit of established independent, Nordic designers. The theme for this year was Methods.
Stockholm-based John Astbury said "My method is based on dialogue, words, conversations. Design for me is as much about texts as drawings." His Piccolo lamp came about as a result of a conversation about hotel lobbies and is inspired by a call bell.
Anna Kraitz's work showcases the method of narrative. Her work tends to reflect on personal experiences. Of this piece she said, "During a certain period, my daughter was an early riser. That made me an early riser too. At dawn I would get dressed and braid my hair."
Anki Gneib looked at the reinvention of tradition as her method – and showed her Super Trooper pendant lights and Star Trooper table light. An LED is integrated into an acrylic cross section in the turned wood shade.
People People used crowdfunding as their method and showed the Transparent Speaker, a project that was successfully crowdfunded in 2012. The concept is that all elements of the speaker are visible and easily accessible for replacements to extend the lifespan of the product. "Today, anyone with a good enough idea can launch it on a global scale with very little resource, thanks to the internet," said the designers. "It's not the giants forcing stuff upon us, it's the people choosing what deserves to be produced."
Working with the theme of morphosis, ByMars showed Mopmob24/28, a cabinet made from broomstick handles, Hat Lamp, which uses a sun hat as a light shade, and Swan Lamp with a curved neck made from a walking stick. "Objects can be used in different ways," said ByMars founder Mars Hwasung Yoo. "By shifting a component or the usage of an object, it can break conventional perspectives and create another value."
Petra Lilja looked at archetypes as a method of design and developed a furniture collection intended for a summer house in southern Sweden inspired by the symbolism of the staircase, all made using locally sourced materials. "A staircase in Robert Venturi's Vanna Venturi House in Philadelphia leads nowehere," she said. "That was the starting point for this project."
Jenny Nordberg took the theme of performance and showed two collections – 3-5 Seconds is a collection of tabletop accessories, each piece of which is made in three to five seconds, and 3-5 Minutes is a furniture collection made on the same premise. "Is it possible to make handmade items fast?" she asks. Read more about this collection and watch a video here.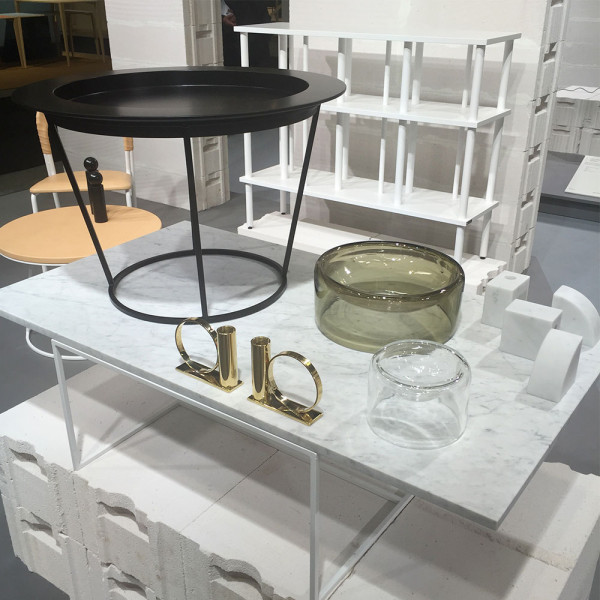 Working with the method of scenography, Lina Nordqvist's work tends to focus on visualizing stories and portraying moods. The collection presented as part of Twelve specifically focused on furniture and objects from a theatrical perspective. "Architecture and the art of building is a big inspiration," she said, "as well as the dramatic value of a visual experience."
Glimpt used journeys as a method for design, showing a selection of work developed over the past five years and inspired by travels to Vietnam, South Africa, Peru, and Romania. "The human is an explorer," designers Tor Palm and Mattias Rask said, "and that is what we see ourselves as, designers on an adventure exploring the world through design and crafts."
Mia Cullin focused on structures and modularity in design, showing a selection of smaller objects including cushions and a bag, alongside larger works such as a bench with a woven leather strapping seat and a wool felt rug formed from individual star-shaped pieces. "When developing a product I have a hands-on working process," said Mia. "I prefer to work with physical models to have control of the process."
The method that Alexander Lervik chose was 3D printing, showing the wooden armchair Nordic alongside its 3D printed prototype and a collection of 3D printed jewelery. "In 2009 I did a TEDx lecture about 3D printing in the year 2025," he said. "Most of the things I thought would happen by then have already occurred.
And finally, Folkform created the exhibition itself, using material as their method. Founders Anna Holmquist and Chandra Ahlsell drew on their studio's fascination with materials to create a series of arches made from aerated concrete. "Each new material we work with takes some time to get to know, to get to know the feeling of it or how it acts," they said.
Curator Agerman Ross said, "In recent years, the documentation of research and the practical method of making has become just as prominent a part of the project as the finished design itself," which is exactly what made this exhibition relevant, interesting, and timely.