Manhattan-based firm Pulltab Design created this urban rooftop deck and garden in the East Village. It's an amazing space that even has an outdoor shower. It has a modern industrial feel, with a tiny touch of the Japanese in the pebbles under the bench. There is a unique fountain made from a large rough-hewn hunk of oak with a stainless steel basin and spout, allowing water to feed into a rusted Corten steel trough.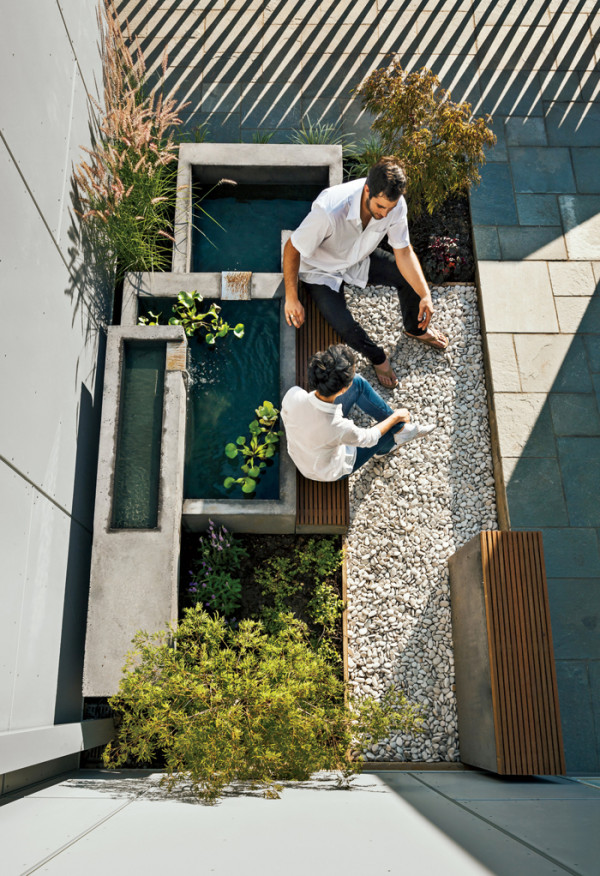 Featured in Dwell, this Japanese-style garden in Arlington, Virginia, was designed by Boston architecture firm Höweler + Yoon. It's a micro-courtyard (just 200 square feet) with a rock garden, Japanese maples, a built-in bench, and a three-part concrete and metal fountain with water hyacinths.
This is the Sunnylands Center and Gardens in Rancho Mirage, California, at the 200-acre desert retreat of publisher, diplomat, and philanthropist Walter Annenberg, designed by Frederick Fisher + Partners. This particular part of the grounds, which were designed by landscape architecture firm The Office of James Burnett, was inspired by Van Gogh's "A Wheatfield with Cypresses," which is in the family's personal art collection. Overall, the scheme begins as an orderly, geometric composition, as seen here by the neat rectilinear reflecting pool and plantings, and becomes more organic towards the edges of the grounds.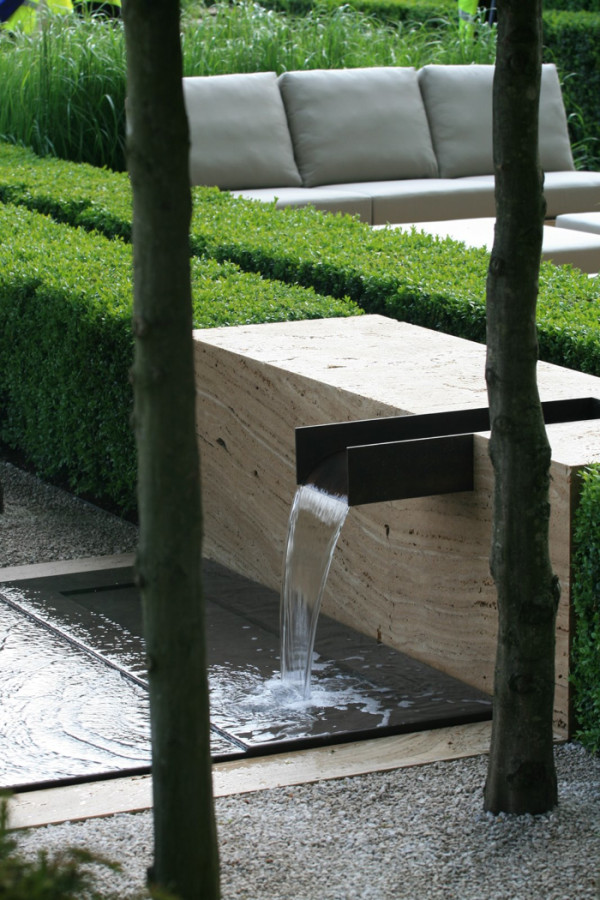 Work by London-based firm Luciano Giubbilei Garden Design is characterized by simple and clean symmetrical design. Indeed, hedges in this tableau are precisely clipped to the shape of the fountain, composed of a metal spout in stone that empties into a shallow basin set in stone and crushed pebbles.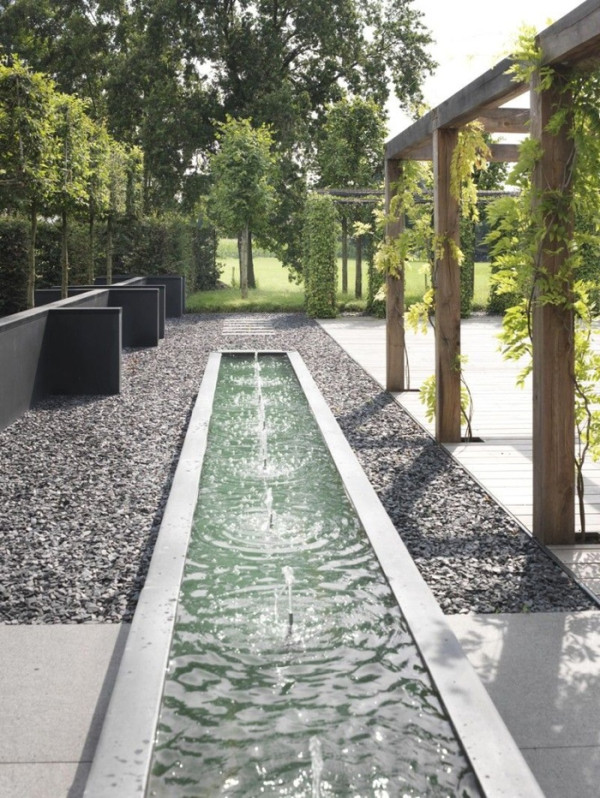 This luxury villa garden in the Netherlands was originally designed by Marcel Wolterinck, then, more recently updated by Hendriks Gardeners. The long reflecting pool with fountains cuts across concrete into a bed of stone, and runs parallel to a wood slat walkway, creating an interesting geometry.
Belgian designer Filip Van Damme is responsible for this minimalist configuration, featuring a moat-like body of water traversed by a plain concrete walkway. The mix of the traditional materials—wood slat siding and white painted brick—creates a striking juxtaposition to the simple design.
Also designed by Dutch landscape architect Filip Van Damme, it's unclear if this long and narrow body of water, which acts like a moat on this side of the house, is a reflecting pool or a swimming pool. It's an interesting placement, given the home opens right onto it, and there seems to be room on the far side, but it certainly makes a statement.
This is Stone Edge Farm, a Sonoma wine country retreat. The home was designed by STUDIOS Architecture and the landscape by San Francisco-based firm Andrea Cochran Landscape Architecture. The property includes a celestial observatory, spa, and stone pyramid, which are grounded by linear forms, including a reflecting pool, raised lap pool, and bars of olive trees.
Thuilot Associates, based in Berkeley, designed this modern garden in Los Altos, California. The rusted steel fountain is built into a retaining wall of stacked stone, part of a large patio and garden with squares of grasses, concrete pavers, and a wooden walkway.
Landscape architecture firm Nelson Byrd Woltz, which has offices in Manhattan, San Francisco, and Charlottesville, Virginia, designed this 200-acre Piedmont Virginia farm. The rectilinear bluestone patio and reflecting pool bridge the contemporary architecture of the glass-walled house, designed by Voorsanger Architects, with the more natural native landscape of trees, rolling countryside, and distant views of the Blue Ridge Mountains.
True to its LA locale, Elysian Landscapes specializes in celebrating outdoor living as a lifestyle. Large, cast-in-place concrete pavers are set right in the lawn, creating  a graphic composition between a round concrete fountain and a built-in concrete bench.
For more modern gardens check out Montage: 20 Reflecting Pools + Fountains on StyleCarrot.