Not to wish time by, but summer's looking pretty good about now. Especially if you're lucky enough to be lounging poolside by these modern marvels.
Above: CyD House by V.Oid Architecture in Lima, Peru features a pool with side walls built up of concrete and mosaic blue tiles inside.
Bates Masi Architects did a full reno and addition on this Hamptons house for an interior designer and DJ couple from Manhattan. The zen-like pool, complete with Buddha, has a beautiful, simple geometry set simply in the lush grass.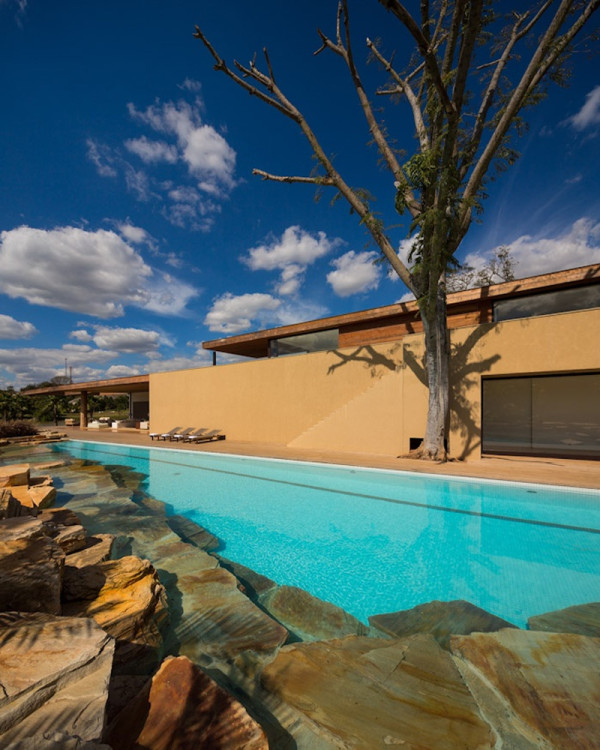 This home in Itu, Brazil, about an hour from São Paulo, was designed by Studio Arthur Casas for a young family. Irregularly-shaped pieces of stone form an almost natural-looking water's edge.
This private gallery and house by Steven Holl Architects, which is in Seoul, Korea, was inspired by a 1967 sketch for a music score. There are three pavilions: one is the entry, one is the residence, and one is an event space. The entry pavilion brings the visitor at elbow height with the water. Wow.
Sharp geometry is the standout principle of this contemporary oceanfront home and pool by architectural firm ANDO Corporation.
The rectilinear pool at DB House by Avignon Clouet Architectes is the heart of the building's square plan. At night, the pool forms a 'water lantern' illuminating the dwelling with shimmering beams of artificial light, turning a minimalist form into a romantic spectacle.
The Deck House by Santiao, Chile-based architects Assadi + Pulido is aptly named, as a wood slat deck runs around the whole structure. The incline is perfect for lounging, and the deck's aesthetic is reminiscent of New England beach locales.
Fran Silvestre Arquitectos, based in Valencia, Spain, designed this simple yet absolutely exotic slice swimming and sunning of heaven, called House on the Cliff.
4D Arquitectura built this slick and boxy wooden residence in Brazil, called Haack House. The varying green shades of the mosaic tile that lines the pool's interior is incredibly inviting.
Stefan Antoni Olmesdahl Truen Architects, also known as SAOTA, designed this six-bedroom beach house home in South Africa. The pool is long and linear, running closely alongside the terraced house, with an ocean view.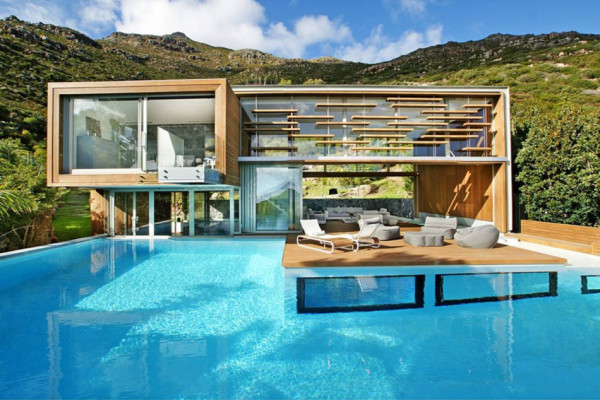 Spa House by Metropolis Design in Cape Town, South Africa has a deck that's designed to look like a raft. And, there is actually a spa located below the water level of the pool, with a direct view into it through large glass windows.
Studio William Hefner designed this pool house and home in Brentwood. The smooth pavers surrounding the simple pool let's the horizontal wood slats on the structure and fence be the stars.
Not wet enough? For more, see StyleCarrot's 28 Modern Pools post.