Let's start out with a staircase we've talked about before: Ribbon Stairs. Designed by HŠH Architects to mimic a delicate rippling ribbon, these stairs are beautiful but maybe a little scary to run up and down when you're in a hurry.
Italian company 14 Ora Italiana has a collection of wood grain porcelain tiles that were inspired by the works of Andy Warhol. The Uonuon line comes in fourteen colors that are featured on this colorful and fun staircase.
These stairs belong in House G by Maxwan Architects + Urbanists, in which a barn received a complete makeover. The planes of the stairs become a part of the wall shelves in a unique setup for book storage as well as kitchen storage.
The Grove Park project from Bell Phillips Architects features a staircase that is "created from a complex geometry of folded triangular facets which appear to float effortlessly within the space." [via Plastolux]

Photo by Christopher Duff
These stairs that lead to a loft bedroom are by nC2 architecture in Brooklyn, NY. They incorporate extra shelving with the use of alternate treads and are the ultimate in being spatially efficient.

Photo by Kristina Hrabetová
Architecture firm Atelier SAD created another amazing alternate tread staircase that doubles as a bookshelf.
From Rowin Petersma, this divided staircase is made of expanded steel that lets the maximum amount of light shine through from the top floor of the apartment.
Yet another amazing staircase/bookshelf combo. This one is from Kathryn Tyler of Linea Studio's own Scandinavian-inspired home. The Corkellis House does away with upper level kitchen cabinets and instead uses open shelving, as well as the staircase shelves, to house all of the kitchen-related items.

Photo by Hertha Hurnaus
The eco-friendly Blue House, designed by architect Pieter Weijnen of Faro Architecten, features modern nautical touches throughout. The architect built the house for his family on Steigereiland, one of Amsterdam's artificial islands, and the stairs appear to float in the air without support. Steel cables are placed on the sides for safety.

Photo by Daici Ano
The warm wood and metal of the 2-story winding staircase in House S, by Keiji Ashizawa, allows light to flow through the airy house and creates massive amounts of visual interest. [via designboom]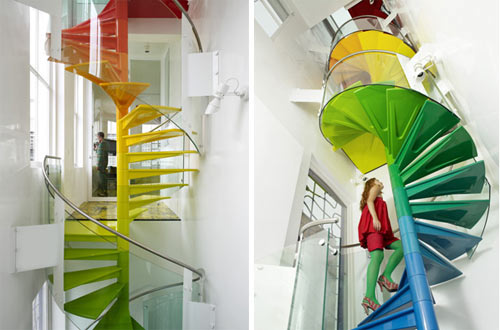 How could I do a post about stairs and not include the rainbow spiral staircase designed by Ab Rogers Design that we featured last year from The Rainbow House?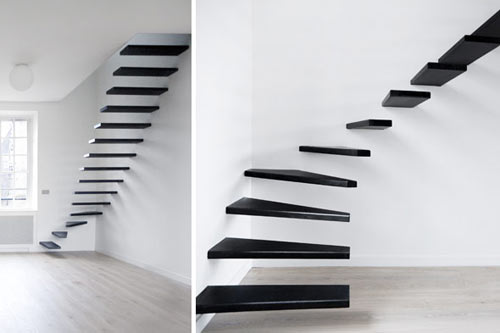 Photo by X. Lucas
These steel floating stairs in Flat #1 by Ecole are simply amazing and a true statement of minimalism.

Photo by Nils Clauss
Located in what is known as the Godzilla House  by Chae-Pereira Architects in Seoul, Korea, these suspended stairs float along a curved wall and are lit by the hidden windows above.
This loft duplex designed by architect Charlie Diaz in downtown Madrid, Spain, features an unusual staircase that is the ultimate example of space saving.
These unusually deep stairs, and the 4-stories of house surrounding them, come with the rather large price tag of $38 million. The iconic NYC property, designed by Paul Rudolph, has seen many a famous person inside including Halston and Gunter Sachs, who were both previous owners.
Italian architecture firm Studioata designed this small space with an office/studio loft above that is connected by simple floating white stairs. [via Freshome]
This small, uniquely shaped house calls for a small, uniquely shaped staircase and that's just what Kyoto-based Alphaville Architects designed.
Designed by Castroferro Arquitectos, these extra-wide stone stairs with wood treads on top match the floating wood stairs above, all with enough room to store books on the sides.
From MO Architekten, concrete stairs with cord crisscrossing to form the sides of the railing — yes please! Just think of all the fun colors you could string when you get bored with this one. [via Plastolux]
While not walkable, this piece of fabric architecture by artist Do Ho Suh is a 1:1 replica of the staircase that connects his apartment to his landlord's. The piece is entitled Staircase III and it is displayed at the Tate Modern in London.
Talk about maximizing every inch of space! These bookshelf stairs are some of the coolest we've seen.
You can't write a post about stairs and not include the Trippy Stairs that we featured last year. They are certainly some of the most unique stairs we've ever seen and most definitely, well, trippy.
And last, but certainly not least, are these spiral wood stairs that are just as sculptural as they are functional. Definitely one of our favorites.
Do you have any to add?