Nothing says love like a handmade gift. But if you don't have time, or the skills, to make something for your loved one, buy it instead. We scoured the interwebz to find some really great homemade gifts that don't look like you turned a DIY into a WTF.
Love Spelled Soap by DoveMacob \\\ $5.50
A lightly-scented oatmeal aloe soap will keep the recipient so fresh and so clean!
Memphis II Cushion Cover by Depeapa \\\ $41
An 80s-esque cushion cover inspired by the Memphis Milano design movement.
Minimalist Leather Backpack/Rucksack by byNizzo \\\ $166
Big enough to fit your work folders in, while also accommodating your MacBook and more.
Fragment One art print by intheearlyhours \\\ $57
A soothing art print with a pink geometric outline filled with bits of nature.
Geometric Triangle Earrings by AgJc \\\ $51
Small but bold triangular earrings that can be worn in two different ways.
Tootenkamoon art print by Jaime Rovenstine \\\ $150
From an original acrylic painting, this is a fine art print with geometric shapes and bursts of pink layered on a black background.
Modern Wood Desk/Table Lamp by ninosheadesign \\\ $150
An X-shaped lamp made of quarter sawn oak adds a simple, yet design-y bit of light to any table.
3 Geometric Wooden Candleholders by FactoryTwentyOne \\\ $56
These candleholders not only look cool, they're eco-friendly because they're made from pieces of wood leftover from some of their other designs.
Foldable XXL Clutch by Lara Kazis \\\ $187
Can be used as a clutch or a toiletry bag and easily folds into three different bags thanks to the geometrical leather material.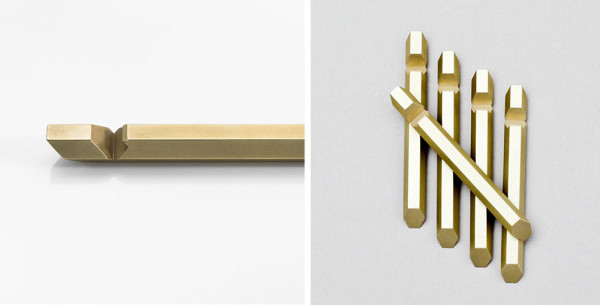 Hex Bottle Opener by Iacoli & McAllister \\\ $48
Made from a solid brass hex bar, this bottle opener is both simple and classy.
Eye Pot by KinskaShop \\\ $64
Eye always feel like somebody's watching me…
Hapi Zig Zag Tray by Kristi Kohut \\\ $58
A practical tray one can use for just about anything complete with some really cool artwork.