JP King designed this geometric, mid-century-inspired calendar that uses Risograph printing by way of overprinting, halftones, and fluorescent inks on craft paper. For $20, you can get your very own from Paper Pusher.
You can always count on Typodarium to bring you your daily dose of graphic inspiration full of 365 typefaces from 232 designers in 26 countries. It can be purchased through Slanted for €16,80.
Inkello's 5th annual pocket-sized 2014 Matchbook Calendar is available featuring hand-printed letterpress pages with your choice of a violet, orange, green, cyan, or black geometric cover. Available for only $8.
Heather Lins mixes a little typography with a little DIY with her 2014 Year in Stitches Calendar Kit. For $25, you get 12 screen printed calendar cards with the month's name laid out for you to poke and cross stitch your way to a creative calendar. Kit comes with everything you need.
Every year Avril Loreti makes these tea towel calendars that work throughout the entire year. Each towel features her signature hand drawn lettering over colorful imagery. Get one here for $25.00.
From Julia Kostreva comes the limited edition, letterpress 2014 Prisms Calendar that displays the year of dates amongst gold foiled geometric shapes. Order one of the 100 being made for $33.
MAKE Collaboration's Vertical is a large wall calendar that shows time in a linear fashion. It even comes with 90 event stickers you can add as colorful reminders throughout the year. Shipping now for $26.99.
Colorful, abstract watercolors make up this 6-panel wall calendar from Moglea. As the months pass, frame the compositions and hang them on your wall! Just $24 on Etsy.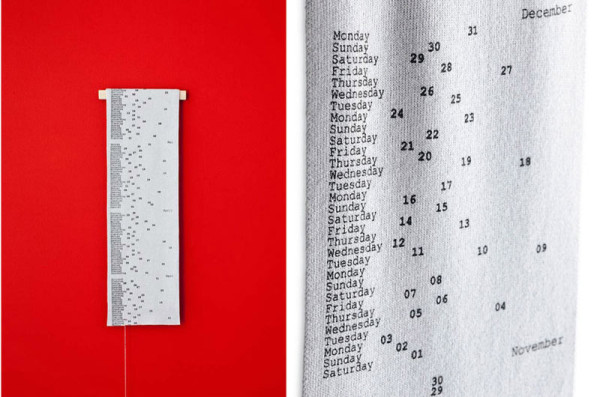 What could be more satisfying than unraveling your calendar just like pulling a thread from your sweater?! The Unraveling Calendar, designed by Patrick Frey, is available on his site and through Fab.com for $68.
Let us all praise Polaroid and all its goodness. The Poladarium 2014 tear-off calendar reveals a new instant photo every single day of the year. Available here for €24,90.
Crispin Finn always brings their signature red and blue to everything they do and their eye-catching 2014 Year Planner is no exception. The embossed 2 color screen print is only £12.50.
Dozi brings us this 2014 calendar full of colorful shapes and fun patterns to help you get through the year. For sale on Etsy for $22.
The Stendig calendar is a classic designed by Massimo Vignelli and the 4'x3′ design is one of our favorites. Available for $32 from Unica Home.
Now in its 9th edition, Cats Let Nothing Darken Their Roar is back with 12 witty phrases that hide each month of the year. Get your very own for $45 here.
Take your daily frustrations out by popping the giant bubbles on the Bubble Calendar. Trust us, it's just as satisfying as bubble wrap. Get one for $30 at Urban Outfitters.
Available in soft pink or white, this wall calendar from snug.studio features simple geometric shapes that represent the number of the month it is. Available at snug-online for €14.90 or $21.04 via Etsy.
When you just need a giant to-do list mounted on your wall as a reminder to get stuff done, the 2014 ToDoCal is the perfect minimalist wall calendar for you. Increase your productivity for only $12.99.
Ryan McGinness will keep you on task with his 2014 Calendar To-Do List Pad that features 365 black and white drawings at the top and room below to list everything you must accomplish that day. Get yours for $24.95 from Artware Editions.
Another typography gem… The 2014 Typography Calendar, created by designer Kit Hinrichs of Studio Hinrichs, showcases 12 unique typefaces, including info about each one, throughout the year. Available in a Desk Size for $29 or a Super Size for $47.
STUDIO NEWWORK has a limited edition of 100 NEWWORK CALENDAR 2014 that presents each month as if it was a composition of music. Available now for $24.
The Wandekalendar 2014 is a dual-sided wall calendar that hangs horizontally for the mint-colored side (in English) and black for the vertical side (in German). Comes with 100 Post-it Notes to mark important days throughout the year. Available for €14.50 here.
Printed on brightly colored, uncoated board with fluorescent inks, the 2014 Colour Calendar from 1973shop is £15 and will liven up any boring wall.
The Perforated Calendar 2014, from Wrong for Hay, lets you remove each day which is represented by a square. Available in White or Rose for 149,00 DKK.
This downloadable calendar was put together by Kelly Beall of Design Crush and each month of the Bloggers Love Dogs + Bloggers Love Cats features pets owned by our fellow bloggers. The best part, 100% of the proceeds of each calendar go to The Humane Society of the United States. $7 each or $12 for both.
And last, but not least, the 2014 HAVE A NICE YEAR calendar wishes you well all year long by letting you look at the movement of time through the year, month, day, hour, and second. Designed by COOL ENOUGH STUDIO and available for €8.
Have any favorites that we missed?