2022 Range Rover Plugs Into Reductionist Redesign
2022 Range Rover Plugs Into Reductionist Redesign
1/13 Photos
2/13 Photos
3/13 Photos
4/13 Photos
5/13 Photos
6/13 Photos
7/13 Photos
8/13 Photos
9/13 Photos
10/13 Photos
11/13 Photos
12/13 Photos
13/13 Photos
As the flagship of the Land Rover family with a silhouette (and name) practically synonymous with the luxury SUV segment, it's no great surprise the U.K.'s largest automotive manufacturer took their sweet time redesigning the Range Rover. Even so, a nearly decade long wait understandably resulted in a degree of pent-up demand for something new and updated. Thankfully, the fifth generation for 2022 rewards patience with an evolutionary new exterior coupled with an expansive list of overt and subtle refinements inside and out – the sum which should appease and please those committed to the iconic all-wheel-drive moniker.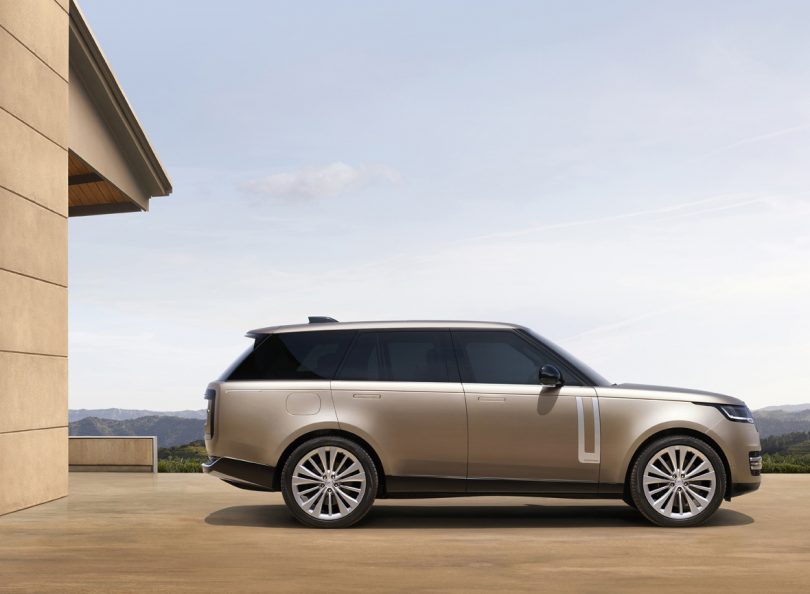 Redesigning an iconic design like the Range Rover invites a delicate and dynamic game of push-and-pull: veer too far from the original and you lose the identifiable magic associated with the original; adhere too closely and the resulting conservatism can appear as mere iterative window dressing. To the exterior design team's credit, the 2022 Range Rover lands confidently and respectfully aware of its heritage, the silhouette retaining the hallmark design cues of generations of Range Rovers before it: the falling roofline, strong waistline and rising sill line are still all there.
Everywhere else, the Range Rover's sheet metal has been tailored, tucked and smoothed toward a near elemental simplicity, punctuated with a distinctive new boat tail rear – complete with practical split tailgate. The design's adherence to the horizontal plane from front to back results in a more weighty and confident stance compared to its more angular predecessor.
The interior cabin exhibits a similar tension, balancing a variety of latest technologies such as noise-canceling headrest speakers, built-in Amazon Alexa, a larger 13.1-inch curved, floating infotainment touchscreen for vehicle functions and a new semi-floating 13.7-inch Interactive Driver Display framed with the comforts of more "traditional" tactile luxurious appointments, surface treatments and materials. This palette includes a wider choice of materials and finishes for customers to choose from, including a textile alternative to traditional leather combining Ultrafabrics and Kvadrat wool-blend. Additionally, a new Cabin Air Purification Plus capable of filtering down to PM2.5 has been added; paired with both an interior and exterior air quality CO2 sensors, the system operates actively to keep cabin air quality optimal.
The fifth-generation Range Rover is slated to be assembled exclusively at the historic Solihull Manufacturing Facility in the U.K. – the spiritual home of Land Rover – launching with a $104,000 Mild Hybrid 3.0L Turbocharged I6 (395hp / 406 lb-ft) or 4.4L Twin Turbocharged V8 (523hp / 553 lb-ft) with a variety of options including a choice of four, five or seven-seat interiors available across Standard and Long Wheelbase body designs. Wait a tad longer and you'll be invited to get behind the wheel of an even more efficient plug-in hybrid rated for 62 miles of all-electric range for the 2023 model year, followed by a fully electric Range Rover debuting in 2024.