2022 Tech Gift Guide + Tech Editor's Picks
2022 Tech Gift Guide + Tech Editor's Picks
1/12 Photos
2/12 Photos
3/12 Photos
4/12 Photos
5/12 Photos
6/12 Photos
7/12 Photos
8/12 Photos
9/12 Photos
10/12 Photos
11/12 Photos
12/12 Photos
With holiday season nearly here, there's no doubt many of you are deliberating whether to splurge on something updated, upgraded, or completely new. And with holiday sales accompanied with end of the year product announcements, autumn through winter offers an ideal opportunity to gift others (or yourself) some tech, accessories, or appliances to serve you into the new year and beyond. Our tech picks below offer an assorted mix curated to engage all of the senses (we even sneaked some coffee in there), each exhibiting a thoughtful attention to design that speaks to us whether turned on or off.
The metaverse as we currently know it stands as more of an example of hyperbole and yet to be realized promises of "what if" rather than a truly fleshed out virtual world for us to lose ourselves in. Yet, it's almost guaranteed many of us will soon be actively participating in some form of the overlapping cohabitation of our online and IRL selves as the tools and hardware start converging toward more convincing immersion. Meta's follow-up to their hugely popular Quest 2 headset is one of the strongest next generation headsets likely to lead first adopters, creatives, and technologists into the metaverse. It's lighter, slimmer, and delivers a more convincing AR/VR experience at a higher resolution and with lower latency. Now for that killer app, Meta?
Imagine being able to convert any music source plugged in via 3.5mm audio input and capture those sounds in the form of your very own mini vinyl record. That's exactly what this little contraption from the audio-obsessed minds from Teenage Engineering have devised. Made in collaboration with designer and musician, Yuri Suzuki, this device looks like a plaything from your childhood past, but it's capable of engraving genuine 5″ records. The resulting sounds are "ultra-analog" and "lo-fi," but that's a feature, not a bug. The PO-80 sells out fast, but it may restock ahead of the holidays, so keep your eyes out for a truly special gift for the musically inclined person in your life.
There are two devices that almost always require recharging by day's end: my phone and my Apple AirPods Pro. I suspect I'm not alone in this charging schedule, both indicative of common daily habits for both work hours and personal time. Having a designated spot to drop both devices to charge at the same time is extremely convenient, something the Courant Catch 2 simplifies because of its generously wide design which mostly eliminates the guesswork of aligning device onto charging coils. But what makes this tech accessory gift worthy is its thoughtful pleasing, yet visually unintrusive design wrapped in linen (or alternatively in Italian leather) that quietly blends into the rest of the home.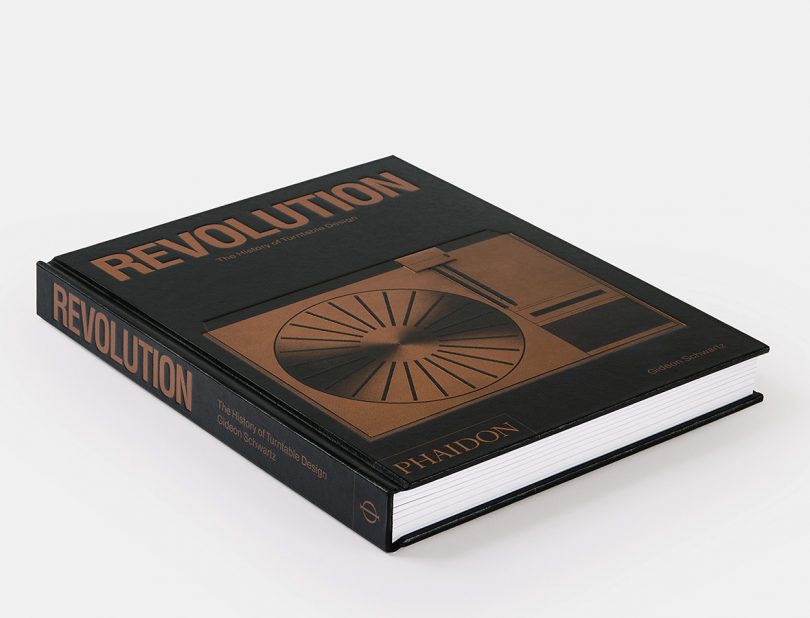 The History of Turntables (and phonographs before them) reveals a fascinating timeline documenting how much the concept of home and personal audio has changed over the decades. It's a history rich with numerous luminaries of industrial design who set out to define the (turntable) wheel over and over again. Phaidon's ode to the turntable is an engrossing journey to thumb through, especially for anyone with a vinyl fetish; its 264 pages are filled with 300 illustrations/photos of numerous turntable designs you're likely to recognize, with even more you've probably never seen. Give this book when you want to give a "tech" gift sans the technology itself.
The best gifts offer their recipient something they already know they need and/or want, but elevated to an unexpected degree that it feels entirely special. While the idea of getting someone a clothing iron or steamer would rank as a ho-hum practical idea, giving them a minimalist mirrored wardrobe conceived to refresh, deodorize, and steam out wrinkles with the touch of a button seems an entirely luxurious proposition. The LG Styler is still fairly unknown here in the United States, but in Asia these steam clothing appliances are commonly found even in small apartments, especially amongst young professionals who appreciate the Styler's ability to operate something akin to a residential dry cleaning appliance, capable of refreshing wrinkled and sodden shirts, coats, dresses, and trousers in 20-60 minutes.
Whether you've just splurged for the latest 77″ OLED television or are looking for ways to upgrade your existing home theater, the biggest bang for the buck you can gift yourself or anyone else is in the audio department. We often recommend Sonos because their attention to detail in sound is matched for their keen eye for design within the domicile. The brand offers a wide range of sound bars and speakers for nearly any room and budget, including the Dolby Atmos capable Beam. While the Beam does a laudably proficient job of improving movie and show dialogue with only a modest footprint for a sound bar, it still leaves room for improvement. And that improvement has arrived with the Sub Mini, a smaller sibling to the Sonos Sub that delivers about 75% of the oomph of its larger counterpart with only a fraction of the size.
I recently participated in a virtual coffee preparation class led by the aptly named, Ben Brewer, the director of quality control at Blue Bottle coffee and left with an appreciation for their efforts in finding small growers dedicated to preserving more unique flavor profiles outside the status quo of coffee. Blue Bottle's Exceedingly Rare Coffee program is gift worthy in itself, specifically for adventurous palates seeking varietals well off the beaten path. Ben also showcased his pour over skills during our virtual tutorial, using tools that have become somewhat synonymous with the stylish coffee loving set's coffee prep gear: the Fellow electric kettle. Since that instructional class, Fellow has gone onto announce newly updated EKG Pro and Stagg EKG Pro Studio Edition pour over kettles. These new designs feature a preset guide mode programmed to heat water to temps specific to certain teas and coffee varietals, scheduling, adjustable hold mode, and even the ability to adjust for higher altitude brewing. The LCD display is now in full color, a small but welcome detail while trying to discern temperatures while preparing coffee while still sticky-eyed in the early morn. No doubt professional baristas and home brewers alike will be partial to a kettle allowing so much control and customization, all the while looking so good on the countertop.
A keyboard as a gift may seem like an idea out of left field at first. But in my experience spreading the gospel of mechanical keyboards over the years, I've witnessed perplexed expressions melt away into smiles of knowing satisfaction many times once fingers meet mechanical keys for the first time (or when revisiting them after a long hiatus). Mechanical keyboards objectively just offer more feel and sound compared to the dampened experience offered by standard desktop or laptop input devices. Keychron's various models are a gateway into the crazy realm of mechanical keyboards, but their latest ultra slim profile 75% compact layout K3 Pro might just be the perfect segue for newbies curious about the tactile pleasures of  mechanical keyboards.
Consider this an affordable tech-adjacent stocking stuffer gift idea, because who doesn't identify as a tech-lover and not also harbor deep affections for all things LEGO? This 12-pen set will not only prove useful for note taking, but with the inclusion of actual LEGO plates parts, these pens are also a great fidget toy. Just remember not to drop and leave the pieces on the ground for anyone to step on!
The irony of such a small computer peripheral being given such a mouthful of a name! Yet with just 16 keys, two small clickable scroll wheels, and one giant scroll wheel, a user can explore a whole new realm of customizable macro functions to assign to their heart's content. Give this to the power user who lives in graphic or music applications, they'll appreciate the big potential of such a small device every time they reach for the tactile satisfaction of this mini control deck.
This post contains affiliate links, so if you make a purchase from an affiliate link, we earn a commission. Thanks for supporting Design Milk!