In celebration of Arne Jacobsen's Series 7 Chair, seven renowned architects were invited by Fritz Hansen to reinterpret the iconic chair in their own way for a project called 7 Cool Architects. The participants had to choose a context and then they were free to run with it, which led to them changing the legs, materials, and surfaces. Their new functions range from a chair in nature to a double chair that lets you face another person. Now, the seven chairs will be exhibited around the world and two editions of each chair will be sold at an auction at the end of the year.
Bjarke Ingels Group were inspired by the chair's use of wooden veneer and chose to stack the form resulting in subtle repetition.
Neri&Hu used The Waterhouse from the 1930s in Shanghai as inspiration creating a replica and doubling the original design to face each other. A single chair is multiplied just as an individual becomes a community, reminding us we're never truly alone.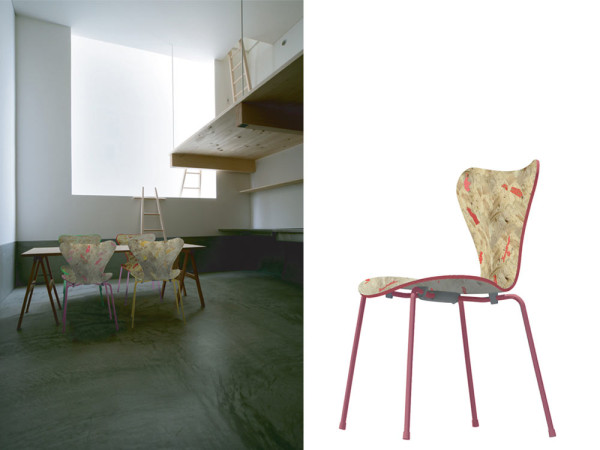 Jun Igarashi Architects thought about the waste that comes after an earthquake causes buildings to collapse. They chose to collect the wood, add a color, and turn it into boards that can be used for furniture.
Charles Ott Architects, in association with Carlos Ponce de Léon Architects, selected the Celebra building on Zonamerica's campus where a vertical garden grows just outside the restaurant. Just like the plants, the upholstery "climbs" up the shell of the chair.
Jean Nouvel's contrasting colors and opposite facing design are a design signature which exaggerates the curves of the chairs form.
Snøhetta looked at Rauland Mountain Church's ski slope location and decided to remove the legs so the chair could be easily used on the slopes during an outdoor service.
Zaha Hadid replaced the standard legs and formed a new base made from two continuous steel rods. The curved structure works with the curves of the plywood form resulting in a sculptural seat.