We've always liked Artifox for their modern desks, never realizing they also make really cool bike racks. Their vertical bike RACK is super minimalist with its long wooden design that comes in walnut or white oak.
Cycloc's wall-mounted Solo bike rack is circular in design with an empty space in the middle to hold all your small accessories. The rack is durable and holds a wide array of bike frames either vertically or horizontally with holes that allow you to lock your bike to it. Solo is available in seven playful colors.
Knife & Saw's (Original) Bike Shelf pulls double duty – it holds your bike while also giving you space to hold books, plants, or tchotchkes. It comes in two sizes and is available in walnut or white oak.
The DaHÄNGER Dan Pedal Hook brings a playful side to bike storage with its three-part design. It holds the bike at a 25-degree angle with the pedal hooked on the cute character while the tires rest on two ledges. It comes in red, white, and blue.
The Burnside Bike Rack, by Loma Living, is fairly simple in design with a diamond-shaped plate attaching to the wall and a notched shelf extending out to hold the bike. It comes in maple or mahogany.
The Clug by Hornit is perhaps the smallest, most unobtrusive of them all with a clip that mounts to the wall to hold a tire. The Clug comes in five sizes for just about every size tire imaginable, from 23-81mm. Each size has a couple of color options to choose from.
Vadolibero makes the Kryon Pro wall-mounted bike rack with a built-in lock to keep your bicycle safe where you left it. It's made of durable stainless steel with an optional leather kit add-on to make it even sleeker.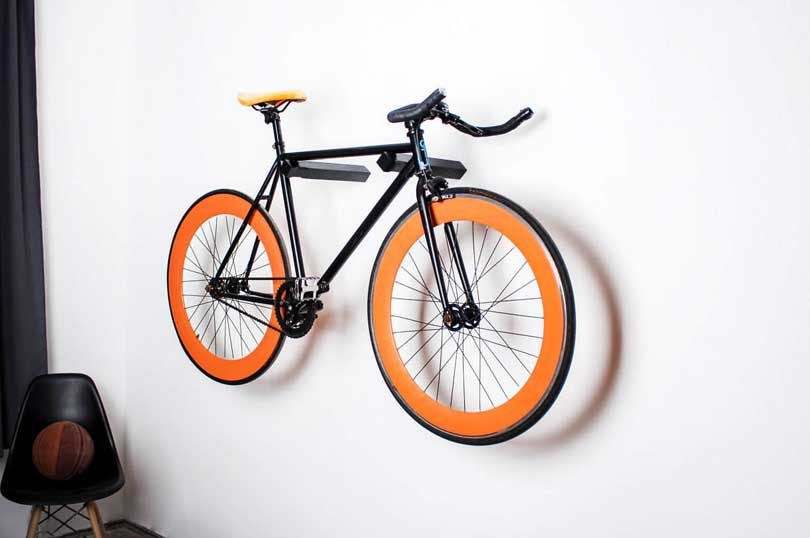 twonee's Dublin bike rack consists of two solid wood sticks that mount to the wall to support most any bike's frame. The square design features notched corners for the bike to rest securely. The handmade design is made of sustainable ash wood and is available in black, white, and natural finishes and in two lengths.