A Family Home in Prague With Concrete, Wood, + Playful Details
A Family Home in Prague With Concrete, Wood, + Playful Details
1/18 Photos
2/18 Photos
3/18 Photos
4/18 Photos
5/18 Photos
6/18 Photos
7/18 Photos
8/18 Photos
9/18 Photos
10/18 Photos
11/18 Photos
12/18 Photos
13/18 Photos
14/18 Photos
15/18 Photos
16/18 Photos
17/18 Photos
18/18 Photos
Located in Prague, Czech Republic, House for Dorothy was designed by boq architekti who were hired during the late stages of construction to design the interior for a family. The interior showcases concrete and wood as the materials of choice, which are topped off with playful details throughout. On the main floor, the open living space feels bright and open with surrounding windows and sliding glass doors that lead to the outdoor space.
The designers keep the color palette neutral with the use of white, anthracite grey, and natural wood, along with the occasional curated use of color.
A cozy lounge space is situated at one end of the main floor offering a quiet space to read or relax by the fire.
The central living room features two white bookcases framing the staircase with space in the middle for a projection screen. When the screen is rolled up, the minimalist wooden staircase with glass railing stands out and cleverly disguises storage underneath.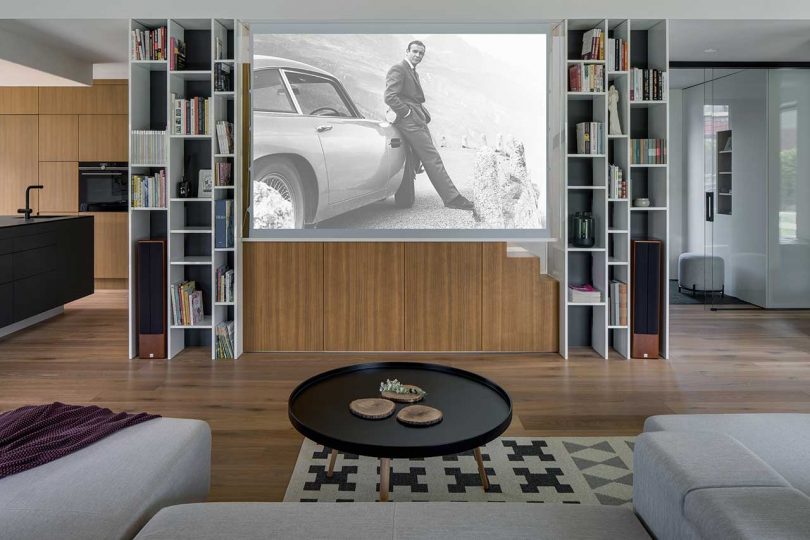 The sofa is modular and can be reconfigured into three different setups for various scenarios.
A massive kitchen island allows plenty of space for food prep. A dropped ceiling above the island mirrors its shape and offers ambient light as it's backlit.
The kid's room includes a multifunctional wall unit that houses storage while creating a house-shaped nook at the head of the bed.
Photos by Tomas Dittrich.