A Jerusalem Historian Requests a Home Renovation Inspired by Her Work
A Jerusalem Historian Requests a Home Renovation Inspired by Her Work
1/31 Photos
2/31 Photos
3/31 Photos
4/31 Photos
5/31 Photos
6/31 Photos
7/31 Photos
8/31 Photos
9/31 Photos
10/31 Photos
11/31 Photos
12/31 Photos
13/31 Photos
14/31 Photos
15/31 Photos
16/31 Photos
17/31 Photos
18/31 Photos
19/31 Photos
20/31 Photos
21/31 Photos
22/31 Photos
23/31 Photos
24/31 Photos
25/31 Photos
26/31 Photos
27/31 Photos
28/31 Photos
29/31 Photos
30/31 Photos
31/31 Photos
In Ramat Gan, Israel, a family tasked Israeli interior designer Chen Shadmi to renovate their 1980s house into a modern tri-level home that's inspired by the wife's work as a historian specializing in Old Jerusalem. The family requested that the home celebrate Armenian art in Jerusalem, as well as integrate a more contemporary floor plan that was adaptable to different needs.
Shadmi and the family began the design process with a tour to Old Jerusalem to visit the wife's favorite places and reacquaint themselves with materials that are customary in Eastern European homes. They asked Armean Darian, an Armenian ceramic artist based in Jerusalem, to hand-paint the illustrations on the tiles seen on the pillar on the ground floor and the stairs leading to the first floor.
The entrance floor has an open floor plan that includes the kitchen, dining area, and living room with a dedicated library. On the upper floor lives a family space, three children's room, a laundry room, two baths, and a main bedrooms. The bottom floor includes two study rooms (one for each parent), and a secondary living room from which there is access to the lower garden.
Throughout the home, the walls are adorned with the client's copies of manuscripts, murals, unique maps, and artwork.
Common to all the bathrooms is the dark chest of drawers and the application of colorful tiles
The upper garden is used for entertaining, equipped with an outdoor kitchen, dining area, and pampering seating under a pergola. In the lower garden, a cooking area with a pizza oven and meat smoker, a seating area, a kitchenette, a bathroom, and a kid's wooden house and climbing wall provide ample opportunities to spend outside.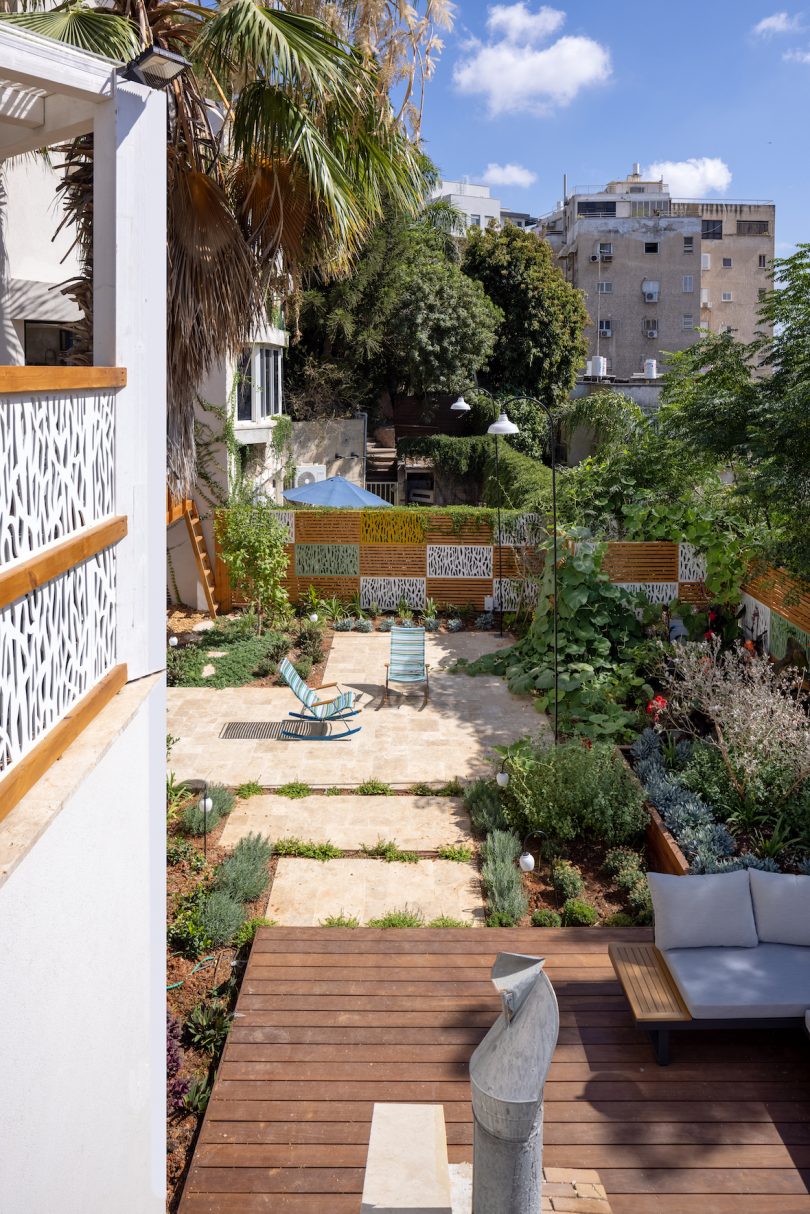 Photos by Shay Epstein.