One of the newest additions to the ever-changing Abbot Kinney Blvd in Venice, CA, is A. Kinney Court, "a concept fashion boutique gallery" opened by Garrett Leight, a native of Venice, and the son of the Oliver Peoples eyewear founder Larry Leight. When in Venice you cannot help but be inspired by the surf, sand, and skate culture. Ilan Dei Studio, located just blocks from the shop, no doubt tapped into these sources of inspiration for this project as well as taking inspiration from the Eames bent plywood processes and skateboard construction. Ilan Dei Studio not only designed, but fabricated and constructed this energetic interior.
Their intention was to dynamically display the range of products, and provide an intriguing attraction for the passersby. Trust me, A. Kinney Court will be sure to catch your eye as you walk or drive by and once inside you will love the vibe.
The display walls remind me of the view down into the deep bowls of the new Venice Skate Park. These walls were created after a desire to build a double-bent plywood surface. In the areas where the material wouldn't support the most extreme combination of bends, holes were cut out and utilized as the product display shelves. The wooden structure was created using parametric modeling techniques and the entire installation was digitally fabricated using only 3/4" and 3/8" plywood as finished surface and structure. Other elements of the store include vacuum-formed polycarbonate panels for the cash wrap, and re-used Redwood stumps for tables and chairs, both accented by smoky black mirrors for work surfaces. [Source: Mot Juste]
Not only does A. Kinney Court house a great collection of shoes, apparel, music, and eyewear, they are also a museum showcasing a revolving selection of other rare Oliver Peoples spectacles rediscovered by Larry and Garrett after carefully sifting through boxes of vintage in multiple storage units.
The red orange rails contrast just perfectly with the raw plywood forms and minimal materials as the products gracefully glide along them.
Check out the before picture: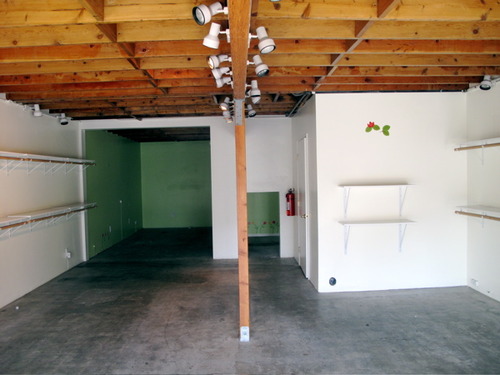 Photography by Ron Moon and Peter Turba.