We've featured Chilewich a number of times and the New York City-based company continues to introduce innovative textiles made for tables, for both indoors and outdoors, that we adore. Besides the beautiful patterns and color ways they come in, the designs are so incredibly durable and easy to take care of, while also being stain resistant. Since 2000, they've been changing the way we set a modern tabletop and luckily for us customers, they've taken the innovation to the floor and windows with the same clever approach. Chilewich also continues to make 90% of their products in the United States in their own facility – pretty incredible! Take a look at some favorites from the most recent collections.
The Fall/Winter 2015 collection brings new colors, textures, and graphics to the table and floor in truly unique ways. Each of the table designs utilizes three different manufacturing processes to be made.
Color Tempo is a series that represents five tonal color stories – dark brown, light tan, grey, blue, and red/orange.
Drift is a new design for their molded series of placemats, which was inspired by traditional Japanese woodblock prints. The pattern references the movement of water and the irregularity of waves.
Faded Floral is the first ever digital print for Chilewich and it was hand drawn in their NYC studio.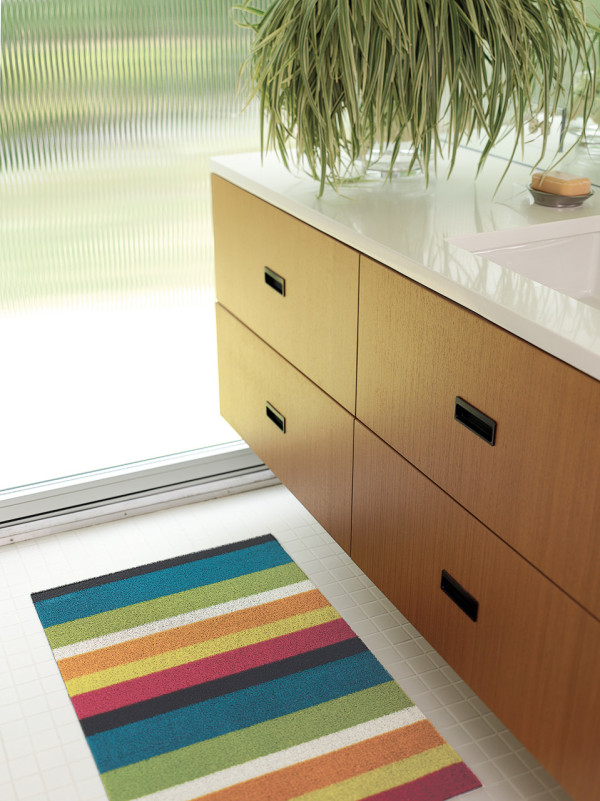 The Dot Shag Mats add a dot of color in the kitchen or bathroom, or you can even use them as a doormat, inside or out.
The Spring/Summer 2016 Collection debuts four new weaves for the table and five new textures for the floor. With a good mix of neutrals, saturated colors, and clean, classic patterns, the new designs
Stitch is a collection inspired by hand embroidered fabrics with its window-like contrasting color against a neutral background.
Wicker is part of the expanding Basket Weave fabric family with a 4 over 8 weave. Mixing neutrals with pops of color gives it the wicker-like textures in the finished products.
The Shag Mixed Stripe indoor/outdoor rug gets a new color way in Montauk, a stripe that gives nod to Nautical trends but with a modern twist.
Turquoise is a new color for the Spring/Summer 2016 season in their Shag Skinny Stripe indoor/outdoor mat collection. As with all of them, they're quick drying and are mold, mildew, and chlorine resistant, making them perfect for bathrooms, kitchens, or any outdoor space.
The Mixed Weave area rug is made just like the woven tabletop products, just with heavier yarns in muted tones. Full of varying textures and patterns, the rug adds a classic, yet modern look to any floor.
The Dot area rugs display playful dots in different colors and the design was specially developed by Chilewich using weaving textile software. The base is a solid neutral metallic that blends silver with taupe, with four complementing colors for dots on the surface.
In November 2014, Chilewich opened their first store in the NYC's Flatiron District offering an extensive collection of the tabletop and flooring designs in one, beautifully designed space.
Store photos by Victor Schrager.