First up is the Maker section, curated by Design Milk, featuring work by North American makers who produce the work in small batches with limited distribution.
Div. 12 (Division 12) featured cool modern chairs/seating by Lukas Peet, Scot Laughton, Rainville-Sangare, and Knauf and Brown.
KROFT is always a favorite with their minimalist, handmade wares made from solid wood.
Objects & Ideas always entices with creative details that turn their pieces into works of art.
Miles & May take craftsmanship to the next level with their impeccably made pieces built from select pieces of wood.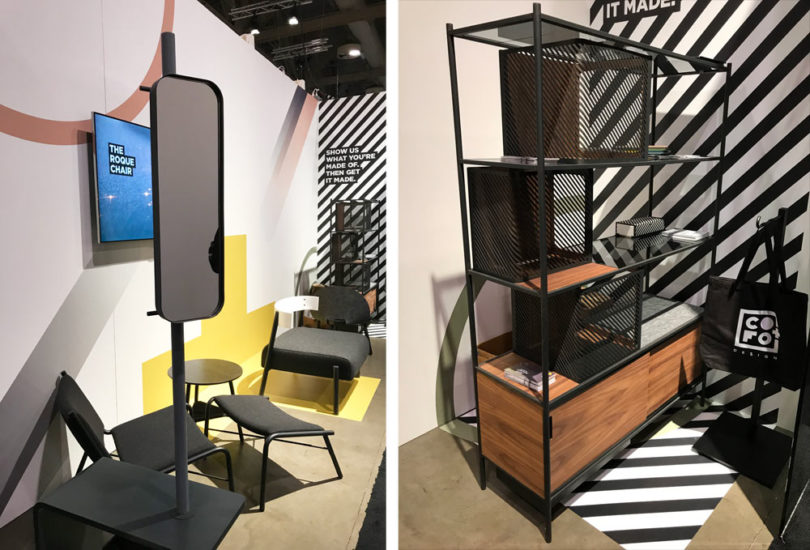 COFO Design launched at last year's IDS Toronto and their business model is intriguing as they launch new designers' works and help them from ideation to pushing it to market. They've expanded their collection beyond the inaugural chair to include fun pieces like the bookshelf on the right that's also a cat home and playspace.
Design Milk also had another booth – the Milk Stand pop-up shop! After curating numerous pop-up shops in the U.S., we ventured to Toronto for the first time to bring together a group of independent designers and makers, who create everything from jewelry to home decor to rugs, to display and sell their goods to the visitors at IDS. Take a look at the 14 featured exhibitors who really brought it this round:
COUPLE d'IDÉES shared a mix of bags made from TYVEK and loads of paper goods.
KONZUK displayed a collection of black and white jewelry made with materials like stainless steel and diamond dust.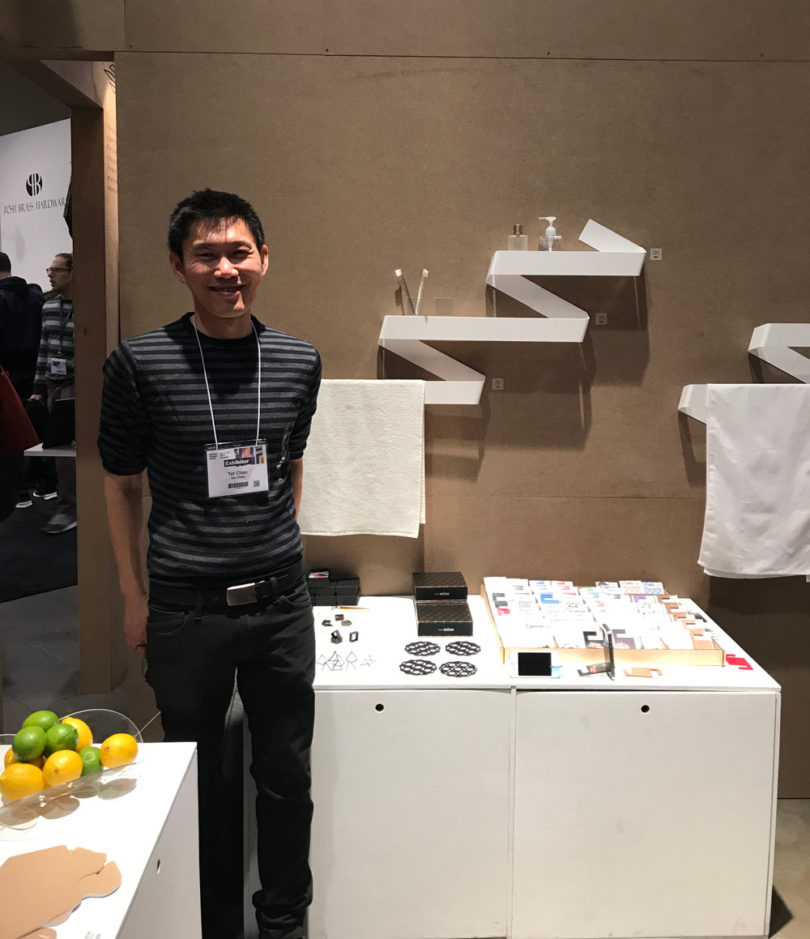 Tat Chao showcased a collection of clever wares, like stands to hold up your tech gear, bent shelves, and magnetic key holders.
Studio Herron presented beautiful rugs and blankets featuring bold abstract patterns and colors.
Area 91 makes cool planters and vases that come with grid tops to help make creative arrangements.
TRIPTYCH showcased their line of contemporary, architecturally-inspired footwear that's designed in New York and made in Italy.
Pironii shared contemporary candles, some square that come with a base and others that are scented in reusable glass containers.
Seymour + Smith creates very cool reading glasses with modern frames made from a wood composite.
Atelier Stōbben showed a collection of handmade modern lighting, furniture, and home decor that's modern and "(minimally) Mennonite".
Cold Gold creates a fun collection of geometric jewelry, as well as hand-painted leather bags.
Les Archivistes displayed modern accessories and objects that are inspired by images and stories from other eras.
Holos Design makes handcrafted pillows in geometric shapes with an eclectic mix of fabrics sourced from their hometown of Ahmedabad.
Rekindle's collection of heirloom quality home goods, like wall hooks, trays, and candle holders, are made from wood and brass accents.
Deus Modern changes the game when it comes to modern mailboxes and house numbers allowing modern design lovers to carry out their style to the front of their house.
Moving on, here are a few other favorites from the show:
hollis+morris featured a minimalist forest of wrapped globe lights atop a mirrored floor that reflected everything back.
Ceragres debuted the FUTURA line of enameled porcelain tile inspired by early 20th century Bauhaus designs.
Really loved the PokoPoko Tables by WOOYOO that rise in certain areas to hold plants in spots that are typically left unused.
ZEED'S Tapermoon is a modular lighting system made from folded paper turned into shades.
And lastly, Quintus Kropholler uses broken marble and granite remnants from local industries to create sculptural tables.