A 30-something couple, their two kids, and golden retriever decided to set down roots in Nir Am, a small kibbutz in southern Israel, despite the elevated level of danger in the region. The modern slash industrial house was designed by Zarta Studio, with SHTAIGMAN in charge of the minimalist interiors.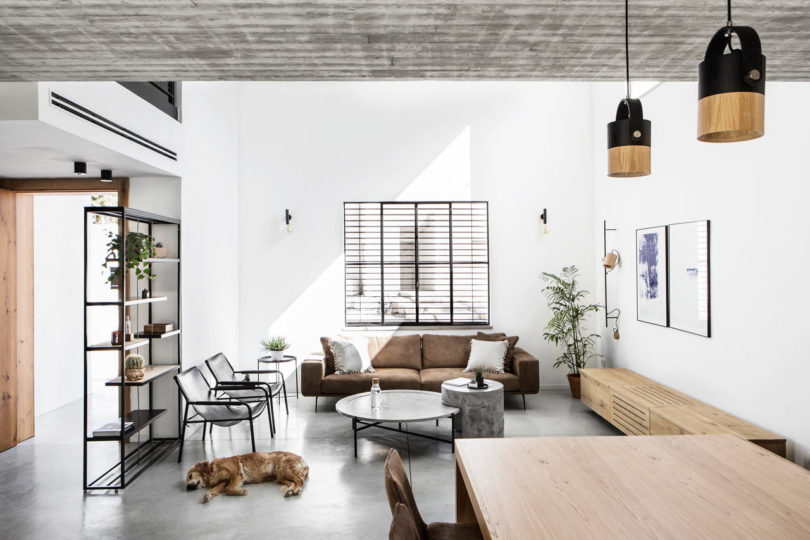 The home spans 220 square meters over two stories with just enough detail to give it a cozy and livable feel. To give it an industrial look, they incorporated raw materials, like concrete, wood, and metal, with exposed beams and polished concrete floors.
The monochromatic color scheme is broken up with worn brown leathers and distressed wood. Much of the furniture was custom built for the project, including the long credenza in the living room, the coffee tables and metal shelf by the entryway.
The metal stairs lead to a loft that overlooks the main living space.
Upstairs includes a master bedroom, kids room, bathroom, and a multi-use loft with a TV area, workspace, and reading window.
The master bedroom features a black wall (the homeowner's favorite color) with a wooden headboard embedded in it, which warms up the space.
The children's bedrooms were built for security, made with reinforced concrete, to protect the family during times of war. An alarm sounds and they have 10 seconds to get into a secure place and with the kids rooms being safe, they know they'll always be protected.
Photos by Itay Benit.