Fast-food giant McDonald's recently opened their brand-new headquarters in the heart of Chicago, taking over Oprah's former Harpo Studio site. The massive project came together in just 18 short months with IA Interior Architects and Studio O+A at the helm, along with the base building architect Gensler, developer Sterling Bay, and construction company McHugh. The new space brings the hamburger company back into the city with the goal of creating a single, innovative workspace that will continue leading them into the future.
Located in a 9-story building, the new HQ brings together a variety of formerly-scattered departments allowing employees to interact throughout their workday. The collaborative setup offers a variety of choices for working, from solo time when concentration is needed to larger spaces for multiple people. On top of the workplace options, the HQ provides employees with a list of enviable amenities, like a fitness center, multiple roof decks, a community cafe, conference center, training facilities, and a bike room, making employment there that much sweeter.
Quiet rooms with comfortable furnishings can be found throughout for when concentration is needed.
The company has been incorporating more ways to foster wellness with things like suites on each floor that include mother and prayer rooms and a library/quiet space. The workspace also makes natural light and healthy indoor air quality priorities.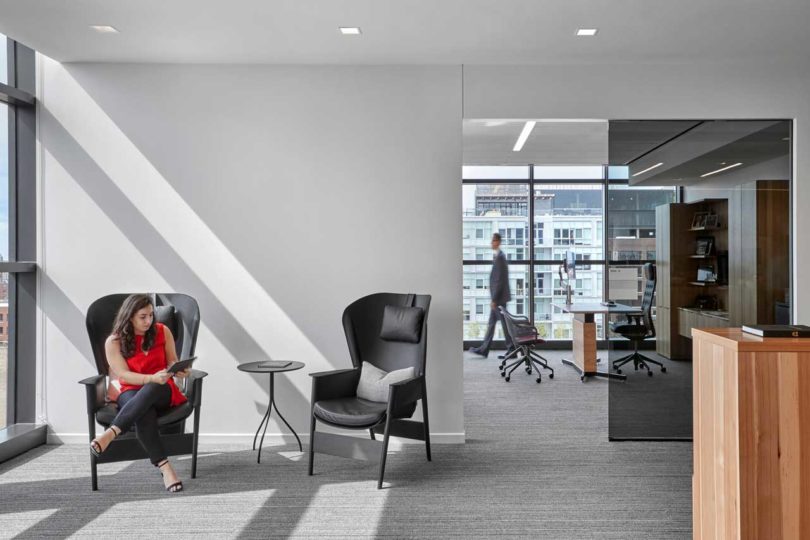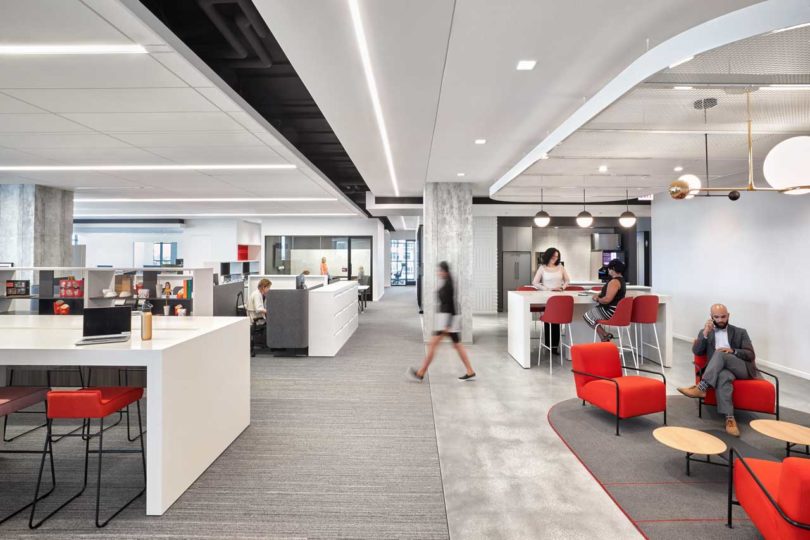 Individual workspaces are intermixed with casual seating, group spots, and meeting rooms, all within a well-lit environment.
The office is centered around a five-story atrium that houses a series of diagonally placed staircases. Adding to the dramatic effect in the space is a massive hanging sculpture by Jacob Hashimoto.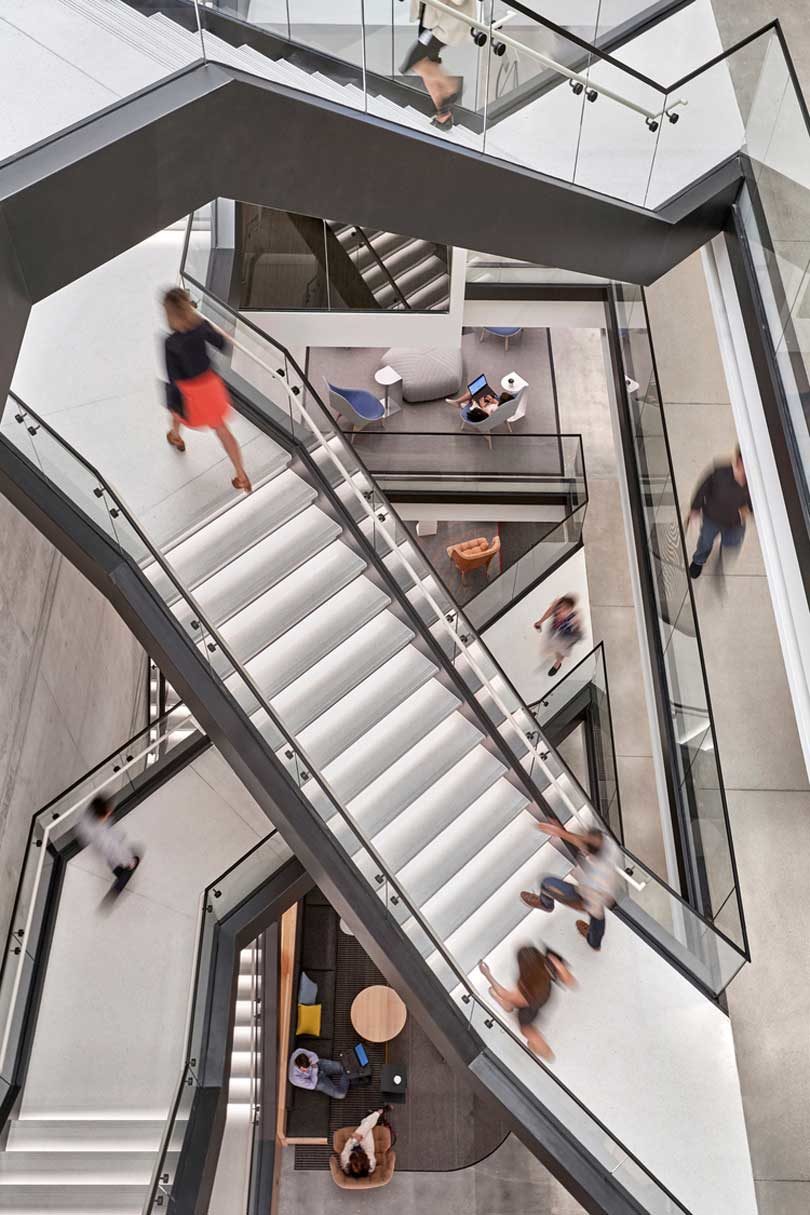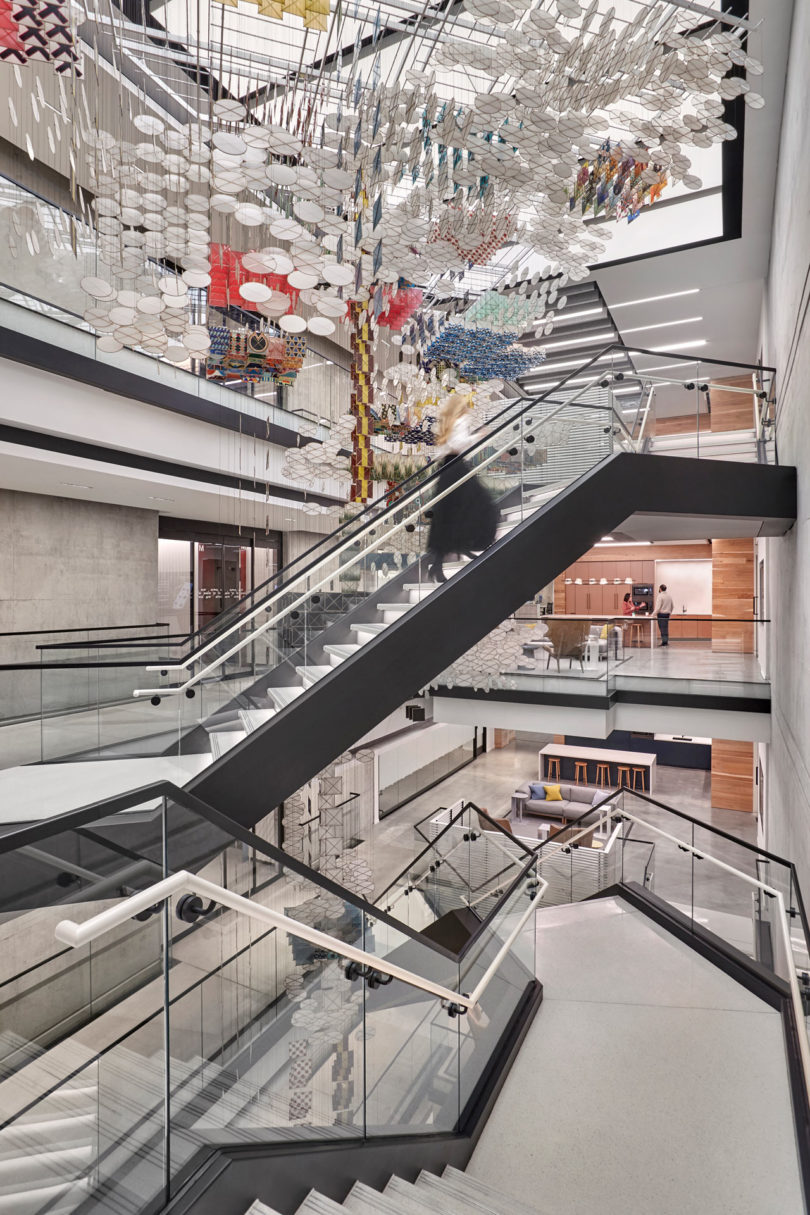 The Work Café features casual stadium seating that looks out to panoramic views from the 6th floor.
Additional casual seating for work or enjoying a cup of coffee can be found at the outdoor Work Café terrace.
Photos by Garrett Rowland.