Design Within Reach and kinder MODERN partnered on a shoppable installation in New York City called "A Playful Home". Lora Appleton, the founder of kinder MODERN, designed the installation using a curated mix of DWR and kinder MODERN furnishings, along with exclusively commissioned pieces. Throughout a series of rooms, like a living room and bedrooms, the collaboration exhibits creative and whimsical possibilities when it comes to living with modern design that are bound to spark ideas for visitors to use in their own homes.
The shared kids' bedroom is a playful space full of color and whimsical pieces starting with the lighting bolt and rainbow mirrors by Bride & Wolfe.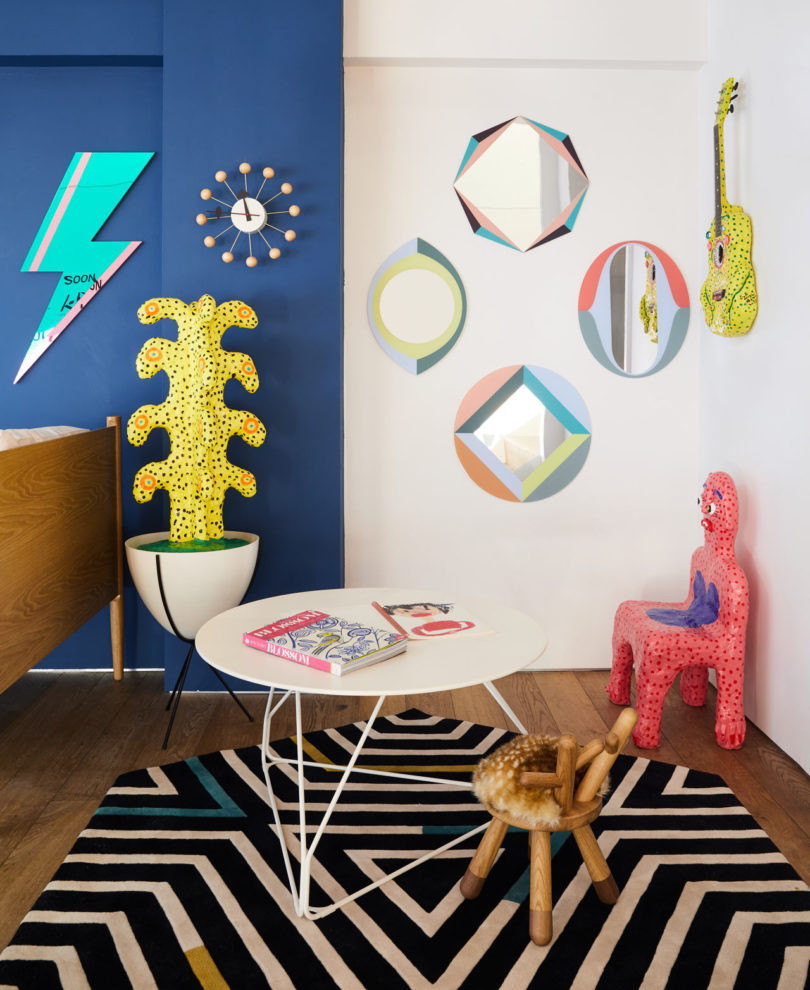 A colorful cacti sculpture "planted" in a mid-century Bullet Planter is by artist Brett Douglas Hunter, who also created other pieces of fantastical creatures in the space. A kinder MODERN rug, designed by Appleton herself, adds a graphic element with a low coffee table designed by Studio 7.5 brought in for play.
The living room setup takes a sophisticated approach that still remains livable and cozy. A mix of neutral colors and unexpected details add visual interest throughout, like the hand-hammered brass wall sculpture by Rodger Stevens that hangs above the Jon Gasca sofa.
The iconic Saarinen dining table is paired with classic Wishbone Chairs by Hans Wegner.
A rug designed by Appleton and artist Cody Hoyt grounds the space and features a walnut coffee table by Gabriel Tan and an orange children's chair by Tom Frencken on top of it.
"A Playful Home" is open at the DWR 57th and Third Studio, 957 Third Ave. (At E. 57th Street), New York, NY 10022. It's open Monday-Saturday from 10am-7pm and 12-6pm on Sunday through April 2019.
Photos by Christian Torres.