A Unique, Modern House That's Designed To Respect the Landscape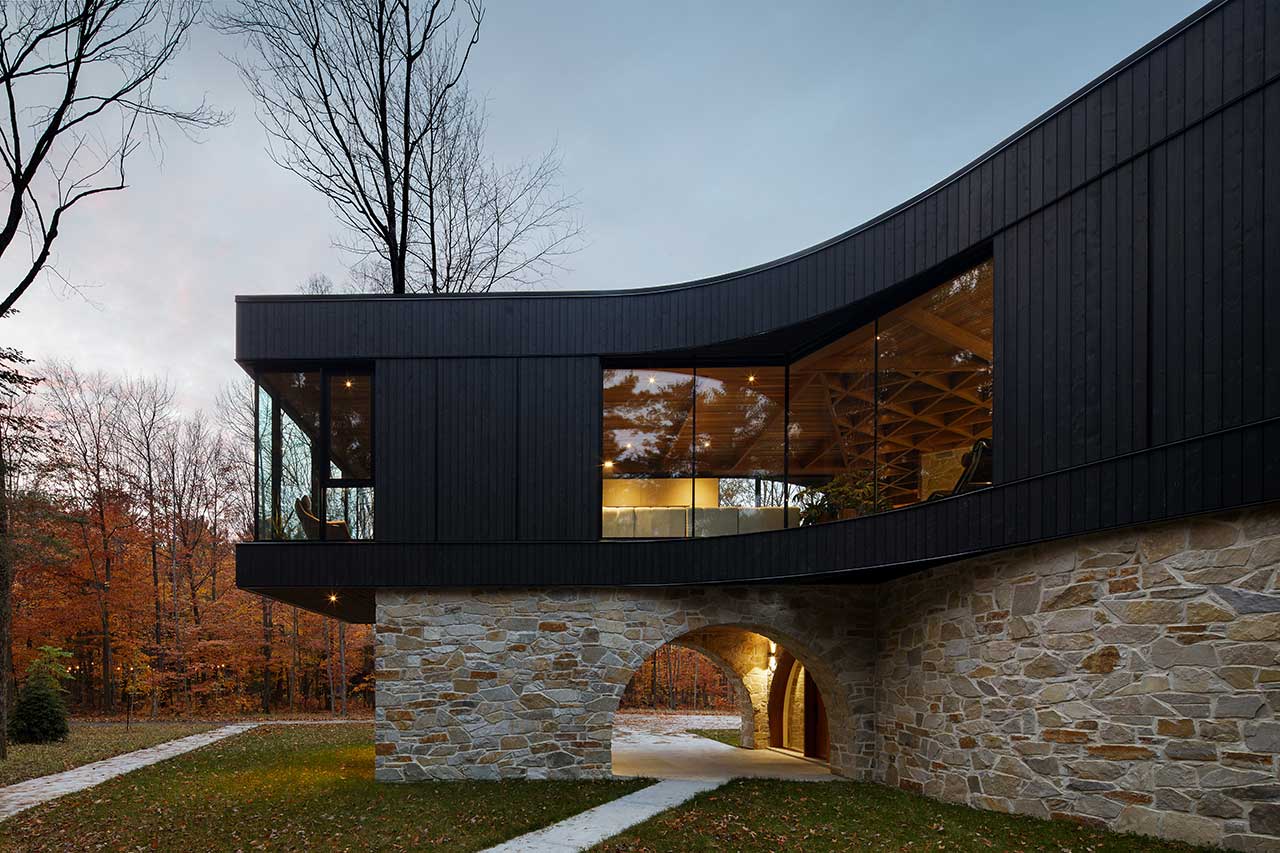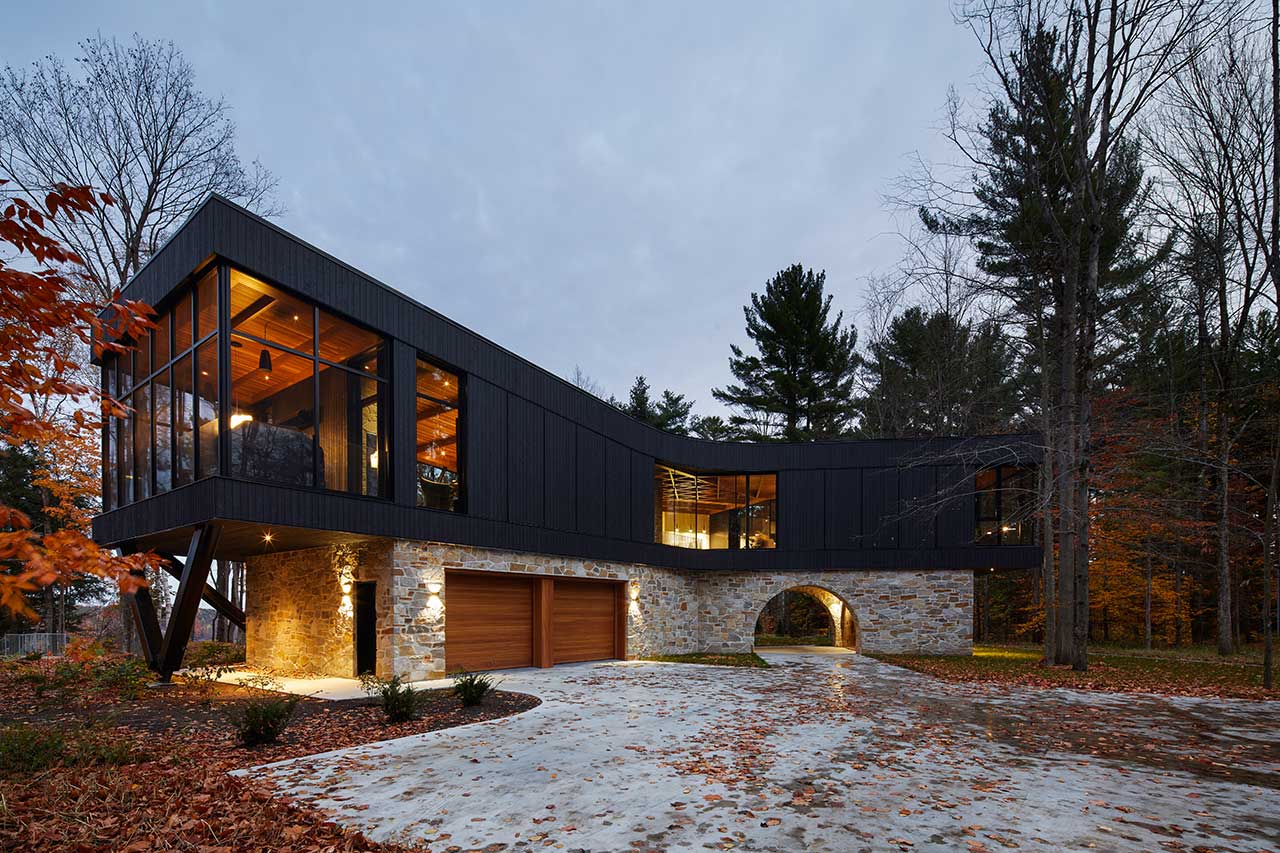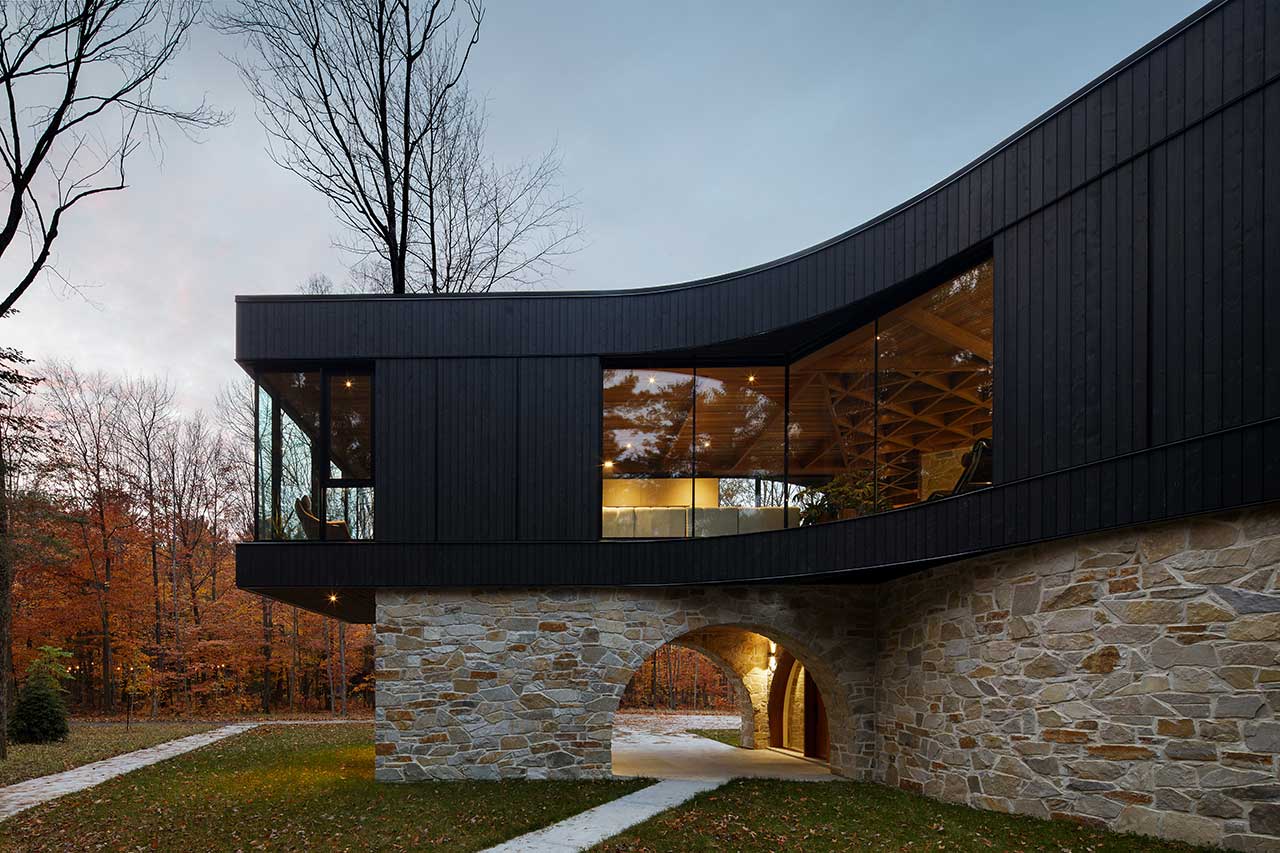 A Unique, Modern House That's Designed To Respect the Landscape
1/19 Photos
2/19 Photos
3/19 Photos
4/19 Photos
5/19 Photos
6/19 Photos
7/19 Photos
8/19 Photos
9/19 Photos
10/19 Photos
11/19 Photos
12/19 Photos
13/19 Photos
14/19 Photos
15/19 Photos
16/19 Photos
17/19 Photos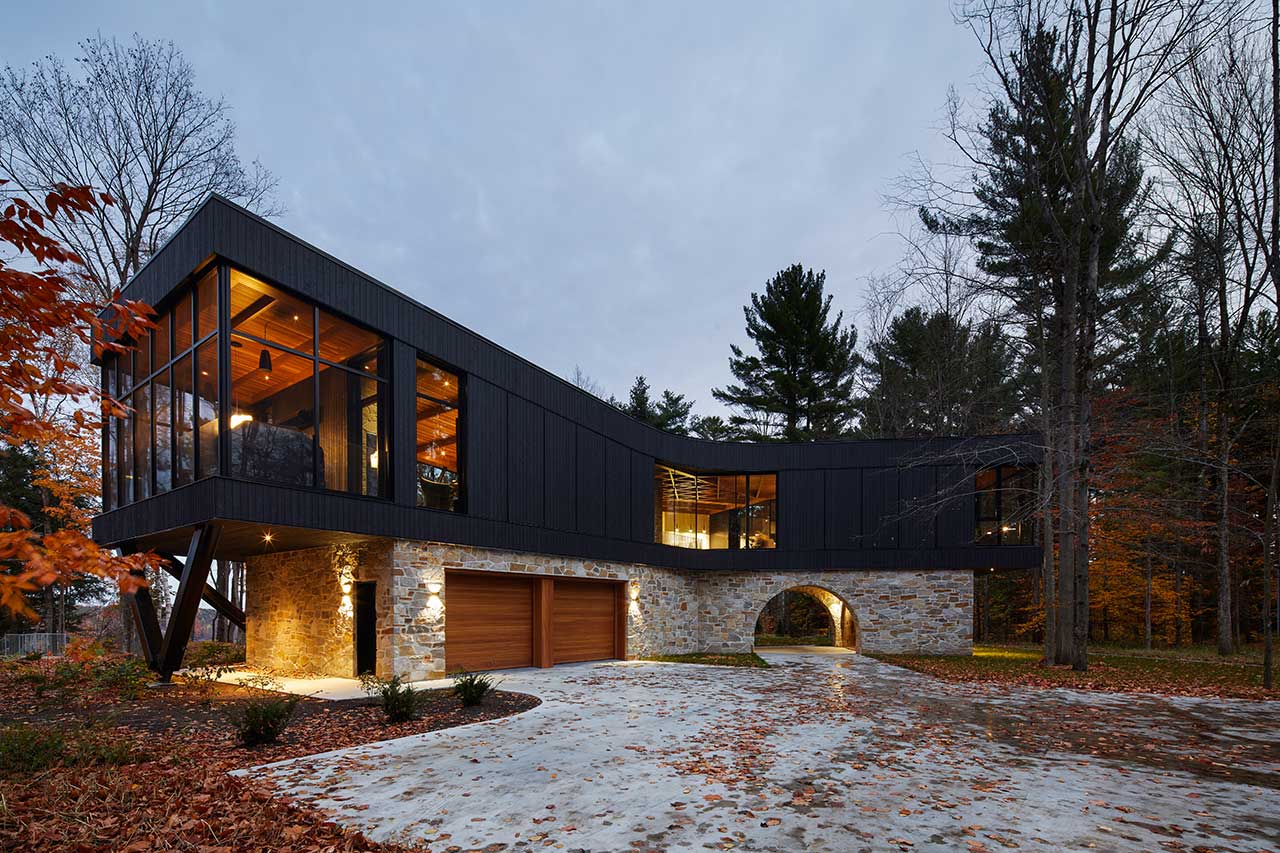 18/19 Photos
19/19 Photos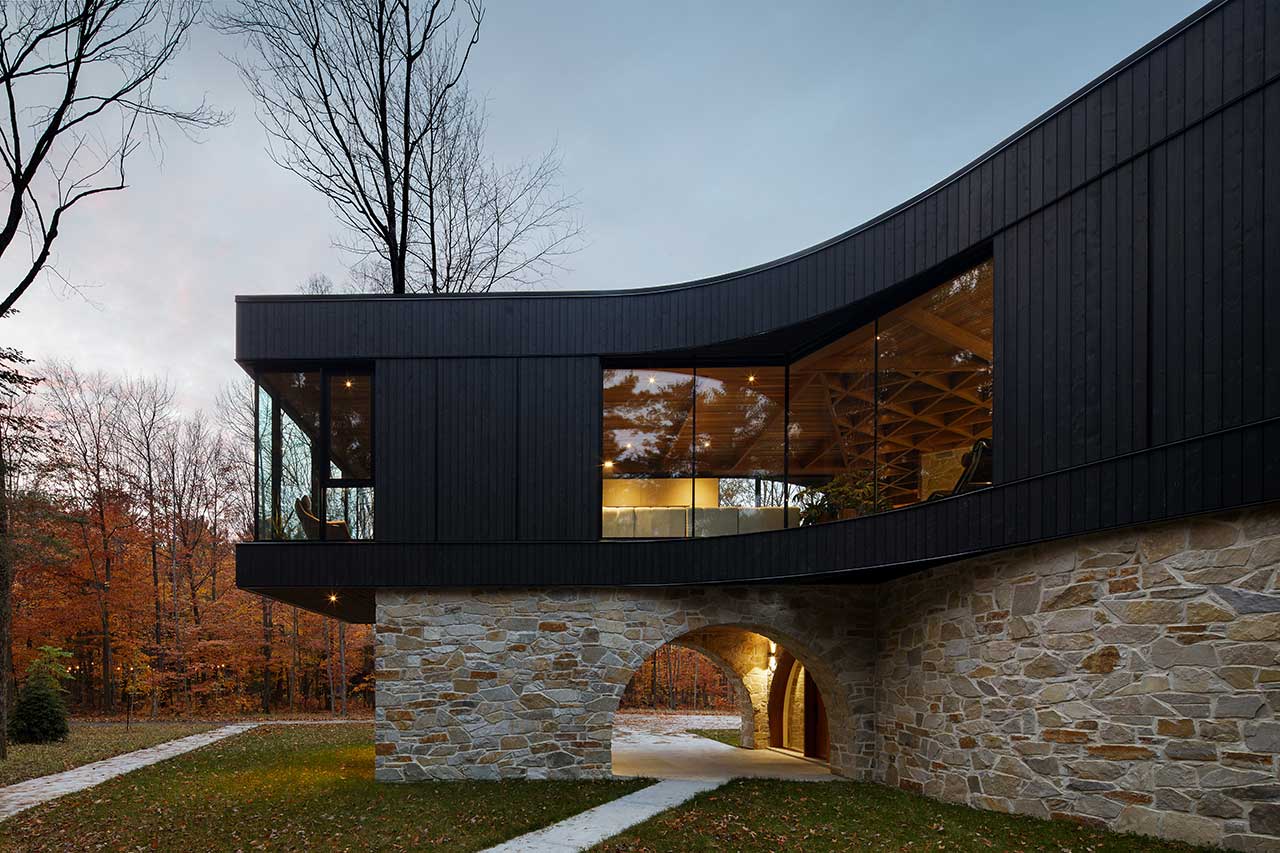 Bourgeois / Lechasseur architects are the team behind this unique home located in Les Forges by the Saint-Maurice River in Quebec, Canada. Built within dense pine trees, the Des Forges Residence, which resembles a three-sided star or a triangular speaker found in many conference rooms, resides on the edge of a cliff with access from the main road via a long private driveway. The house is designed to both "reflect and respect" the topography, surrounding vegetation, river curves, and the views.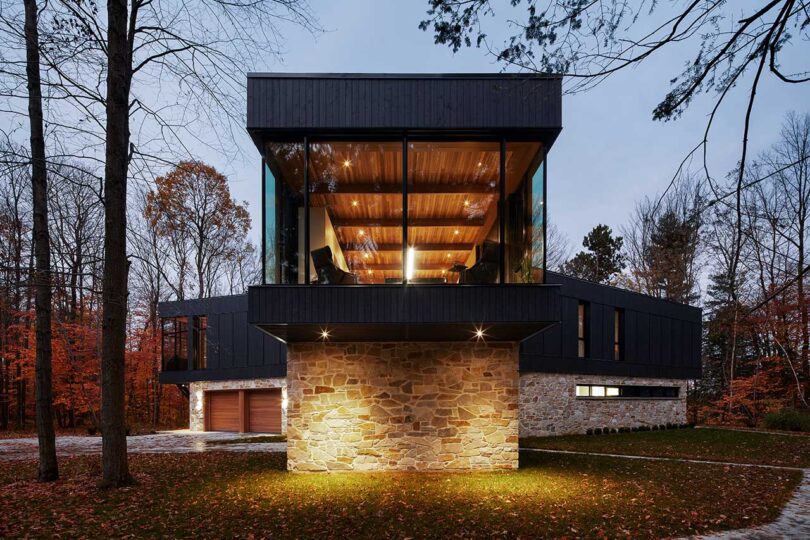 Local building restrictions limit if and how buildings can be constructed near the river's cliff to prevent erosion. To make the Des Forges Residence happen, the structure had to align with the profile of the cliff and be distanced at least 20-meters away.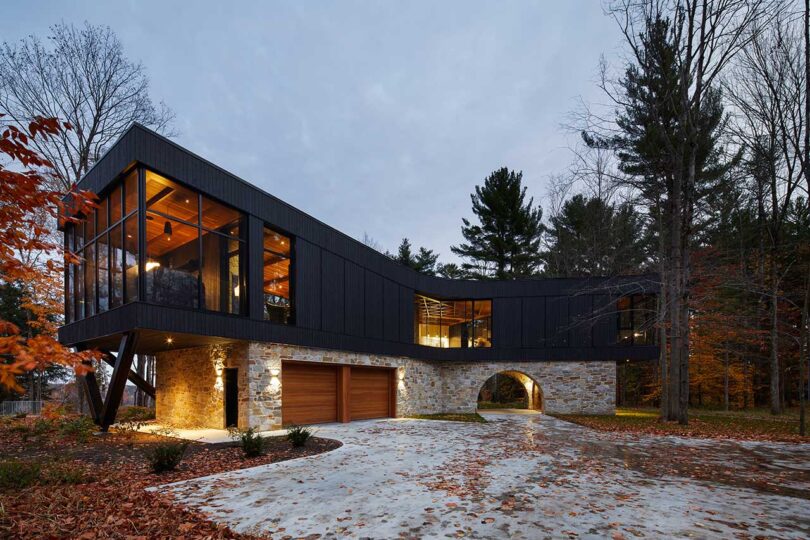 The sculptural home spans two floors with three wings joined by a central space that includes a curved staircase. The stone clad lower floor houses the two-car garage, front entryway, and curved staircase. It also features the guest areas and utility rooms.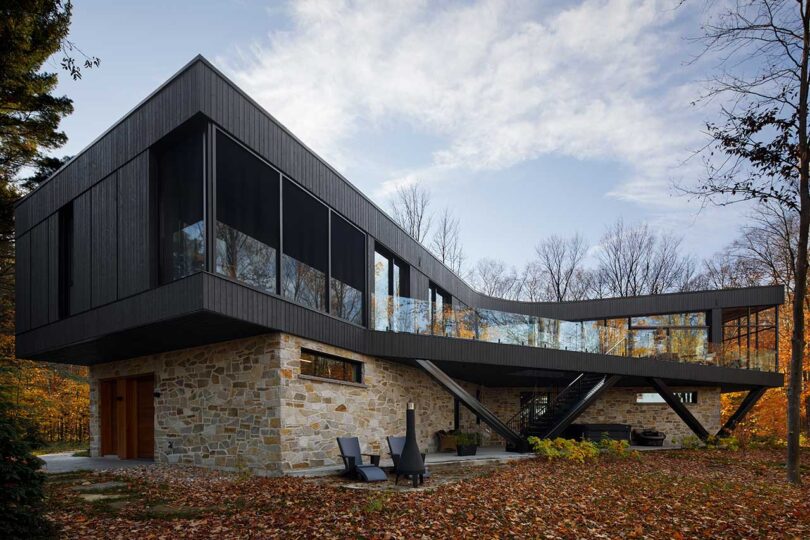 In addition to the stone foundation, the upper level is supported by a steel structure and secondary wooden structure. The wooden structure comes to light in the central part of the home on the ceiling above the grand staircase.
Along with the natural stone, the black spruce siding helps visually disguise the house in nature. The contrasting colors give the upper level the appearance that it's floating amongst the trees.
The outside entryway is surrounded by four stone arches that lead to a semi-circular, solid wood and glass front door.
The central part of the home highlights the double-height staircase with a stone wall, modern white banister, cascading chandelier, and triangular wooden ceiling.
The upper level includes the public living spaces and primary bedroom suite. One wing houses the living room with a large modular sofa and bank of built-in storage cabinets. Just past that is a pool table and seating area, all surrounded by floor-to-ceiling windows.
The large kitchen, dining room, and another seating area make up another wing, all with equally alluring views.
The private wing includes the main bedroom, bathroom, office, and laundry room.
Photography by Adrien Williams, courtesy v2com.