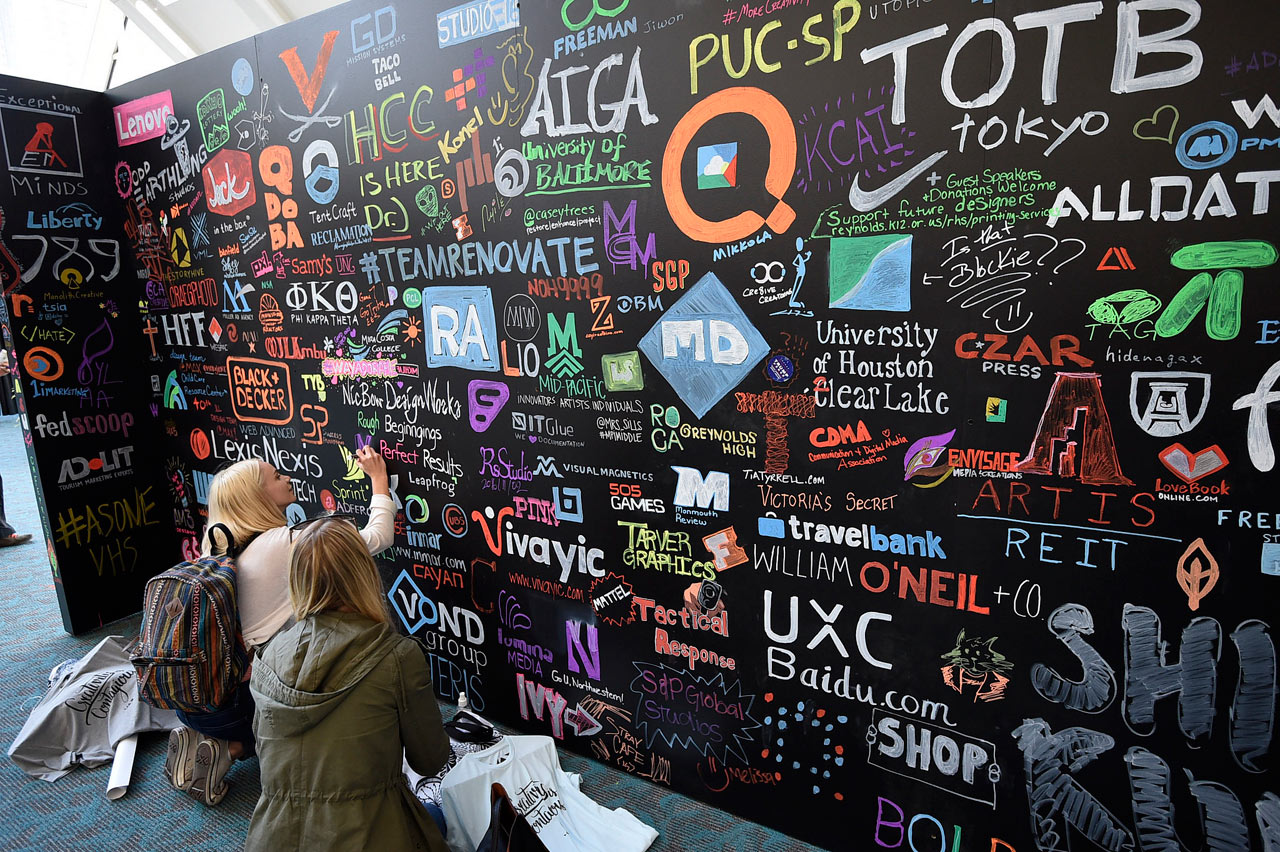 Last week, more than 10,000 creative professionals gathered in San Diego for Adobe MAX. The conference has evolved from its early roots as a developer event to the world's leading creativity conference showcasing both Adobe innovation in creativity technology, as well as keynotes and sessions from leading creative minds.
Day 1 opened with a keynote led by CEO Shantanu Narayen and Adobe executive vice president Bryan Lamkin revealing major innovations to Creative Cloud to support the increased demand and investment in creativity across business and creative disciplines. The Day 1 keynote gave attendees a first look at Adobe Sensei, a new framework and set of intelligent services spanning all of Adobe's cloud offerings, aimed at dramatically improving how customers design and deliver digital experiences. In addition, Adobe also demonstrated new advancements in virtual reality video editing, unveiled Project Felix, for simple 3D compositing for designers, a brand new type platform to easily find, manage and purchase individual premier fonts, new partnerships to add Reuters Editorial Collection to Adobe Stock, among other announcements. More details on the Creative Cloud news is available here.
Beyond the creative tech innovations, Adobe MAX features programming aimed at helping attendees find, build and achieve their creative passions. The Day 2 keynote inspired attendees through commentary from Hollywood director Quentin Tarantino, New York Times photojournalist Lynsey Addario, fashion designer Zac Posen and sculptor Janet Echelman.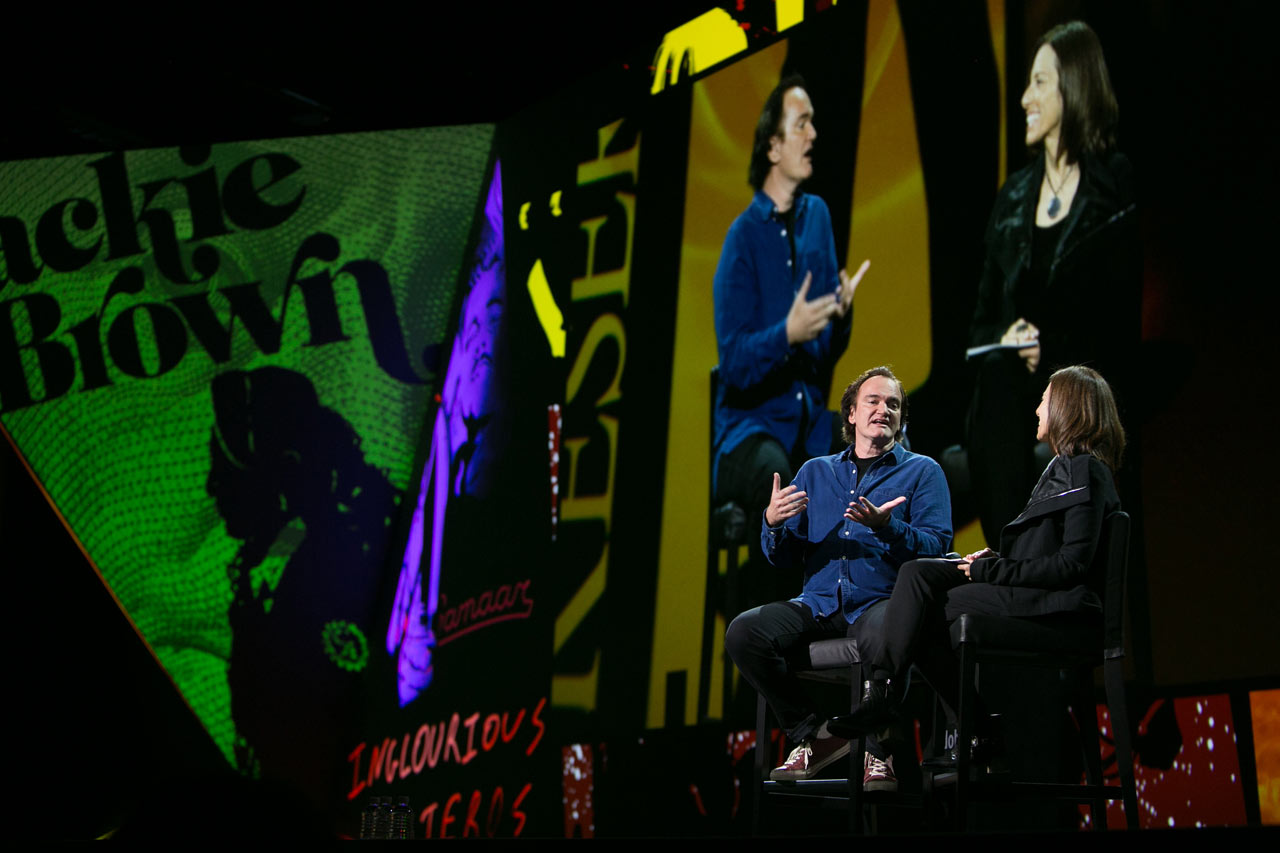 Tarantino shared how his creative process for each movie begins listening to vinyl records to find the "beat" of each film. Beyond his own work, he also commented on the impact of technology in the film industry. On one hand, he praised the democratization effect in making filmmaking more affordable and accessible to more than just "rich, white men." However, he lamented that this has also led to a lack of a filter in what content is created, saying "not every film should be made."
Zac Posen dazzled the audience as a model twirled in his glow-in-the-dark gown, worn by Clare Danes to the 2016 Met Gala as he shared the role of technology in evolving how and what he creates. Photojournalist Lynsey Addario struck a different tone with images and stories of her work in war zones and stories of her capture in Libya.
Sculptor Janet Echelman, known for her larger than life living, breathing netting sculptures installed in civic areas across the globe, explained how a lost shipment of paint in 1997 forced her to find new creative avenues. When her paints didn't arrive for an Indian exhibition weeks away, Janet discovered the beautiful weaving of netting along the shores of India. This reshaped her creative motif and influenced the rest of the career.
In addition to the keynotes, breakout sessions and labs gave attendees tangible skills and takeaways to apply to their jobs. Aaron Draplin spoke to the challenges and experience of Draplin Design Co's process of publishing its first book; filmmaker and YouTube creator Sara Dietschy gave tips on using Snapchat and Facebook Live, and many more. Attendees also selected from more than 60 workshops and labs to master new skills in 3D, UX design, photography, animation and typography.
At the end of Day 2, Jordan Peele of the comedy sketch show, Key and Peele, co-hosted the Sneaks session, a preview into projects from the Adobe R&D Labs. Project StyLit, a reflective technology that enables designers to transfer hand-drawn artistic styles onto 3D models, received shouts of "we want this" from the audience. Project VoCo, an audio editing technology aimed at easing the challenges of re-recording audio for narration, voiceovers and dialogue, stunned the crowd and Jordan Peele joked, "You're a witch!" as audio from comedy partner Keegan Michael Key was transformed. You can check out videos and more on the 2016 Sneaks on the Adobe blog.
This conference had some of the most fun interactive and creative features we've ever seen from a trade show—from a pool float lounge to live screenprinting to a giant Lite Brite!
Design Milk (that's us!) partnered with Visual Magnetics to create ginormous "Mad Libs" which we called Milklibs. Brainstorm illustrated them and brought them to life. We used magnetic tiles and dry erase Visual Magnetics material to create the fun interactive setup… reminds us of fridge poetry!
There were some really hilarious libs being created by the attendees.
Following Sneaks, attendees enjoyed dinner and live music from Alabama Shakes and the Mowglis during the evening MAX Bash, set with a backdrop of a custom installation from Janet Echelman, whimsical cotton candy trees and a variety of art.
It was a packed conference with tons of learning, laughs and creativity. Catch up on everything you missed at the MAX blog, and join Adobe next year for Adobe MAX in Las Vegas, Oct. 16-20, 2017.
Special thanks to the Adobe Staff for helping us put together this article. Photos of the Design Milk booth by Jaime Derringer. All other photos courtesy of Adobe.