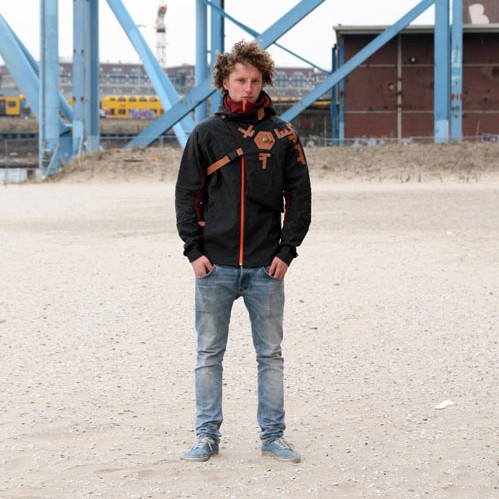 Nieuwe Heren is back with a new design – a multifunctional protective jacket called Aegis Parka. But this just isn't any old parka… it helps to keep you healthy.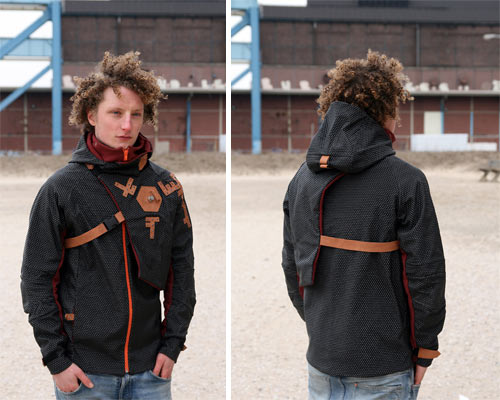 Called Aegis, which is the shield of Zeus in Greek mythology forged by Hephaestus with a surface of gold like scaly snake-skin (according to The Iliad). The design is a response to the growth of urban pollution, which is affecting our health. The jacket is an attempt to counter the effects of airborne pollutants.
Inside of the parka, a sensor registers hazardous molecules – NH3,NOx, alcohol, Benzene, smoke, CO2: the six most common urban pollutants – and alerts you about their intensity using illuminated LEDs. The more LEDs that light up, the worse the air quality. If you need it, the jacket has a built-in respirator with an active carbon filter.
The designers also considered how the jacket can give back: biking and walking through the city wearing it can actually improve the air quality, as the suit is treated with a TiO2 (titaniumdioxide) solution, which cleanses the air due to its photocatalystic properties.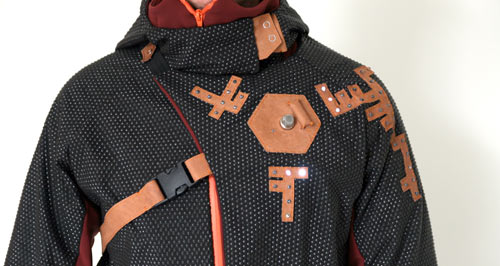 The jacket fabric is created from schoeller®-Ceraspace™, a scaly fabric created out of ceramic particles, making it far more abrasion- and heat-resistant then leather. The inner lining consists of schoeller®-PCM™ a special textile containing millions of microcapsules filled with Phase Change Materials (PCM). They balance out temperatures which are too high or too low to achieve the wearer's personal comfort climate.
The garment is treated with a TiO2 (titanium dioxide) spray. TiO2 liquid makes surfaces grime, mold, bacteria, and virus resistant. And when the UV light hits the photo catalyst, it will release oxidizers into the air, which will destroy any airborne pollutant touching the garment.
The zipper is aquaseal water proof, provided by YKK Nederland.
This project is not yet in production.