In the hillside village of Civitacampomarano in Southern Italy where only 386 live, Airbnb is developing a communal village project. The area has become an infamous spot where street art interventions adorn and enliven the buildings. Within one of the historic buildings, an Italian politician and illuminist Vincenzo Cuoco lived sometime between the 18th and 19th centuries, and now it's become a new artist's rental house to join Airbnb's Italian Villages project. Airbnb enlisted the help of Eligo Studio to design Casa Cuoco, and artist Lorenzo Vitturi to create a site-specific photographic triptych to bring it to life.
Casa Cuoco is part of Airbnb's Italian Villages, a collaboration with MiBACT that's sponsored by ANCI, which offers promotion of 40 Italian villages and the redevelopment of public buildings in Sambuca di Sicilia, Civita di Bagnoregio, Lavenone, and now, Civitacampomarano. Each residence, which is provided by the municipalities themselves, is run by the mayors or associations that act as the hosts, with all of the profits being reinvested back into the community. To make this project self-sustainable, Airbnb doesn't take their normal commission.
Eligo Studio created a monochromatic theme in shades of powder pink, gray, and blue to feel like a loft with open spaces. Embedded in each space are wooden structures that become the dining table, shelving, sofa, and wardrobe that act as the backdrop to the furnishings used throughout. They partnered with brands like Smeg for the appliances, Vitra for the seating at the dining table, and Foscarini for all of the lighting.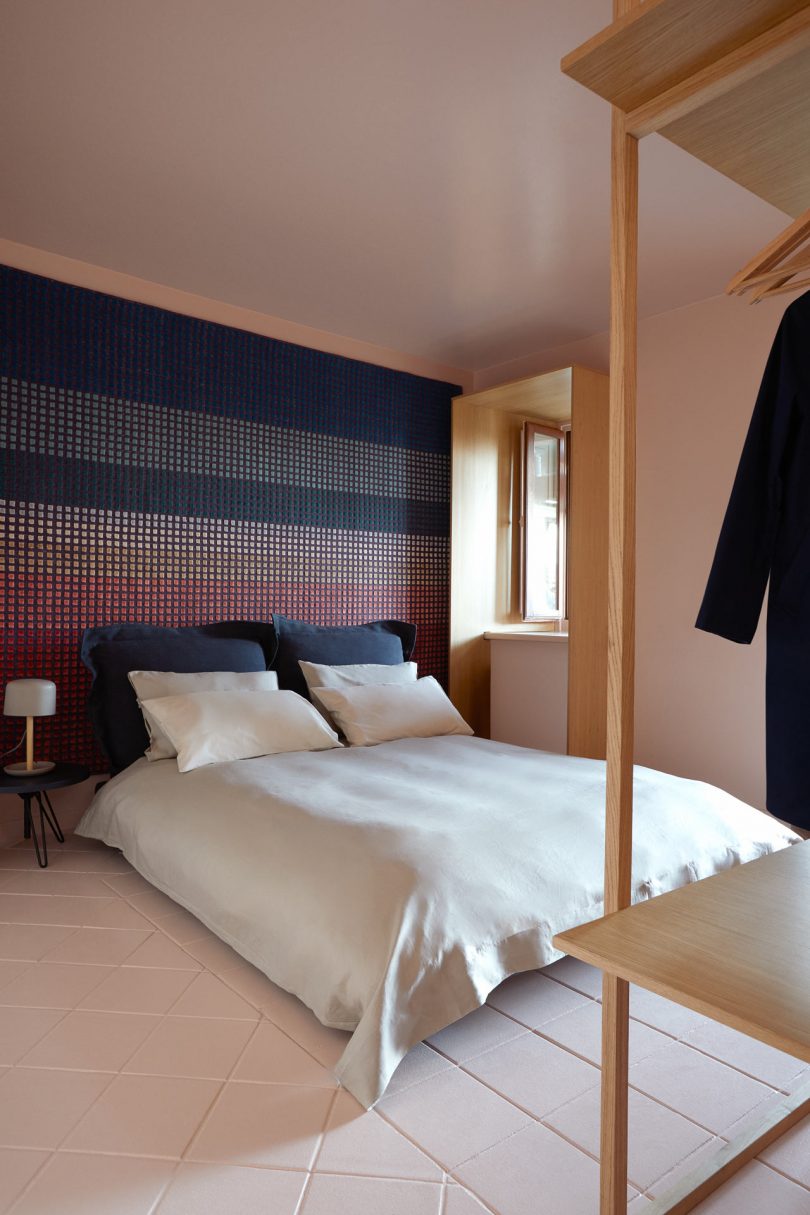 The bedroom features a bed from the Diesel Living for Moroso collection with one of Eligo's carpets designed for cc-tapis displayed on the wall like a tapestry.
The bathroom is outfitted with ex.t fixtures and become an additional room with another wooden structure for storage.
Vitturi's work is based on his inspiration acquired from the area and a book by Cuoco, the original inhabitant of the house. He collected local stones and abandoned elements and stacked them into a totem, photographed them, and changed the color to a vibrant blue for the final works, which are mounted in the house.
Interested in staying at Casa Cuoco in Civitacampomarano? The property will be available for bookings on Airbnb beginning in January 2020.