Off-the-Grid Camping Has Never Been More Comfortable Than With the Airstream eStream Concept Travel Trailer
Off-the-Grid Camping Has Never Been More Comfortable Than With the Airstream eStream Concept Travel Trailer
1/11 Photos
2/11 Photos
3/11 Photos
4/11 Photos
5/11 Photos
6/11 Photos
7/11 Photos
8/11 Photos
9/11 Photos
10/11 Photos
11/11 Photos
The "silver bullet" silhouette known as the Airstream has endured as an icon of the road since the first aerodynamic travel trailer rolled off the assembly lines in the 1930s. Noting there's a good chance travelers towing an Airstream today might do so from behind the wheels of an electric vehicle, Airstream, in collaboration with their parent company THOR Industries, set out to imagine a next generation concept conceived to hit the road with efficiency, improved maneuverability, and updated interior appointments, resulting in the eStream Concept Travel Trailer.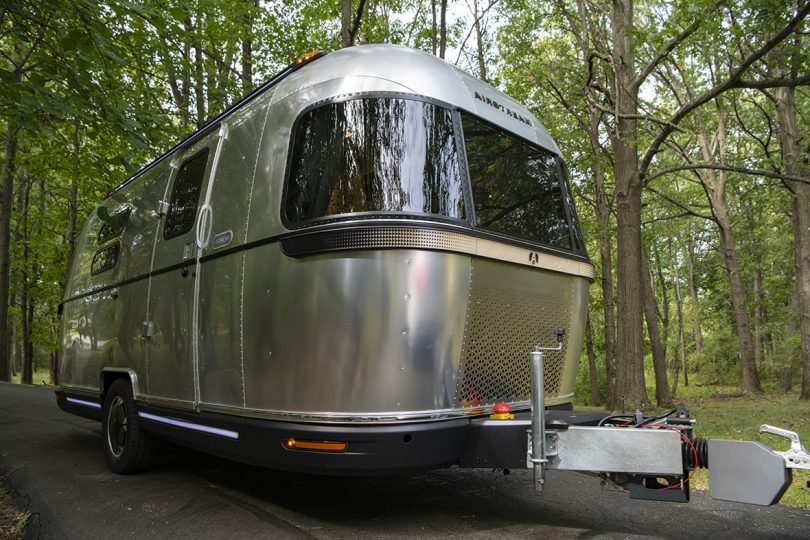 The all-electric concept combines an updated aerodynamic shape alongside a high-voltage chassis with its own battery-powered electric drivetrain and control systems to improve mileage, alongside power a plethora of amenities within its 22-foot-long floor plan with 80 kWhrs of power stored in a battery bank. Airstream notes that's "more than 30 times the power of the lithium batteries that are included with many Airstream models today," storing enough energy to operate a suite of onboard systems, including an air conditioner, without being connected to shore power, kitchen appliances, and even charge other electrically powered vehicles – or even a home – by exporting power from the electric drivetrain.
More importantly the battery system and motor combo offers a Drive Mode to help move that home away from home down the highway in concert with the tow vehicle, easing towing duties and essentially allowing the eStream to drive alongside the lead vehicle, improving aerodynamic drag by 20 percent and in turn, total range.
Off-the-grid recharge comes by way of a paneled roof covered with five 180-watt semi-flexible solar panels good for up to 900 watts of solar power from five 180-watt semi-flexible solar panels (with the option to charge up via 30-amp hookup). Airstream has doubled the amount of power available, meaning travelers can use a cooktop, refrigerator, or stove without the need for propane or a diesel generator, and up to two weeks time.
Noting the sad reality that many of us still work while on a vacation, the eStream Concept Travel Trailer is equipped with a 5G connectivity signal booster and Wi-Fi hotspot, which means you conceivably (but should not) check on emails/Slack instead of slacking off in comfort. But this also means travelers can pull-in signal to binge their favorite series at night or stream fave playlists while roasting marshmallows; Wi-Fi is also used to give travelers access to the eStream's lighting and HVAC systems using voice commands or using a dedicated app, where all systems can be monitored and updated to preferences.
For now the eStream exists as proof-of-concept, but one that likely will emerge as a real world product in the near future noting the proliferation of off-road capable electric vehicles like the Rivian and Ford F-150 Lightning that should pair rather nicely with this trailer designed to become an inviting off-the-grid mobile campsite.