An Angular Floating Home in a Sustainable Floating Village in Amsterdam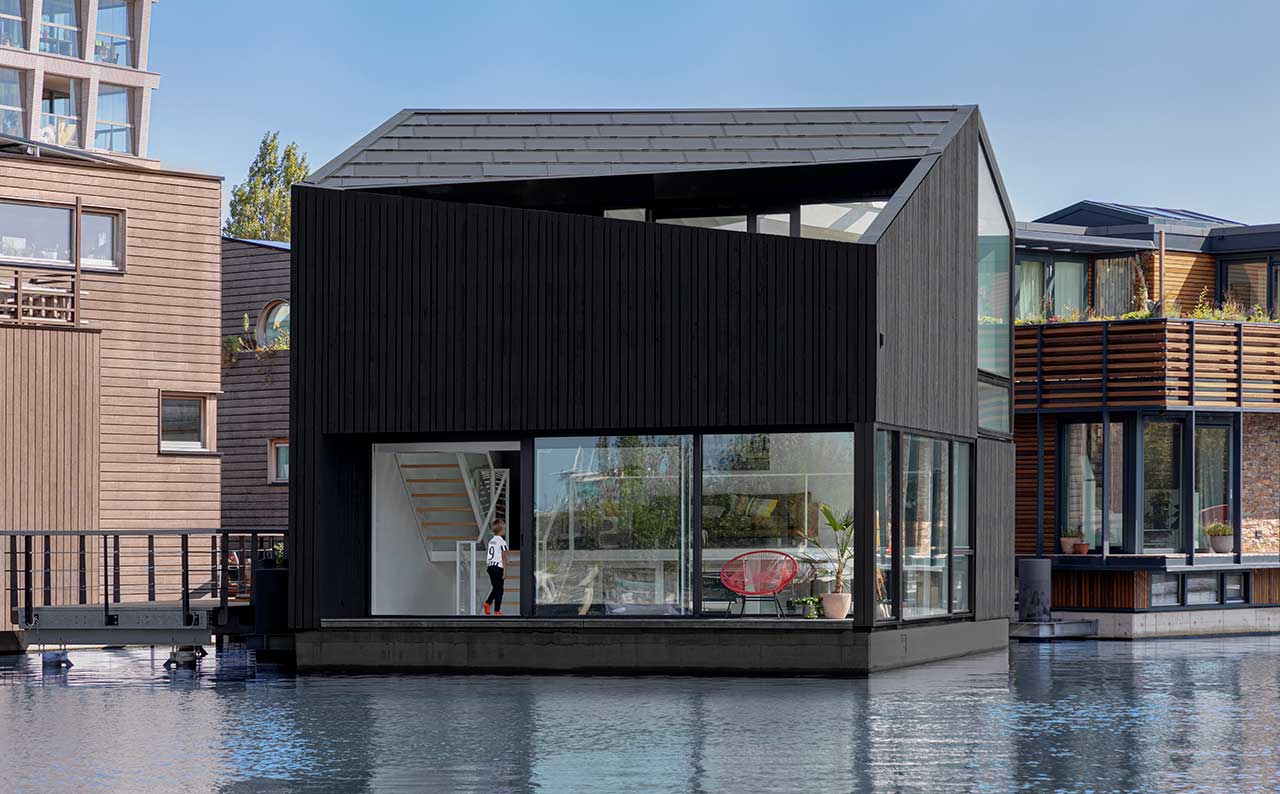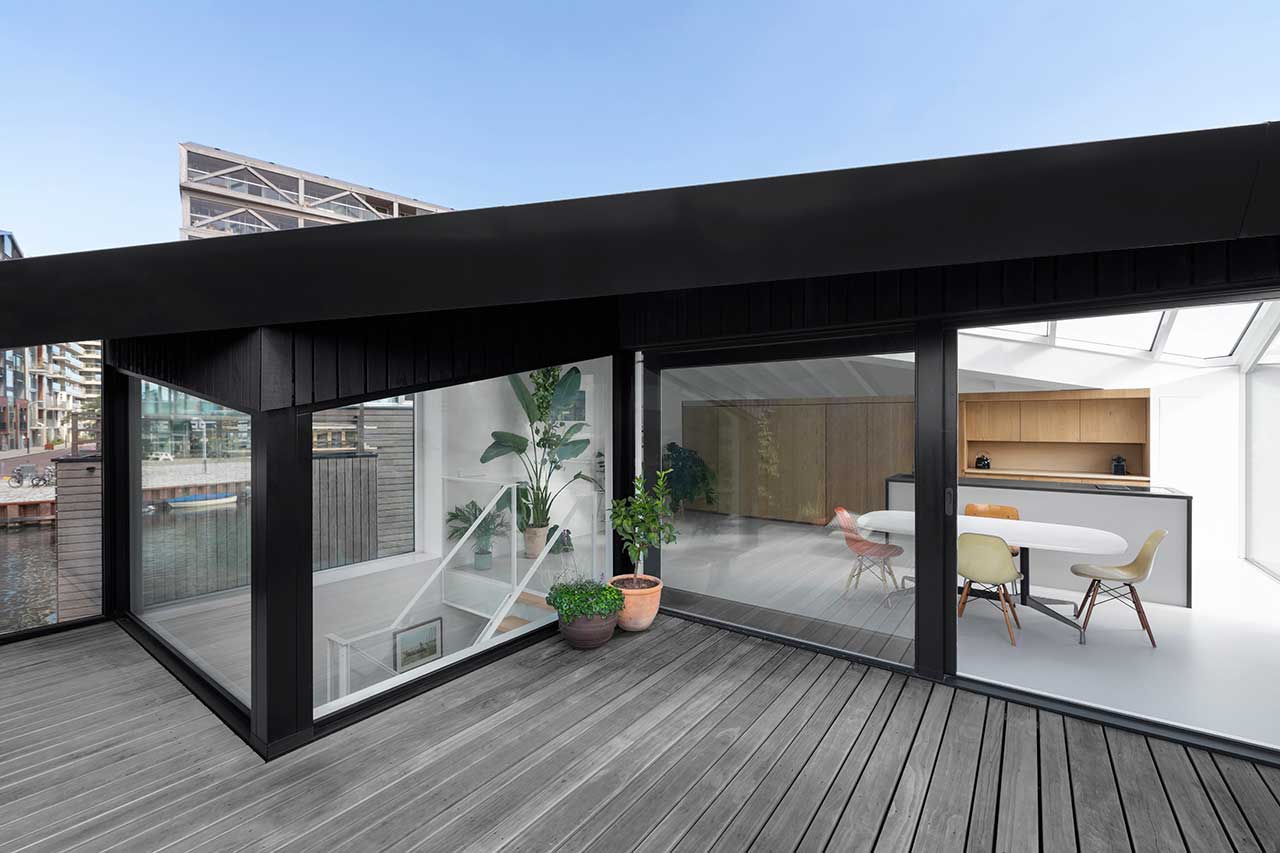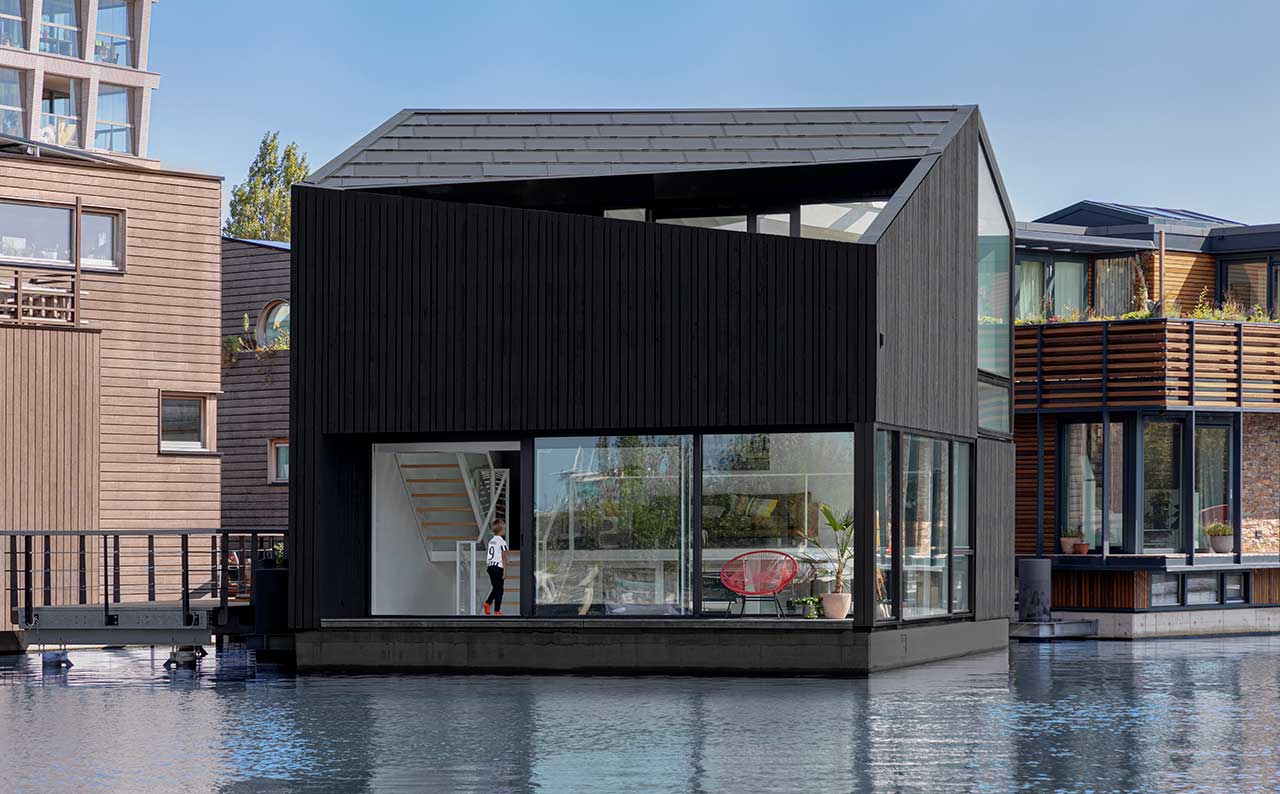 An Angular Floating Home in a Sustainable Floating Village in Amsterdam
1/26 Photos
2/26 Photos
3/26 Photos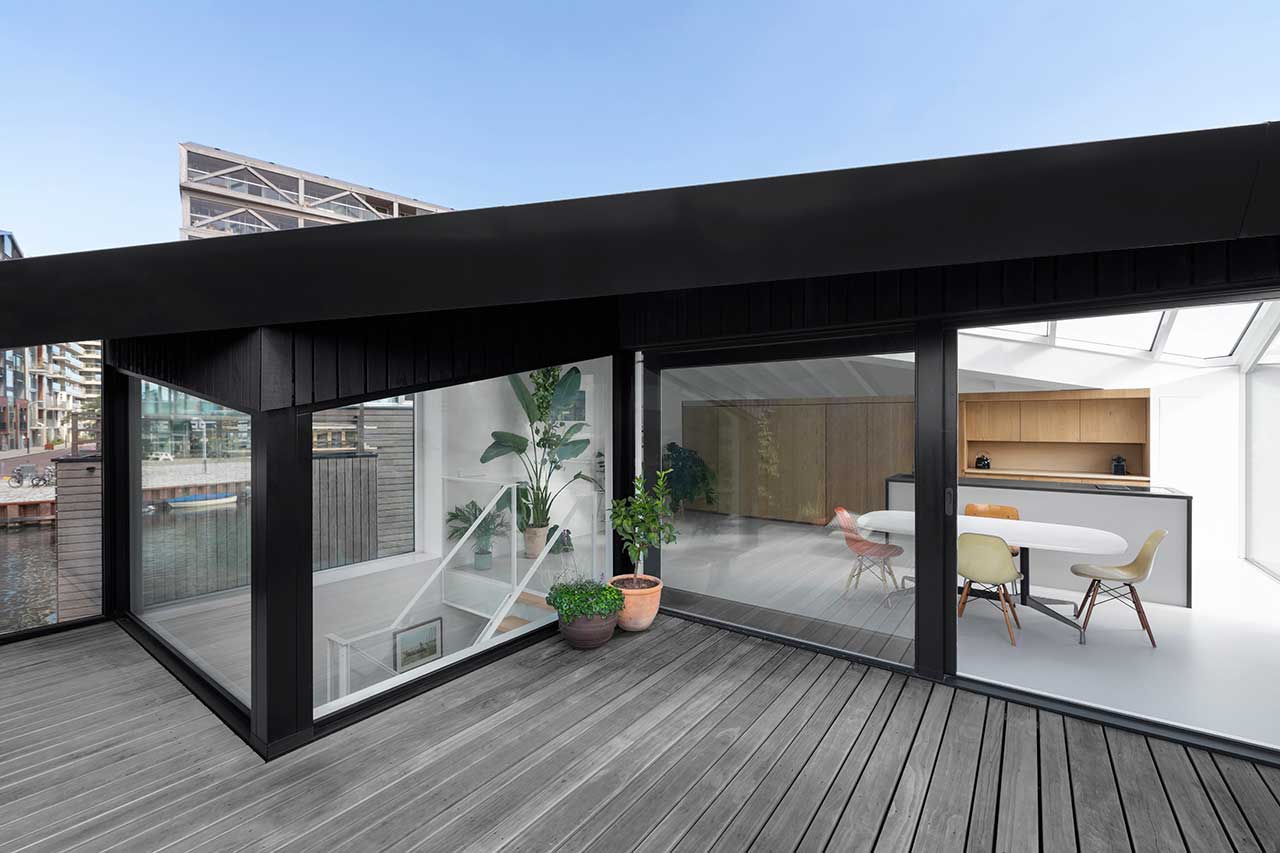 4/26 Photos
5/26 Photos
6/26 Photos
7/26 Photos
8/26 Photos
9/26 Photos
10/26 Photos
11/26 Photos
12/26 Photos
13/26 Photos
14/26 Photos
15/26 Photos
16/26 Photos
17/26 Photos
18/26 Photos
19/26 Photos
20/26 Photos
21/26 Photos
22/26 Photos
23/26 Photos
24/26 Photos
25/26 Photos
26/26 Photos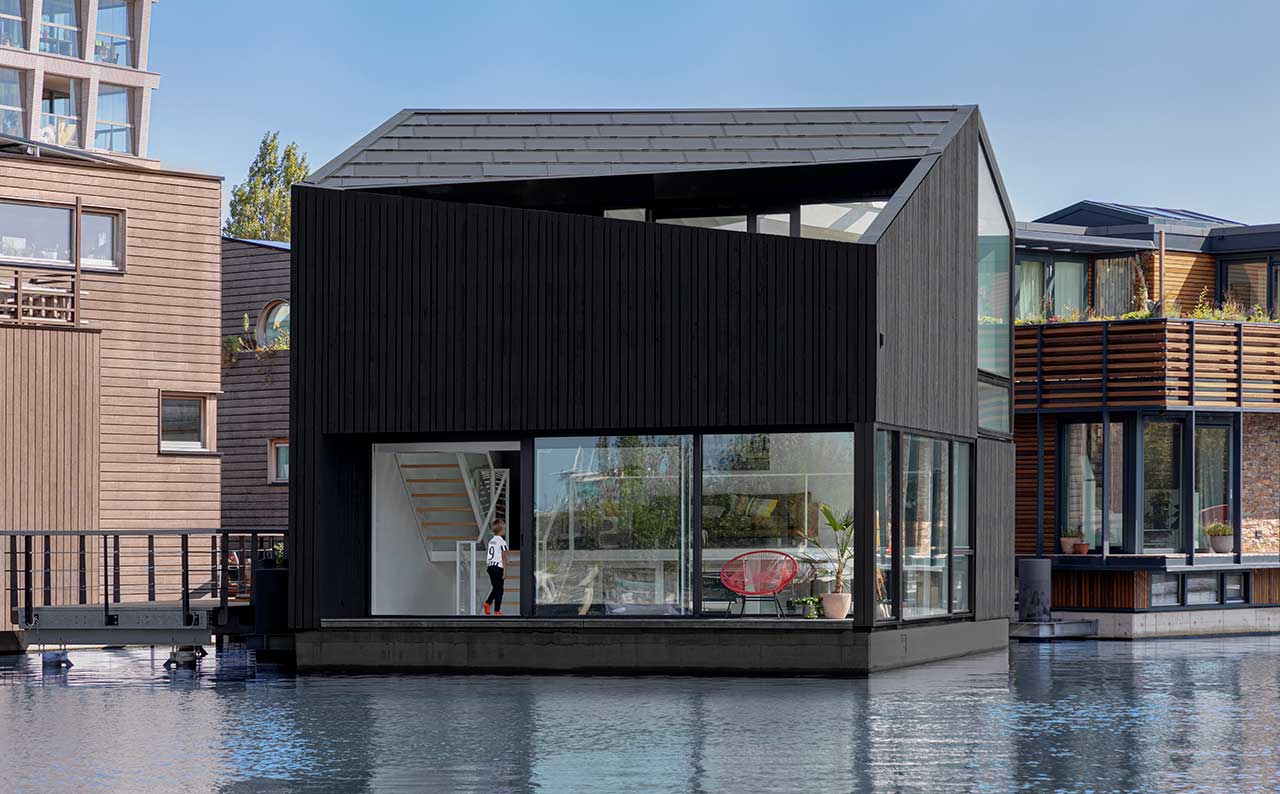 If you've been to Amsterdam you know that floating homes are a thing, and now there's Schoonschip, which plans to be Europe's most sustainable floating community. Space&Matter are behind the new village of 46 homes located in an area with an industrial past. The formerly used canal was revitalized and turned into an urban ecosystem where ambient energy and water are used and re-used, "cycling nutrients and minimizing waste, plus creating space for natural biodiversity." One of the 46 houses was designed by i29 architects as a unique and angular floating home that maximizes the space limitations.
The Floating Home features a pitched roof that's turned diagonally to create a bold exterior form highlighted by a cutout used to make a top floor terrace.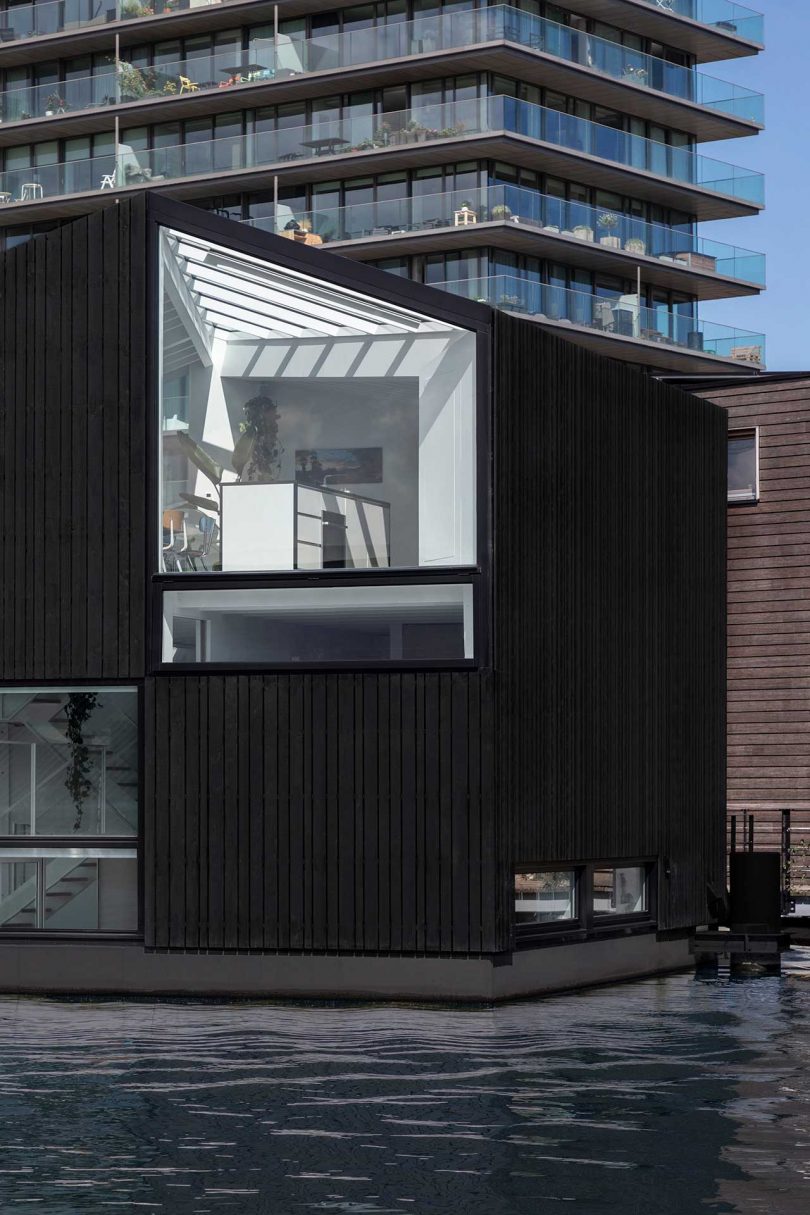 The top floor kitchen can be seen from the outside with its white surfaces contrasting the dark exterior.
The Floating Home is attached to a smart jetty, along with the other homes, that offers access to neighbors on the surface and houses the energy, waste and water lines below that connect each of the households together.
Inside, an atrium spans three levels which are connected by a staircase. Large windows wrap around two sides of the house framing views of the water from multiple floors.
The top floor is split between a light-filled kitchen and an outdoor space created with the cut out roof. The kitchen almost feels like it's outdoors with the rooftop glass panels and floor-to-ceiling window on the side.
Photos by i29 / Ewout Huibers.