An Angular Lake House in Canada With a Cantilevered Pool
An Angular Lake House in Canada With a Cantilevered Pool
1/27 Photos
2/27 Photos
3/27 Photos
4/27 Photos
5/27 Photos
6/27 Photos
7/27 Photos
8/27 Photos
9/27 Photos
10/27 Photos
11/27 Photos
12/27 Photos
13/27 Photos
14/27 Photos
15/27 Photos
16/27 Photos
17/27 Photos
18/27 Photos
19/27 Photos
20/27 Photos
21/27 Photos
22/27 Photos
23/27 Photos
24/27 Photos
25/27 Photos
26/27 Photos
27/27 Photos
MU Architecture, in collaboration with JS Bourdages Architecture, recently completed a modern home located on Lake Memphremagog in Magog, Canada. The 6,700-square-foot Memphremagog Lake Residence, which partially rests on the previous home's footprint, is complete with an undulating roof and cantilevered pool. Inspired by the unfolded wing of a bird, the angular roof and design makes the home stand out with the help of the dark and natural stone exterior and wooden fragmented ceiling inside.
The home sits atop of the steeply sloped shoreline affording the homeowners with surrounding views.
In addition to the expansive green grounds, the residence features plenty of outdoor spaces, some partially covered, for relaxing, entertaining, and swimming. At a point, the roof cantilevers out 14 feet for protection from weather.
The elevated pool juts out over the yard 16 feet making it look and feel as if it's floating mid-air and extending to the lake. A reinforced concrete structure makes it all happen.
A door along the kitchen wall grants access to a hidden service kitchen used for catered events and parties.
The open living space, which features the kitchen, dining room, and living room, live under the varying heights of the wood-covered ceiling – some parts reaching 25 feet high. The floor-to-ceiling windows follow along with the roofline providing uninterrupted views of the back off the property.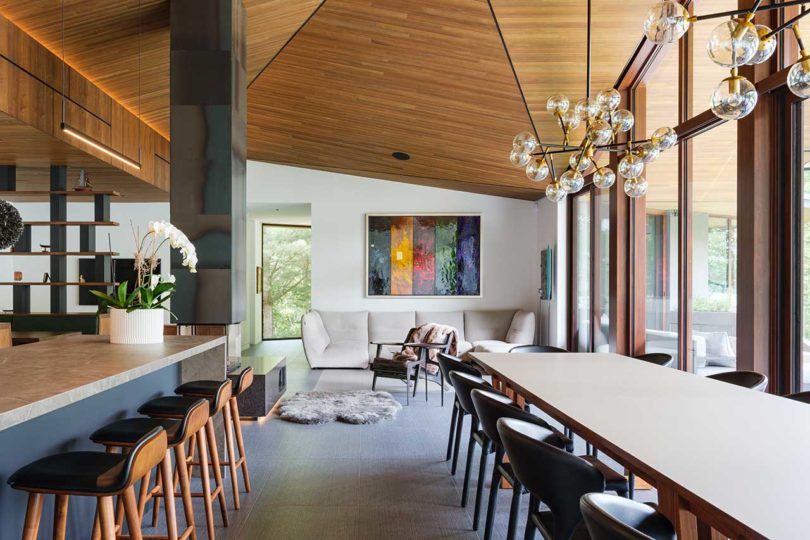 The warmth of the wood ceiling continues down into the kitchen with a wall of wood cabinets and built-in appliances.
Walnut panels unify the kitchen with a built-in dinette, library, and half of a double living room.
The dining table is custom made to seat 24 people.
The main floor houses a veranda, coatroom, powder room, laundry room, and the primary suite, in addition to the public living spaces. The ground level below includes a lounge, training room, spa with dry sauna, whirlpool bath, three bedrooms, two bathrooms, and playroom.
Photos by Ulysse Lemerise Bouchard, unless noted, courtesy of v2com.