Australian architect Anthony Gall had to overcome a peculiar design situation when it came to designing the Hotel Clark in Budapest. Instead of designing for a regular, rectangular shape building, he had to design for one that was shaped like a fourth of a pie. The original two-story building designed by Miklós Ybl that once housed the Buda Savings Bank has a unique shape due to a fire during World War II, as well as the reconstruction period that followed it. A round-about was also placed at the foot of Széchenyi's Chain Bridge sectioning off a large piece of the plot land. With ideal views but less-than-ideal ground space, sandwiched between stunning views of the Buda Castle and the Danube River, the Hotel Clark proves that good design can solve any odd-shaped problem.
The Hotel Clark was painted an earth-tone color as to not distract attention from the historic Chain Bridge and Buda Castle. Instead, a modern look was applied to the architecture of the building, articulated only with window apertures punctuating the semi-circular façade.
The interiors of the hotel were divided up into quadrants that made it possible to create straight lines from curved ones and separate out different spaces and rooms.
Metal accents, plush upholstery and the original column design of the Buda Savings Bank create a balance of historic and modern design.
The guest rooms are outfitted with modern furnishings and fixtures, including free-standing tubs that look out to the Danube bank.
The lion is a famous motif in this square, so the Hotel Clark made it the official logo of the hotel and its silhouette can be found around the hotel.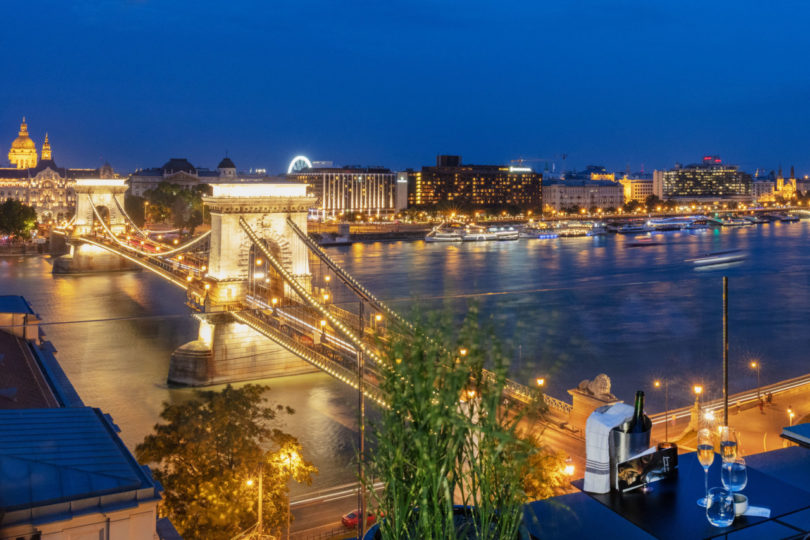 What: The Hotel Clark
Where: Budapest, 1, Clark Ádám tér, 1013 Hungary
How much? Rooms start at approximately $143 per night.
Highlights: Sandwiched in between the Chain Bridge and the Buda Castle, the Hotel Clark is located in an ideal location that lets you take in the views of the Danube bank river and the neighborhoods of Castle Hill.
Design draw: The unique architecture of the hotel manages to take on a modern look without detracting from its historic surroundings.
Book it: Visit the Hotel Clark