This 124 square meter (1334 square feet) apartment located in Kiev, Ukraine was designed by Olena Yudina with two separate areas: a private section and one for guests. Off the small corridor is a guest bedroom, bathroom, dressing area, and laundry room, while opposite, there rests the living room, bedroom, dressing area, and another bathroom. The circular layout means that one room passes into another helping to avoid a lot of small corridors.
White sets the tone of the apartment without being too stark and clinical. While wood floors cover most of the interior, the kitchen has a warm grey tile.
The wood continues into the kitchen via the backsplash and shelving that hangs above the stove. It definitely warms up the wall of white cabinets.
Besides the white and shades of grey, fresh green is sprinkled throughout by way of live plants. The white brick brings texture thanks to the darker grout that was used.
Brickwork shows up in every room of the house bringing a bit of consistency throughout.
Along with many international furniture brands, they also incorporated lots of Ukrainian brands, like Zuccheti/KOS, Meridiani, Arbonia, La Lampe Gras, Odesd2, LoveMosaic, SwetaYaremko, and Gizmo.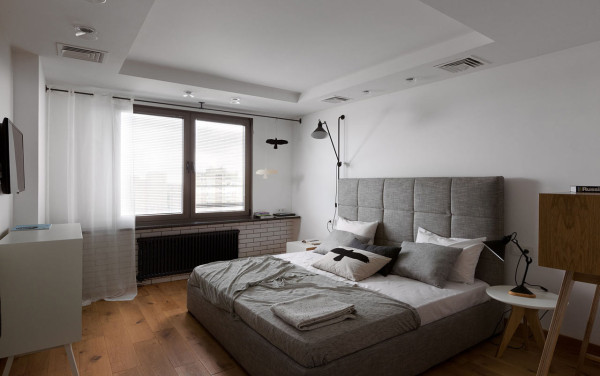 The bedroom looks super cozy with a Scandinavian feel – it's clean and simple.
For further information, contact Olena Yudina at [email protected].