F5: Artist Elizabeth Chapin Shares a Kitchen Staple, Favorite Podcasts + More
F5: Artist Elizabeth Chapin Shares a Kitchen Staple, Favorite Podcasts + More
1/9 Photos
2/9 Photos
3/9 Photos
4/9 Photos
5/9 Photos
6/9 Photos
7/9 Photos
8/9 Photos
9/9 Photos
Contemporary American portrait artist Elizabeth Chapin, based in Austin, Texas, creates mixed media work that explores and deconstructs the ideas of nostalgia, gender roles, and the status quo. Born in Jackson, MS, Chapin received her BFA at the University of Virginia and has also studied at The Parson School of Design in Paris. Chapin's work, created through an anthropological lens, has been exhibited across the United States, Stops include New York, NY; Austin, TX; New Orleans, LA; Nashville, TN; and Jackson, MS, among others. In 2020, she was awarded a residency in Florence, Italy, through Feminist Art Collective Toronto. Chapin's work has also been featured on platforms such as Whitewall, Forbes Magazine, Luxe Magazine, ArtDaily, Artsy, The Vale Magazine, The English Room, Tribeza, Glasstire, Sightlines, Aether Magazine, and The Good Word.
Today Elizabeth is joining us for Friday Five!
1. Art
Online and especially in person. Looking at art on Instagram is a sustaining, frequently inadequate, yet necessary daily diet, holding me over to the times when I can see art in person. This summer, I drove down to the Contemporary Arts Museum Houston to see the work of Jessi Reaves and Elizabeth Murray, a pair of contemporary artists whose blurring of the definition of painting and sculpture and whose use of textile, has been an inspiration to me. In June, I walked into the Morgan Library in NYC to a show of Hockney figure drawings, whose lines, simultaneously efficient and sensuous, made me breathless. And then, to see Alice Neel at the Met! Her fluidity is more about unrestrained, visceral raw expression and the life force of a body. Juxtapose that with the Medici exhibit, also at the Met, of lusciously painted and deeply psychological Bronzinos and the color mannerist bombs of Pontormo. I was happy to travel virtually to the lush and haunting archetypal re-imaginings of Jean-Marie Appriou at Galerie Eva Presenhuber in Zurich, the humorous glow of Tony Oursler's projection work at the Kaohsiung Musuem of Fine Arts in Taiwan, and the immersive feminist fantasies of Laure Prouvost at the Kunsthal Charlottenborg and the Louisiana Museum in Denmark. All of these artists speak to me about what it means to be a spirit bound up in a body, which is what I like to think about.
2. Music + Podcasts
I paint to music, which helps me shut off my mind and trust the paint itself. When I am working on the sewing and technical components of my work, I listen to podcasts. Music and podcasts (and books! And poetry!) are the engines that keep me going. Some music I am listening to right now: Biig Piig, James Blake, Caroline Polachek, Arca, and Connan Mockasin. My favorite podcasts at the moment are comedian Jessa Reed's Awakening OD (50 years of therapy in a few hours – def not for the skeptic or faint of heart), Rich Roll, and Russell Brand's Under the Skin. My last show in New Orleans was inspired by Rich Roll's conversation with Cal Newport on the neurological/spiritual cost of social media, particularly for young women. Since I've been getting into adding smell to my paintings, I have enjoyed the podcast Perfume on the Radio led by the Institute for Art and Olfaction. I frequently revisit David Chang's interview with Jerry Saltz or Krista Tippett's conversation with John O'Donohue whenever I need a booster shot. My daughter just introduced me to Dissect, a nerdy, thorough, and satisfying analysis of music, in particular Kanye's My Beautiful Dark Twisted Fantasy and Kendrick Lamar's Damn.
3. Overalls
My uniform – either Carhartt or Dickies. I go through about a pair a year, and they, themselves, turn into Joan Mitchellish layering. I used to pitch them when the ass wore out, but recently realized that was a little tragic. They now hang from my old wood easel, which I have also outgrown.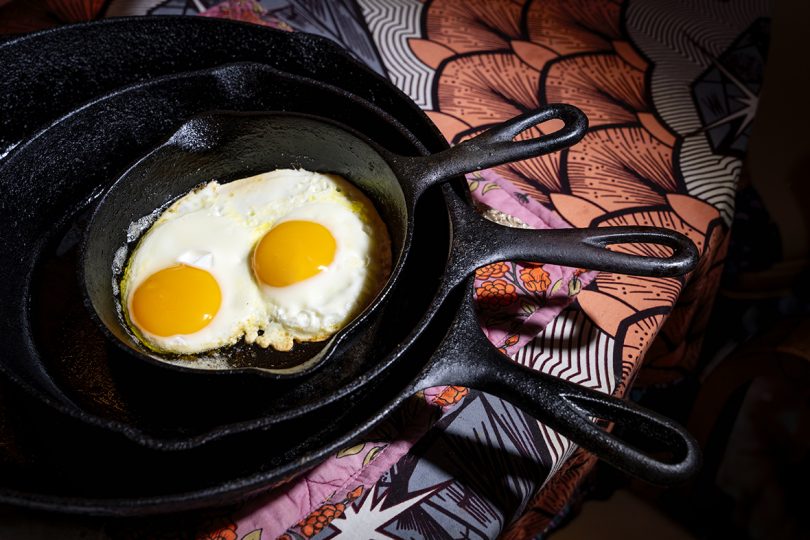 4. Cast Iron Skillets
I inherited my grandmother's cast iron. Nothing like a well-seasoned cast iron skillet for a good sear, a spatchcock, a fried egg, an apple dutch baby, a pineapple upside down cake, a potato dauphinoise, or tarte tatin.  They live on my stove top. I never put them away.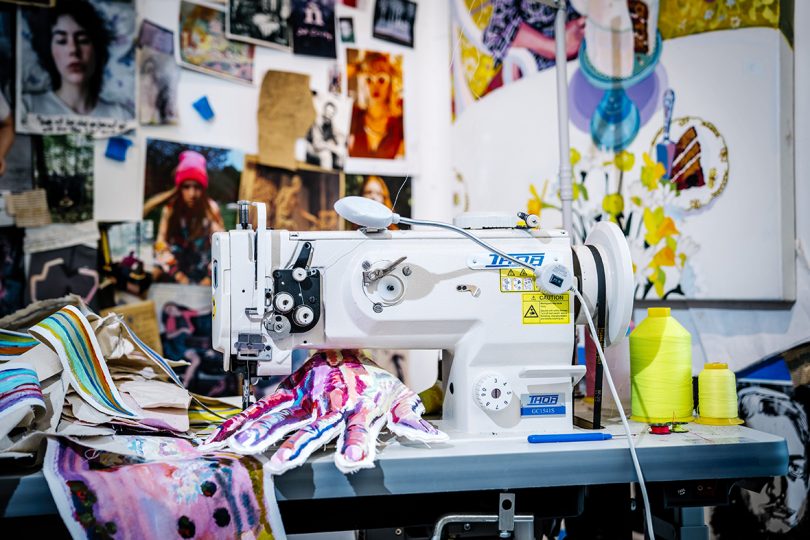 5. Thor Industrial Walking Foot Sewing Machine
A few years ago, I started cutting my paintings off the stretchers and sewing them into dimensional freestanding forms. They became paintings that were soft and unruly, that could be caressed, manipulated, wrangled, and hurt — not just representing bodies, but interrupting psyche and space like a body. I sometimes light them from within, add smells to their interiors, and incorporate other media (plexiglass, fabrics, trims, and projection). I quickly learned that my old sewing machine could not handle this kind of work. I bought this Thor industrial machine (designed for leather and whose foot "walks") that allows me to stitch giant painted surfaces together. And he is well named.
Work by Elizabeth Chapin: