The process isn't yet as simple as plug and print like an inkjet unit, requiring preparation of a clay medium for ideal printing viscosity as shown in this video. But once the clay is readied, the array of morphological creations of British artist Jonathan Keep's imagination partnered with the precision of a DIY computer guided 3D printer is impressive.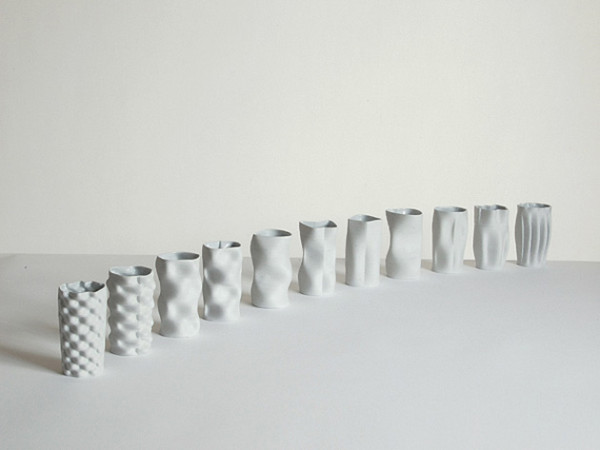 Keep built his own 3D printer based upon a delta robotics model, a type of parallel robot with three arms connected to universal joints at the base limited by parallelograms in the arms; the parallelograms limit the printer's movements to the X, Y or Z direction without rotation (the high speed efficacy of delta robots make them popular in the packaging industry, medical and pharmaceutical industry).
The "ink" in Keep's ceramic printer is ejected using a clay extruder made from parts adapted from the adhesives industry. 30 psi of compressed air pushes out the clay at around 1mm per second.
"I have long used computer software to develop new ceramic forms. With an interest in the hidden numerical code that underpins all nature I have developed a working process whereby the shapes of these pots are written in computer code. This digital information is passed to a studio based DIY 3D printer that I have adapted to print in clay. Layer by layer the pots are printed out – a sort of mechanical pottery coil building. After printing, the ceramic is fired and glaze in the normal way."
More of artist Jonathan Keep's Digital Pots available for viewing here.
If you like this, check out the pottery printer by gt2P.