ÀTRIA: A Sustainable, Four Season Outdoor Kitchen
ÀTRIA: A Sustainable, Four Season Outdoor Kitchen
1/10 Photos
2/10 Photos
3/10 Photos
4/10 Photos
5/10 Photos
6/10 Photos
7/10 Photos
8/10 Photos
9/10 Photos
10/10 Photos
Flexible, efficient, and customizable, Abimis' sustainable outdoor kitchen, ÀTRIA, is the ideal design. It's the brand's first kitchen made specifically for outdoor installation, and it's stainless steel, modular, and customizable. ÀTRIA, the result of a collaboration with Studio Delineo and Massimo Rosati, is an open kitchen configuration that's capable of meeting the requirements of anyone cooking outside. Any outdoor setting – balconies, terraces, gardens, and more – can be customized to provide a high level of performance.
Great lines and proportions help define ÀTRIA, while the system's steel container modules and modular accessories give you flexibility of layout and function. The modules come in various finishes and can also be painted in all the RAL colors, using the same techniques as the auto industry for duration and resistance to open air. Two different heights add yet another level of customization, while adjustable feet guarantee added stability.
ÀTRIA is made entirely of AISI 304 stainless steel, an anti-bacterial and biologically neutral material that doesn't release any substances onto food, resists corrosion, impact, humidity, moisture, and high temperatures. It's also 100% recyclable and easy to clean.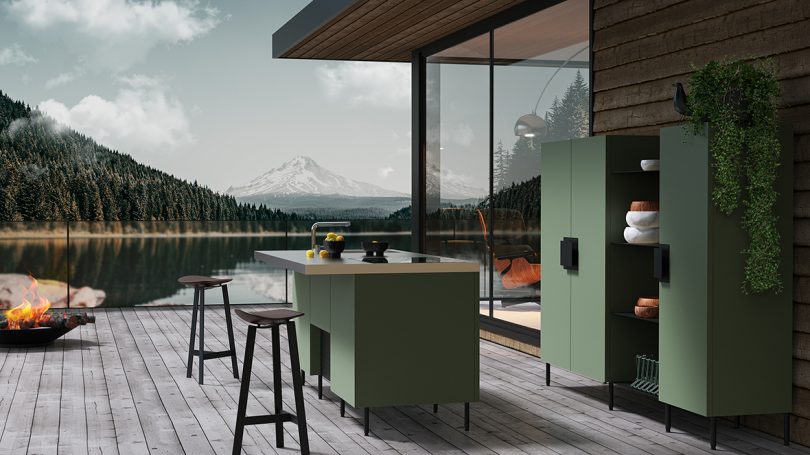 To learn more about the ÀTRIA outdoor kitchen, visit abimis.com.