Bangkok's Reflection House Is Designed for Multiple Generations
Bangkok's Reflection House Is Designed for Multiple Generations
1/24 Photos
2/24 Photos
3/24 Photos
4/24 Photos
5/24 Photos
6/24 Photos
7/24 Photos
8/24 Photos
9/24 Photos
10/24 Photos
11/24 Photos
12/24 Photos
13/24 Photos
14/24 Photos
15/24 Photos
16/24 Photos
17/24 Photos
18/24 Photos
19/24 Photos
20/24 Photos
21/24 Photos
22/24 Photos
23/24 Photos
24/24 Photos
Tasked with creating a home for two generations, AUN Design Studio designed the Reflection House in Bangkok, Thailand. The co-living space reflects the homeowner's childhood growing up there with his mom before going off to school and living on his own. After many years apart, the man longed to come home and return to his childhood neighborhood but in an updated space he could reside in with his elderly mother.
The new house lies in the center of separate entrances which accommodates both the son and mother's different lifestyles. On each side of the house is room for parking and gardens.
The home comprises a tall, narrow volume clad in unpainted concrete for a modern, uniform look. From the street, the structure stands out with its slanted roof and carport structure that's fronted by fences that fill the frames.
The structure is separated into two living spaces, the downstairs being the mother's, with the upstairs being for the son. While the spaces are individual, the overall design remains cohesive throughout.
On the ground floor, the elongated living space is flanked by floor-to-ceiling sliding glass doors that open up to gardens on both sides. When open, the room is filled with natural light and air flow.
In the center is a unique staircase that's designed as a sculpture inspired by origami. The winding staircase is sheathed in perforated steel allowing light to pass through. Even the treads are made of the perforated steel giving the whole unit a semi-transparent look.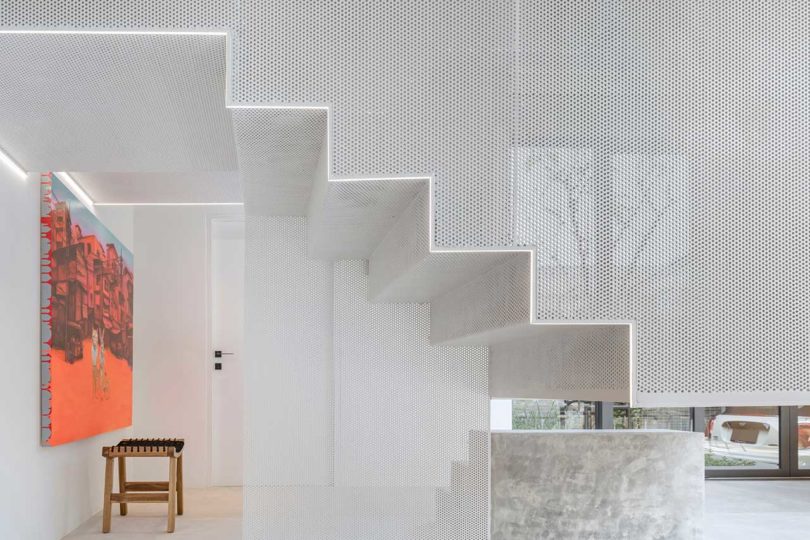 The enclosed staircase is suspended from the top floor and hovering above the bottom three stairs made from a concrete block.
The second floor is designed for the son who enjoys entertaining his lifelong friends. When the sliding glass doors are open, the living space extends to a small balcony enlarging his usable space.
Above the main bathroom and closet is a loft designated for yoga or meditation.
Photos by Wison Tungthunya & W Workspace, courtesy of v2com.