The Lima-based firm Vértice Arquitectos has designed the Beach House E-3 that's located south of Lima, Peru in Palillos Beach. Built on a sloping lot that presented challenges, the house offers stunning views of the ocean, which was a requirement of the client. The house was built on three levels, each of which features various materials and textures.
The bottom level is the family's private area that houses five bedrooms, most of which have balconies and ocean views.
The entrance is technically on the third, or top, level that is reached by a bridge. When you enter into the main volume of the house, you step onto a platform that gives you views of the double height central living space below. You enter the space heading down a staircase.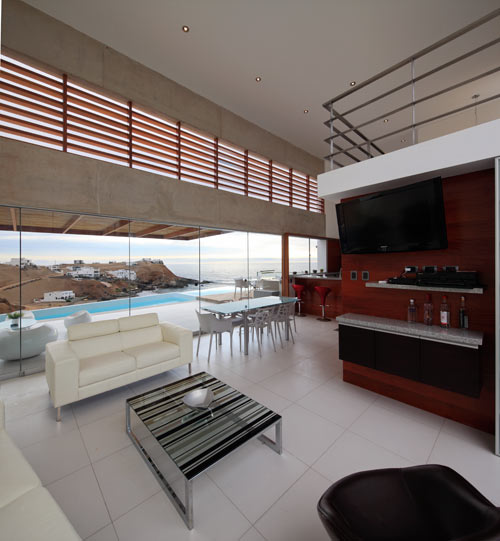 The main level is where the social area is situated. The space is closed off on the sides for privacy and to avoid the direct sunlight. It's also open to the deck and pool area and provides the best views.
Photos by Juan Solano, courtesy of v2com.net.