Australian firm BKK Architects designed the Beached House on the coast of Victoria, Australia. The home is a study in leaving everything behind in the city to arrive in a nature-surrounded vacation home that appears to have evolved over time. Inside the home, the spaces unfold as you move through and then "release views."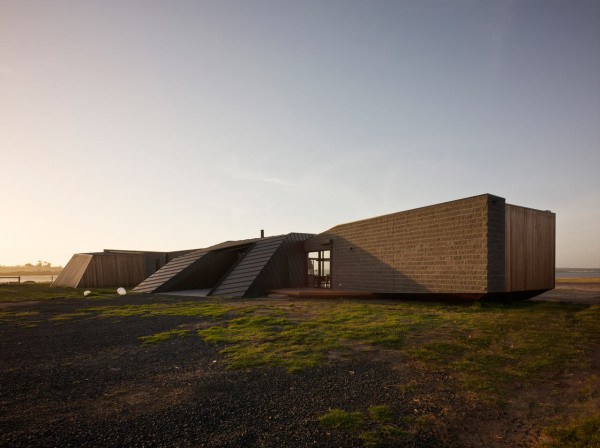 You kind of get the feeling that the house has washed ashore, which was intentional, because of the way it's embedded into the site.
The residence consists of irregular spaces that, much like origami, fold over each other, forming a layout similar to that of a small village.
The external spaces were oriented with careful consideration to the wind and sun patterns that shift throughout the day.
From the architects:
This home offers various readings and differing options for occupation to the owners. It is intended that living in the house will be an unfolding series of moments, linked closely to climate and site that will continually delight and surprise.
I love the unusual geometry of the house, with it's sloped exterior walls and raised roof lines in certain areas.
The same irregularity continues on the interior of the house creating beautiful site lines throughout.
The focus really is all about the picturesque views that the surrounding terrain provides.
Photos by Peter Bennetts.