It's that time again – time for a whole new year. A fresh start. A new beginning. Or just more of the same old, same old. Any way you slice it, it's time for a new calendar. For 2013, we've rounded up 25 of our favorite 2013 modern calendars. Which one will grace your wall or desk this coming year?
The team from urbnCal is back with their 2013 calendar where they choose a city every year and photograph number plates they see around while on their bikes. They then turn those numbers into the days on the calendar. This year they went Nordic and shot images from five cities: Stockholm, Copenhagen, Helsinki, Oslo, and Reykjavik. The urbnCal is available for $32 via Supermarket.
The Cachette 2013 Year Planner is a poster-size wall calendar to help you keep your appointments and important days at a glance. Available for €12.50 at Cachette.
Get your craft on with the Heather Lins Stitch the Stars Calendar Kit where each month you connect the dots with embroidery thread (included) to create that month's constellation. Get yours for $24 here.
Add a pop of color to your wall with the help of This Studio's This Year 2013 wall poster that comes in Pantone Orange 151. Get it for €13.00 here.
The Vertical (get it?) from MAKE Collaboration is made up of twelve, 12″ x 36″ sheets that will change the way you look at time – each day transitions to the next as it moves down the page. Available for $29.99 here.
Avril Loreti's 2013 calendar is once again in the form of a really awesome tea towel covered with bands of color and handwritten months. Available via Etsy for $25.
Unravel your calendar much like pulling thread from your sweater – fun! The Unraveling Calendar by Patrick Frey is on sale for $72 at Design Within Reach.
The 2013 Letterpress Printed Wall Calendar from Paper Boat Studios is full of geometric goodness and it's for sale on Etsy for $30.
The year is represented with the number of computer keys used (and that would be 2,013 total) and each day is written out in its own unique way. The 2013 Typographic Wall Calendar by Harald Geisler doesn't scream calendar but is a fun print for your wall with a gentle nod to the year. Available for €25.13.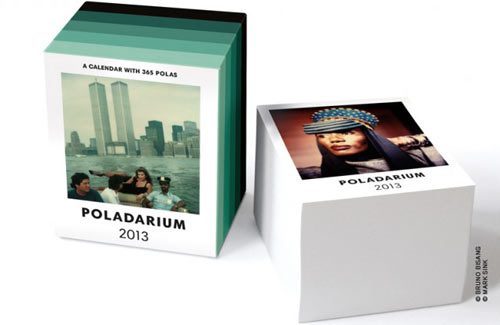 For the love of all things Polaroid-like, the Poladarium 2013 tear-off calendar features a new analog moment everyday. Available for €24.90 at seltmann+söhne.
The huge Vignelli 4'x3′ Stendig will always be one of our favorites and it's available for $31.25 at Unica Home.
Cats Let Nothing Darken Their Roar is back with their eighth edition for 2013 featuring 12 new phrases. The limited edition of 750 is available for $45 on their website.
With a box to write in for every day, the 2013 Year Planner from Crispin Finn comes in their signature red, white, and blue. Available for £18 on their website.
A tiny desktop calendar from Monkey Mind Design that's complete with modern shapes and patterns. Available for $12 on Etsy.
If you love popping the bubbles on bubble wrap, the Bubble Calendar is for you. Available for $24 at Urban Outfitters.
Typodarium 2013 keeps you inspired with a different font every day of the year. On sale for $12.50 at the MoMa Store.
Who doesn't love animals? Each month showcases an animal illustrated by Ben the Illustrator in a contemporary style from his Fluid Animals series. Buy yours for £15 here.
Day One's ToDoCal is a giant (17″W x 26″L) to-do list and calendar rolled into one. Available for $12.99 here.
The snug.calendar 2013 is a wall calendar from snugstudio that features geometric shapes to make up the first letter of each month. Available for $19.90 on Etsy.
NeuYear has come out with several versions of their two-calendars-in-one design – one side is oriented horizontally while the other side is vertical so you can choose what works best for your wall. It also comes either laminated (to use with dry erase markers) or uncoated so you can write yourself notes on important dates. Available for $30 here.
The Calendar To-Do List Pad from Ryan McGinness is a doodler or list-maker's dream. You have space every day to scribble on to your heart's content. Get it for $24.95 at Hand-Eye Supply.
Now in its 12th edition, the 365 Typography Calendar from Studio Hinrichs features 12 unique typefaces along with a description and a bio on each designer. The smaller Desk/Wall size (12″ x 18″) is $36 and the Super Size (23″ x 33″) is $55 and available here.
The NEWWORK CALENDAR 2013 presents itself as a sheet of music with the dates themselves acting as music notes. The limited edition hand screen print is available for $48 from STUDIO NEWWORK.
The Wandkalendar 2013 comes complete with 100 sticky notes to mark important days on the two-sided wall calendar. The red side is in English while the black side is in German. Available for €14.50 here.
The Colour Wheel Calendar 2013 is a Gregorian calendar that includes a simplified Chinese calendar and a comprehensive lunar cycle. Designed by Kayalight Studios, the print is available for £17.30 here.
I'm sure we missed a ton of great ones, so share them with us in the comments below!