Dwell on Design LA was the biggest it's ever been this year, bringing in more large and small brands from jewelry, tile, appliances, landscape design, prefab and furniture to flooring and windows. Everything you'd ever need for a house from the walls down to the decor was represented, and it was a nice mix of companies, mostly from across the US. I had the honor of being one of this year's Dwell on Design Award judges, which was an incredibly fun experience. Nothing makes you feel better than making other people happy. I walked the floor for two days and spotted some great stuff that I think you'll enjoy too. Take a look:
These Lille Huset modern dollhouses were super cute! They also have little people, bikes, furniture and even a vegetable garden!
Loved these red bathroom knobs from Franz Viegener.
There was limited furniture and decor at the show this year, but where it was, there was brass and fabric. This is the work of a very creative family – AA Studio and Gabriella Farkas.
I loved Fabripod's modular lighting.
I loved this Vallila fabric in the Scandinavian booth, curated by Dwell editors.
This chair was a great piece, made by INCH Furniture in the Swiss design booth.
The LivingHomes prefab with interiors by Vanessa de Vargas supplied by Chairish was off the hook.
Sitskie had some creative seating made of pieces of wood with a lot of flexibility and give.
How adorable is this wooden caravan by Sprouting Sprocket Studio?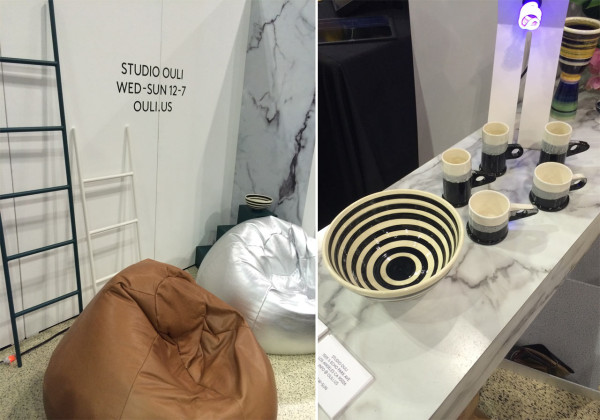 Ouli had the cutest booth with such a mix of great stuff.
Fringe Studio took home the Dwell on Design Best Furniture award, and rightly so.
Stephen Burks' Man Made exhibition was one of the best things I saw at the show.
I've always been a big fan of Vanessa Gade's jewelry.
I was super excited that Galanter & Jones launched a chair version of my favorite piece of theirs: the outdoor heated sofa/loveseat.
Shades of Green LA had yet another awesome landscape design setup that included these fun barnacles filled with plants.
Vertex Design Studio's concrete lighting was a standout.
I finally got a chance to check out the Geberit Monolith toilet and Sigma80 flush plate. I loved that you can change the color of the display. I chose hot pink.
I enjoyed the fun Paper Chaise Design booth featuring artwork by Felicity Nove.
GE revealed a micro kitchen with 24″ modules that include a microwave, oven, dishwasher, sink, fridge/freezer, and washer/dryer. I was blown away that you could cook a legit turkey in that oven. Nothing about it felt unusably small or a compromise.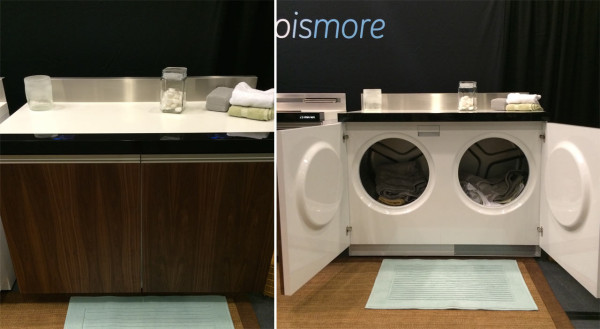 The foldable paper toys from Paper Punk won us over. I can't wait until Amelia is old enough to start playing with these!
And on that note, I will leave you with these cute plants in shoes from Potted.