Pixel is a digitally printed textile from Designtex that's based on the original artwork of Jenny McGee Dougherty. The original design was enlarged and translated into digital artwork that was paired with an upholstery substrate giving it its geometric pattern and perfect colorway. The simple accent pattern of "hyphens" gives it an overall stitched effect.The finished textile is composed of thread that's made of recycled materials.
Mohawk Group partnered with 13&9 Design on a new collection called Moonscapes. The modular rugs are inspired by patterns of the moon's surface that are then abstracted. The moon-like images are layered with a texture grid that results in a visually dynamic landscape to walk on.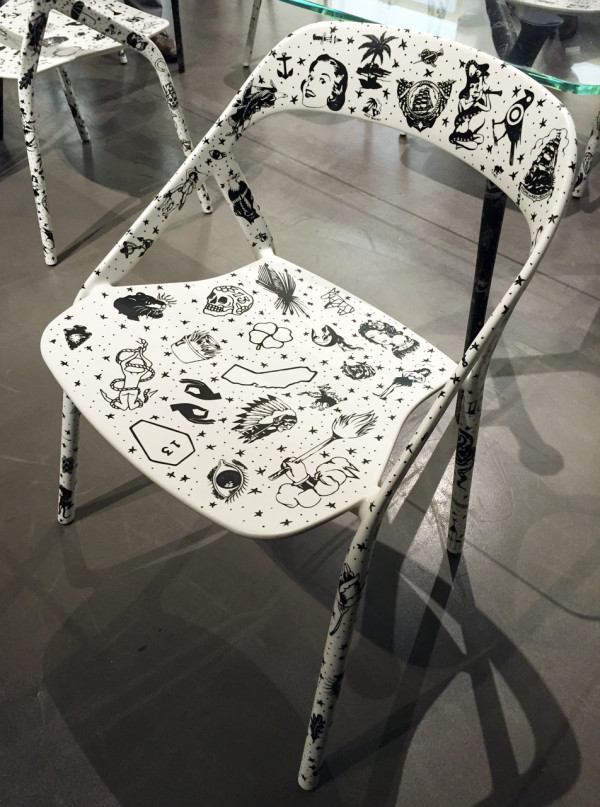 Last year we wrote about Coalesse's Michael Young-designed LessThanFive chair, which happens to weigh less than 5lbs, hence its name. This year, Coalesse has launched a Customizer web app that lets users apply custom colors, graphics, gradients, or logos to completely personalize their own chair.
Textile company Chilewich even makes wall-to-wall flooring and vinyl backed floor tiles out of their innovative textiles. They've reimagined a traditional plaid pattern and modernized it with 14 different colors to get this bold and bright, finished result.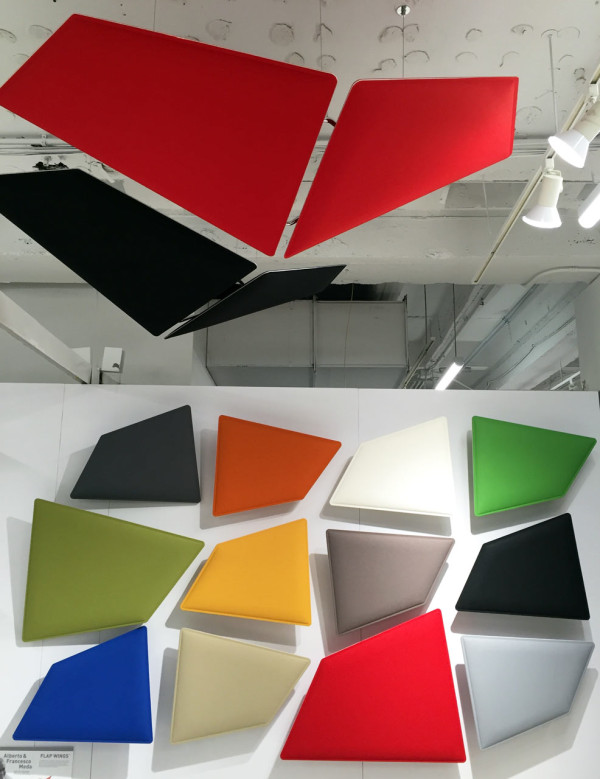 The Snowsound Flap acoustic panels let you create geometric collages on the wall or ceiling to help cut down on sound.
Teknion debuted Zones, a collection of furniture that was designed to change the way people work. The series includes seating, tables, screens, easels, and semi-private enclosures, which allow for privacy or more intimate spaces for collaborative work.
Arper introduced a new version of their Parentesit, a collection of acoustic wall modules designed by Lievore Altherr Molina, and the new wall panels have an integrated light and sound system outfitted with speakers. There's an accompanying app that lets you adjust the light and sound via your smartphone.
West Elm Workspace continues to expand their line of workplace offerings with Inscape that feel so much less office-y and stiff than the norm. Instead of just the typical white desk options, their new Beam Adjustable Height Benching System adds the warmth of wood along with the versatility of being height-adjustable.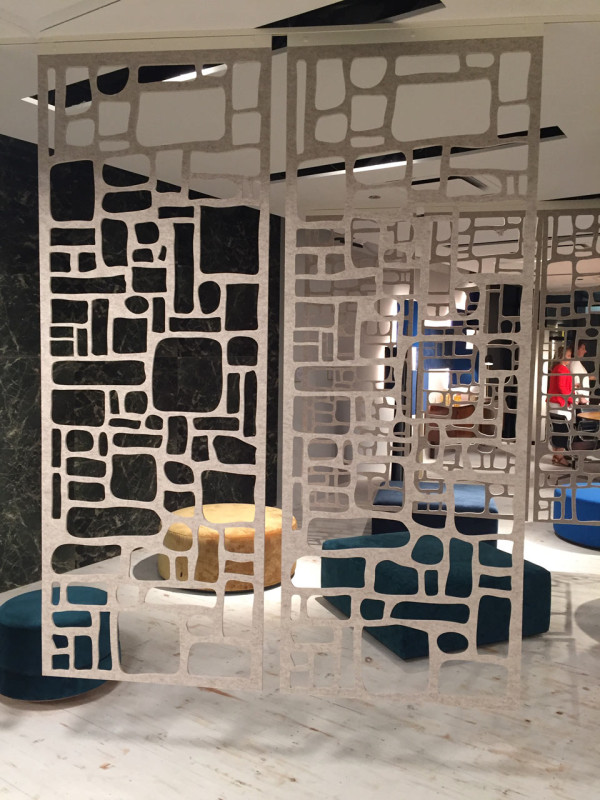 At BuzziSpace, the BuzziFalls Pebbles, by Sas Adriaenssens, are part room dividers, part sound absorbers. On top of that, they add a pretty cool focal point to any space they'd hang in. Behind the panels are BuzziBalance rocking poufs by 13&9 Design and BuzziPouf seats by BuzziSpace Studio, all of which help with acoustics.
Also on display at BuzziSpace and in one of the common areas of NeoCon, the Jonas Van Put-designed BuzziJungle is a new concept that gives employees a non-traditional way to interact and be social. The structure invites you to climb, sit, lounge, and meet up with others in a unique setting.
The Conexus Wood Lounge Chair, designed by Michael Vanderbyl for HBF, is the perfect combination of a task and a lounge chair, with its on-point seat pitch being conducive to both work and lounge positions.
Humanscale unveiled this lounge chair for working that was designed by the late Niels Diffrient‬, who believed that humans are more productive and work better in a reclined position. Here's hoping this chair makes it into production one day because everyone wanted to take this chair home, including myself!
Gensler designed the k.™ lounge for Knoll as a modular seating series that's composed of 11 elements that can be used in customizable ways.
Turnstone's Bivi collection is a series of components that fit together to form work and collaborative spaces, including mini sofa seats, desks, and storage pieces.
I'm pretty sure every office could benefit from an EnergyPod by MetroNaps – they're the world's first chair designed specifically for napping. The chair lets you set the amount of time you want to sleep, and during your nap, it plays relaxing ambient sounds. Then it gently wakes you up at the appropriate time using a combination of lights and vibrations. SIGN ME UP!