We're winding down the year here at Design Milk, and taking some time to look back at the exciting features, products, people and posts we were able to cover, uncover and discover in 2011. Over the next two week's we'll share some of our favorites, all leading up to the top 10 most popular posts of the year. First up is our Friday Five, er, ten!
The roster of designers, architects, and all-around world talents who contributed a Friday Five to Design Milk this year was incredible. It was definitely a challenge to pick just ten to highlight. (Really, we love you all!) After much deliberation, here are our favorites from 2011, which include an indie wallpaper design team, more than one fantastic furniture maker, and an architect who's a household name. (Hint: He designs a line for Target.)
Mini Moderns
The U.K.-based duo behind this home furnishings brand, Keith Stephenson and Mark Hampshire, who also run London-based design and branding agency, Absolute Zero Degrees, offered us a visual feast. Instead of just sending one image per pick, they exercised their over-achieving natures by creating collages of all the things they love.
Todd Bracher
He may be a native New Yorker, but this product and furniture designer has lived and worked in Europe's most beloved cities, including Copenhagen, Milan, Paris and London. We love the way he organized his picks by city, identifying the products and concepts he values most from each.
Quentin Kelley
Born in Western Massachusetts, this furniture maker, who discovered his passion while volunteering in the Peace Corps, heads the Boston workshop, Infusion Furniture. Fittingly, he highlighted his five favorite pieces of furniture, which span the ages from the Greek Klismos chair to Hans Wegner's Peacock chair.
Sam Baron
Having designed items for Italian home accessories companies as well as Parisian fashion house Louis Vuitton, this product designer is one of our favorites. We love the way he presented his picks, in a pared down palette of cool blues.
David Keller
This young Israeli designer who lives and works in Jerusalem offered picks that really demonstrate what's happening right now in the Israeli design community. It's refreshing to learn about a whole new scene, especially by the guy who initiated the city's design week, which debuted last year.
Tina Roth Eisenberg
As if being a talented designer isn't enough, this Swiss-born talent is also the voice of the popular blog Swissmiss (which is also the name of her design studio). We love how she chose to highlight the people she admires for her Friday Five.
Jaime Hayon
It took us an entire year to convince this Spanish artist-designer to submit picks for a Friday Five. It was well worth the wait; the pieces he chose all have interesting, beautiful silhouettes, much like the products he designs himself.
Michael Graves
The living legend himself. Yes, we could hardly believe our luck. And, that he chose very personal items (his home, his books, his art) to feature made us love him all the more.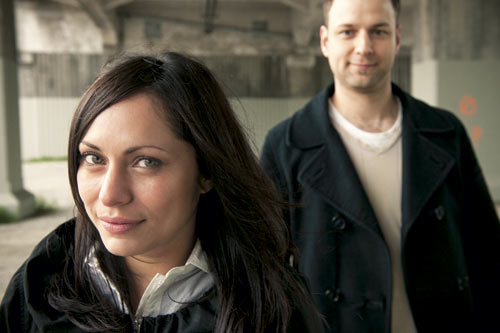 Friday Five with Rollout
Wholly original, vibrant designs speak to this design duo's creativity and outsize personalities. It's no surprise then that their Friday Five is based on a game called Half & Half, a mash up of well-known people, places, and things.
Scott and Jerinne of Blik
Considering Jerinne Neils was a food editor before hooking up with architect Scott Flora to come up with their innovative wall decals, it's understandable that they chose edibles around which to base their column. If you're a pizza-lover, watch out!

Design From Around The Web