Best Skim Milk Posts of 2020
Every week we enlist Leo Lei, Design Milk's resident minimalism expert, who shares everything from architecture, interior design, home furnishings and tech, all with a scaled back design that's void of all extraneous details. Now, we're revisiting the most popular Skim Milk posts of 2020.
Best Skim Milk Posts of 2020
1/2 Photos
2/2 Photos
10. The Minimalist Ruxton Rise Residence by studiofour
Ruxton Rise Residence is a minimalist home located in Melbourne, Australia, designed by studiofour. The home is based on the client's three most important life values: family, health and integrity. The home goes beyond a physical structure, but becomes symbolic of the family's beliefs.
9. ORTHO Is a Minimalist Concrete Home in the Kanto Region of Japan
ORTHO is a minimal home located in the Kanto region of Japan, designed by Apollo Architects & Associates. The design of the residence makes use of the distinctive shape and topography of the tiered, irregularly shaped plot.
8. Supersoft Modular Sofa by Note Design Studio
Supersoft is a modular sofa designed by Stockholm-based atelier Note Design Studio for Fogia. The conception of the sofa began when the studio took a trip to Italy only to realize the softness and comfort of southern European furniture in comparison to the more ascetic strictness of Scandinavian design.
7. Grand Relations by Liljencrantz Design
Grand Relations moved to their newest minimalist showroom located in Stockholm, Sweden, designed by Liljencrantz Design. Situated near Vasaparken, the spacious interior features 16-foot ceilings at roughly 2,200 square feet, providing ample room for the quickly growing agency.
6. Outside In Minimalist Villa by i29
Outside In is a minimalist villa located in Hilvarenbeek, The Netherlands, designed in collaboration between i29 and Bedaux de Brouwer. Designed for a family of four, the spacious residence allows for all rooms to be horizontally connected, blurring the lines between interior and exterior space.
5. Minimalist Apartment in Taichung by THEY Department
Apartment in Taichung is a minimal apartment located in Taichung, Taiwan, designed in collaboration between THEY Department, Lore Design, and ShenKe Studio. This space is an extension of the aesthetics of the THEY brand, focusing on geometric shapes and considered design details.
4. The Minimalist Cross Chair Tube by PearsonLloyd for Takt
Cross Chair Tube is a minimalist chair designed by London-based studio PearsonLloyd for Takt, that shares a visual language and assembly method to its predecessor. While the original Cross Chair features a solid oak frame, the Cross Chair Tube incorporates a recycled tubular steel frame.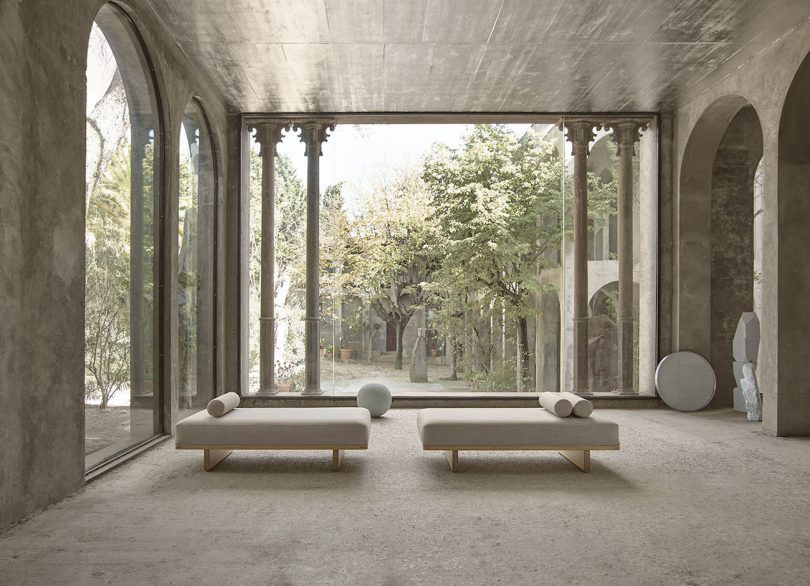 3. The Minimalist BM0865 Daybed by Børge Mogensen for Carl Hansen & Son
BM0865 Daybed is a minimalist, solid-oak daybed designed by Børge Mogensen for Carl Hansen & Son that's part of a re-launch of the renowned Danish architect's work, which was shown for the first time at the 1958 Carpenter's Exhibition.
2. A Minimalist Apartment in Kiev by Olga Fradina
Apartment in Kiev is a minimalist interior located in Kiev, Ukraine, designed by Olga Fradina, whose design principle for this space was to create a livable interior that was individual oriented. As such, the designer chose natural materials and neutral tones as the main subjects of the interior.
And the most popular Skim Milk post of 2020 is…
1. A Contemporary Japanese Interior in an Amsterdam Canal House
Located in the city center of Amsterdam, Netherlands, the eclectic canal house was designed as a minimalist retreat by Amsterdam-based studio Mokkō. The designers were tasked in creating a contemporary central living room inspired by Japanese sensibilities and aesthetics.