We're still in the process of working on our backyard, but since it's such a big budget project, we've kind of put decorating or any other house updates on hold. I wish I had something to share here last month, but showing you pictures of dirt piles wouldn't have been all that exciting. However, we recently get a new kitchen faucet – hooray! Our entire house came with chrome fixtures from showerheads to faucets… Chrome is a beautiful finish option, but for us, it just felt a little too… romantic? Flashy? Not sure, but there was no stainless steel or brushed nickel option when we purchased our home (I know—weird, right?), so we opted for the standard chrome package. When we added our IKEA METRIK handles, we realized that our faucets and fixtures really didn't match. Although I'm not a matchy-matchy kinda gal, I just felt it was a little too contrasty for me. However, it's not cheap or practical to change them all out immediately, so we decided that we'd live with them and change them slowly over time.
I've been obsessing over black faucets for some time now, thinking how amazing it would look to have something a little different… something that would go with every wood finish, every metal and every tile or countertop. Most of what I've seen in the way of black fixtures has been in the bathroom, but I scoured the interwebs for some kitchen inspiration:
I recently worked with Brizo on a fun Twitter event and they offered to send me a faucet. Needless to say, I jumped at the chance to get myself one of their hot matte black SOLNA faucets with SMARTTOUCH®.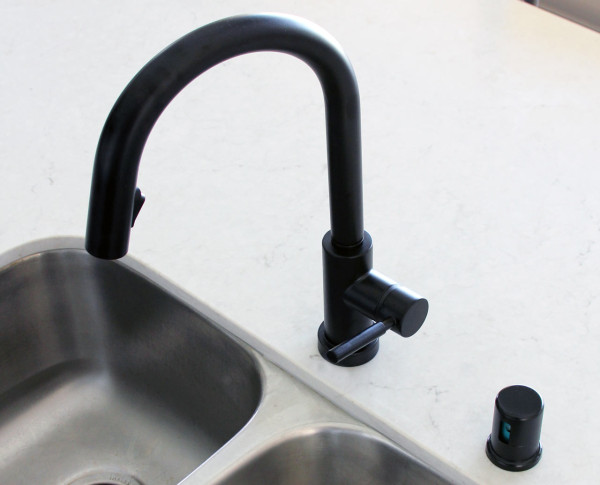 You guys, I'm in love with this thing. It looks so perfect in my kitchen and I LOOOOVE the on/off touch technology. We signed up for Blue Apron back in May, so we're always washing and chopping veggies now. Between that and a sticky, messy toddler, our sink works overtime. I considered getting white, but the black was just calling my name… and I figured it would probably get less dirty.
Brizo doesn't make a matte black air gap cover, and my chrome air gap one was driving me crazy so I bought some matte black spray paint and went to town. It made a huge difference!
Here's what our house came with:
Darn it! Now I want a black sink, too! HA.