You might have seen Blofield Air Design's Chesterfield-style chair and sofas we mentioned several years ago. Well, they've continued on their sleek inflatable and fabulous mission with an expanded and updated line that includes 1-, 2-, and 4-seater sofas, along with their latest and greatest DoNuts design—a doughnut shaped seat with a table on top. I love the fact that you can use your Blofield pieces inside the comforts of your own home or, best of all, in the great outdoors.
They're super durable and come with their own pumps. The material is UV-protected and, of course, weatherproof for their trips outdoors. You'll never again have to sit on the ground while camping!
The DoNuts are a clever table/seating combination with an inflatable doughnut-shaped seat that fits six people with a white table that sits on top. Perfect for eating or playing games while you're communing with nature. The choices are mind-boggling: DoNuts Original (black), DoNuts Solids (15 colors), DoNuts Solids Plus (40 colors), DoNuts Leather-Look (48 colors), and DoNuts Animali (black, bronze, or white).
An electric Big Pump is included and inflates the tube within a matter of minutes.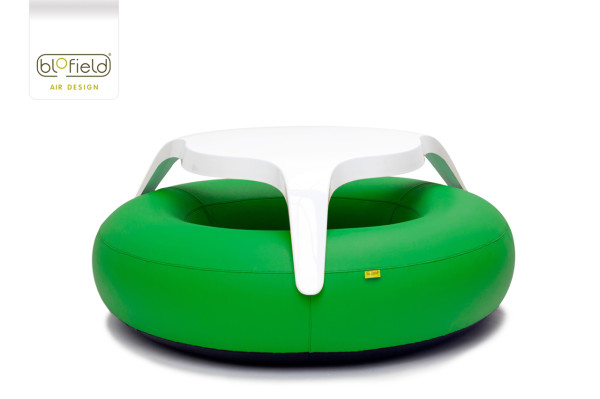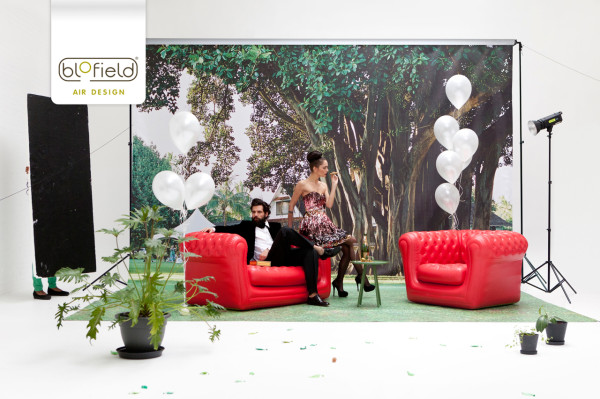 Big Blo comes as a 1-seater or 2-seater, and there's even the Very Big Blo which is the mighty 4-seater. Resembling an authentic Chesterfield sofa, the Big Blo's provide comfort and the look of a traditional sofa but with the ease and mobility of an inflatable piece. The collection comes in black, red, or stone white and comes with additional vinyl protection on the bottoms to ensure durability while it's outdoors. The Big Blo also includes an electric pump to inflate and deflate within minutes.