Unless you live somewhere perpetually warm, an electric fan is a seasonal affair. Hauled out from the closet or garage to do its summertime duty, once temperatures dip, large fans migrate back into storage until next summer. Korean designer Jiyoun Kim recognized hauling a unwieldy fan back and forth posed not only a physical challenge, but one deserving of an aesthetic makeover.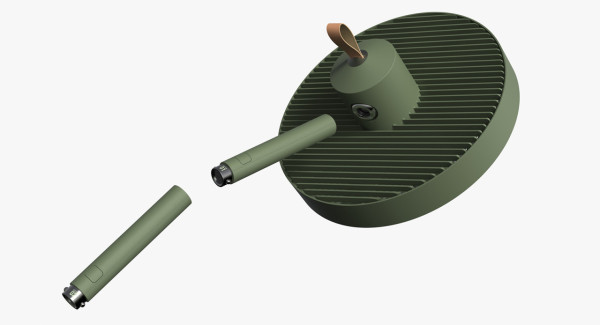 Minimal and modern, the muted and matte color palette presents the 8-blade Conbox electric fan by JiyounKim Studio, which shares the aesthetic hallmarks of a design you might catch in a Muji or Plus Minus Zero catalog. Conceived controls are pushed over to a compatible app, permitting speed, duration, and sleep modes to be set accordingly.
But the best feature isn't digital, but physical: the Conbox is designed to disassemble into four parts and fit neatly into a single compact tagine-shaped form factor, complete with small leather handle for carrying to and fro. An elegant solution we hope to see make the migration from concept to retail availability by next summer.