Located in a suburb of Sapporo, Hokkaido, Japan, the Case House, designed by Jun Igarashi Architects, looks like a simple box design on the exterior, but the white and wood interior is full of surprises.
The wires that extend up to the roof are there in hopes that growing plants will wind their way up adding a buffer zone between the outside and inside of the house.
To liven up the simple exterior, the panels that clad the house get smaller in height as they get closer to the ground.
Once inside, you'll notice the steel staircases that curve as they connect the loft-like floors.
The home is equal parts wood and white, balancing out the clean, playground-like interior.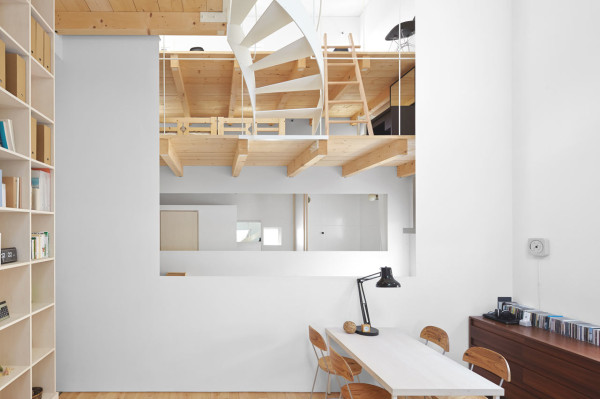 Floor-to-ceiling bookcases add plenty of storage space for the open interior.
From the kitchen, you spot another curvy staircase.
What a cool place to play if you were a kid. While it doesn't look the safest, it definitely looks super fun, doesn't it?
Photos by Daici Ano, except where noted.