Desert Eichler Homes from KUD Properties is bringing sexy back. In the form of Eichler homes.
Between 1950 and 1974, Eichler Homes built over 11,000 homes in nine communities in Northern California and homes in three communities in Southern California. They've become very sought after in recent years. Once upon a time you had to have a gigantic budget and a lot of luck to land one of those famous mid-century modern desert-style homes. Desert Eichler Homes is going to change all that.
Imagine being about to have your very own Eichler, but modernized to fit today's lifestyle. KUD Properties is offering these designs in the greater Palm Springs area, but we're hoping that you can eventually get one anywhere you want… I'm especially excited about this because I've been a long-time fan of Eichler homes, specifically because of their ranch-style MCM design and central atrium.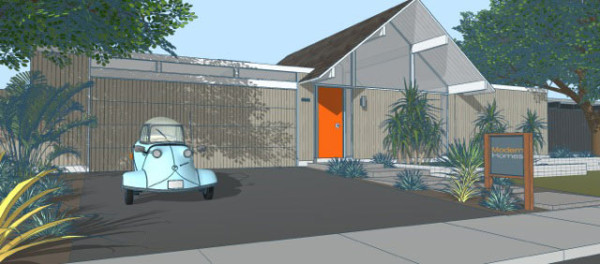 To start, they're offering four floor plans between approximately 1800 and 2400 square feet plus atrium and a finished lot front and back with architectural pool. They plan to break ground in the next 90 days on the first A-Frame model. I am super excited to see the first model go up – hopefully I can get out there for an in-person tour.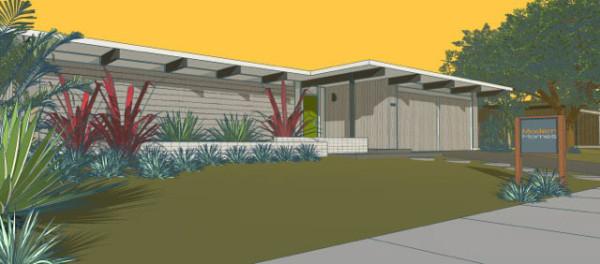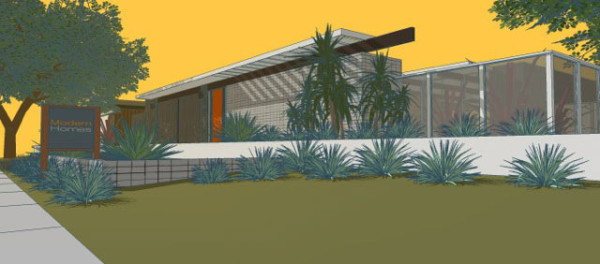 Renderings by Thomas Sylvia from Modern Homes.