You don't have to be a SoulCycle instructor or even go to the gym 5x a week to appreciate activewear, a fashion trend that has taken root in America. There's been a shift in the fashion mindset that comfort should prevail all but it doesn't have to be substituted out for style or function. So why not combine the comfort and technical properties of athletic wear, and update it for casual wear? One of the first brands to take the lead in bridging the gap between gym-life and life-life is New York-based Outdoor Voices, founded by Tyler Haney. Since launching in 2014, Tyler has created four stores (two in Texas, two in NYC). Today, we're visiting the brand's first NYC location in Nolita designed in collaboration with Will Fox, an Architectural Designer from McGuire Hospitality.
Read on to find out where Tyler got the name Outdoor Voices, the 3-word mantra she goes by (that I'm now adopting), and how Will defines modern design in the realm of fashion…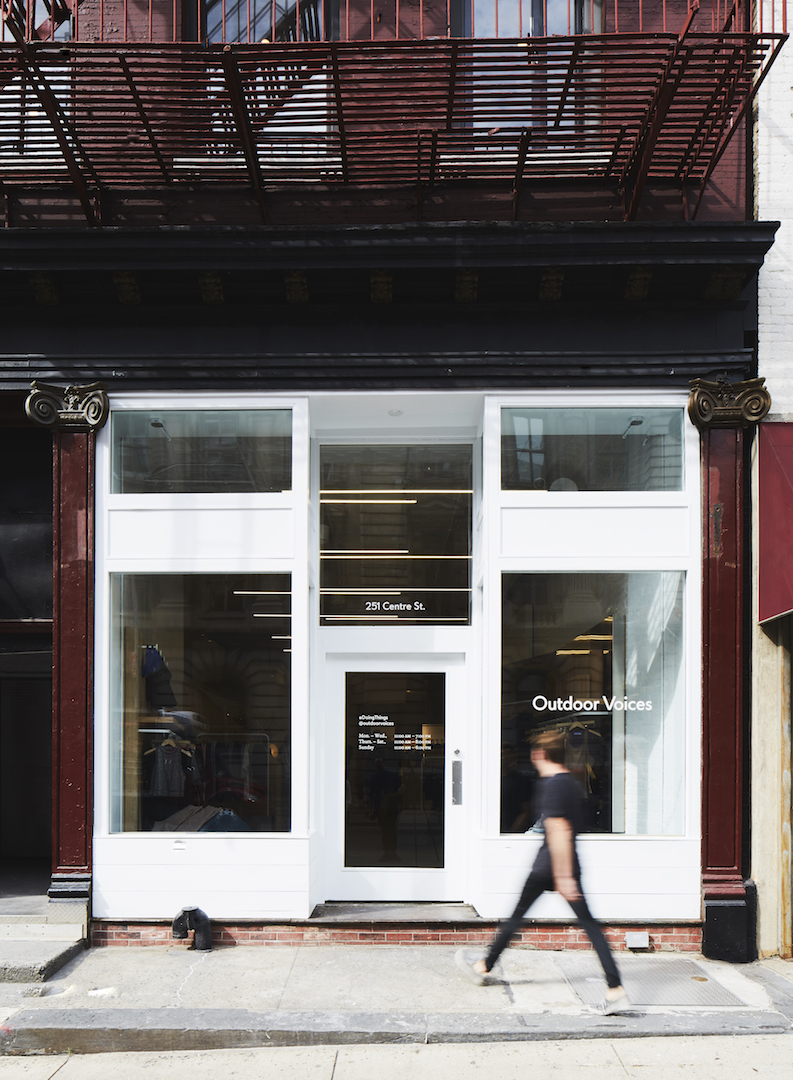 Why did you pick this neighborhood?
TH: Community is so important to us. We opened our New York pop-up about a year ago in Nolita and have always considered the surrounding area home. When we were finally ready to open our first permanent store in NYC, we knew that we wanted to stay local, so we opened up a store around the corner (with our NYC headquarters right above it)!
How did the name Outdoor Voices come about?
TH: It plays off the memory we all have of our moms telling us to use our indoor voices. It's a nod to recreational activity and our mission to get people out there Doing Things together. Being active doesn't mean you have to be competitive — it's about moving your body and having fun.
Has the store changed much since it opened? How?
TH: The store has always been a "recreational center" for our team and community. We use it as a meeting spot for activities, like OV Joggers Club, pickup basketball games and dog jogs. We're constantly updating the product in there, but our intention is for it to continue to be community hub for activity.
WF: The store has taken on a life of its own i.e. social dog walks, yoga classes and jogs.  The store is meant to be a social hub, so we hope it keeps evolving as people use it.
What's one of the challenges you have with the business?
TH: We want OV to become the next great activewear brand, and that's a lofty goal for a young company. I know we're doing something different from the traditional players in the space, and that's what drives us forward. Our amazing team impresses me everyday with the hard work it takes to get us there.
What other stores have you worked in before opening this one?
TH: We opened our first store in Austin in 2014, and since opening up in Nolita have opened another New York City store on the Upper East Side, as well as a shop in Dallas.
WF: ByGeorge in Austin
What's your favorite item in the store right now?
TH: Our current collection is inspired by desert plants, and I'm obsessed with the new Cactus color we introduced. I've been wearing our Tri-Tone Leggings in Forest/Sage/Cactus pretty much nonstop since they launched a couple weeks ago.
What is this season's theme/inspiration/story?
TH: Nature plays a big role in our spring collections; it's all about cacti, pebbles, and crystals. Our teams are surrounded by so much nature in Austin, and I'm sure that influenced our color palette!
Are you carrying any new products and/or undiscovered gems you're particularly excited about?
TH: We launched a fabric called Tech Sweat this past year, and like the name implies, it's made for high impact or particularly sweaty activities. It's cool to the touch, wicking, and dries quickly. Summer's around the corner, and I'll definitely be playing beach volleyball in our Biker Shorts.
What's been a consistent best seller?
TH: The Athena Crop and 3/4 Warmup Leggings are OV classics. They're two of our signature styles and are super versatile – you can wear to yoga, or on a jog, or running errands around town… I've always got that duo close at hand.
What does modern design in the realm of fashion mean to Outdoor Voices?
TH: We're lucky to have a design team that hails from both the active world and the fashion world, since we're designing activewear that bridges the gap between gym-life and life-life. Our clothes are functional, without sacrificing style or comfort.
WF: We definitely try to use the design of the stores to showcase OV's approach to clothing design which is keeping it casual and fun, like the brand. Not too sterile or "design-y."  OV celebrates individuality and the way people wear the clothes uniquely, and we wanted to express that with spatial layout and composition of the store (ex.the three formal and experientially distinct fitting rooms).  We look at art, architecture and design, for inspiration but don't want it to feel pretentious or imposing. We wanted the SoHo store to be warm, but also clean and modern. Therefore, we chose some raw and earthy materials such as blush-colored plaster, wool carpets, vintage knoll fabrics, and combined them with more contemporary elements like Douglas fir plywood, sheets of raw aluminum and vein cut travertine.  There are some Donald Judd, Frank Gehry, Georgia O'Keefe, and Gio Ponti Influences.  We also looked at store designs from fashion brands we respect like ACNE and APC.
Any special events/exhibits/pop ups/collaborations coming up?
TH: We always have tons of community events in our stores, and we've got a bunch of projects in the works for this year. I'm excited to share more when the time comes.
Do you have anything from the store in your own home?
TH: Aside from tons of OV product, the painting behind our cash wrap (by Les Rogers) is technically on loan from my home. It's one of my favorite pieces, but it adds such a perfect brightness to the shop that I'm happy with it taking a little vacation.
What's next for you and your store?
TH: We're planning to open four more stores this year. Can't wait to meet our new neighbors!
What's one lesson you've learned since opening the store?
TH: One of our goals with retail is to integrate ourselves into each store's local community, and we've learned that it's important to really get to know the area before making a move. We've had success with our Centre St. in part thanks to our previous experience with a pop-up around the corner and the intimate knowledge of the neighborhood that comes from spending time there. We always want to get to know our surroundings before putting down roots.
WF: Keep the palette simple. Design a few elements to have big impact, and let the materials do most of the work.
If you could give one piece of advice to someone who wants to follow a similar path to yours, what would it be?
TH: It would be what my mom used to tell me when I was little: TYB, baby. It means "try your best." Building a business requires tenacity! You have to be passionate and have unbound energy for what you're creating.
WF: Go with intuition, build physical models, let restraints become design opportunities (i.e. cylindrical fitting room was derived from the need for ADA accessibility. The required turning radius helped dictate the form, which we thought was interesting to express). ​
To visit Outdoor Voice's Nolita location, stop by 251 Centre St, New York, NY 10013.