Back in 2015, we featured Bugaboo founder Max Barenbrug for our Friday Five column in which he shared that nature keeps him inspired. Specifically he shared,
Nature is always in balance and there's a lot we can learn from it. Even in the most urban spaces nature finds ways to survive and adapts to changing landscapes. What I find most fascinating is that the environment seems to compensate the effects of man through these balances.
Five years later, we see just how inspiring nature is to the Bugaboo company as they released their latest Mineral Collection designed for their premium Bugaboo Fox, Bee, and Donkey strollers. The luxe melange fabrics are available in two tranquil tones – Light Grey and Taupe – inspired by nature and wabi-sabi philosophy. You can purchase the new collection as a new stroller or as a style set to give a fresh look to your current Bugaboo stroller.
The aesthetics of the Mineral Collection help to highlight what is really the star of the show: the stroller design underneath. We tested their latest Bugaboo Fox and it's no wonder that everyone from celebrities to members of the royal British families decide to join the Bugaboo crew. Its products are thoughtfully designed to provide the best form of transportation for the smallest member of your family. When it comes to strollers, the details really matter here – or, trust us, your tiny critic will let you know. The advanced all-wheel suspension allows for ultra-smooth rides on any type of terrain, important for napping babies and the parents who are trying carefully to navigate tight spaces and corners as to not disturb said napping babies. The breathable soft pillow-top padding provides comfort for long and short rides.
What really sets the Fox apart from other alternatives, though, is that it is apparent that the designers at Bugaboo really thought how the stroller could perform outside of its main function. For example, the stroller seat can be removed to become a self-standing chair, handy for picnics or the doctor's office, and when paired with the Bugaboo Stand, the bassinet is safe for overnight sleeps on trips away from home. You might feel inclined to coddle your stroller as much as your baby, especially since the premium stroller comes with a matching price tag. However, Bugaboo created the Fox to last, so the parts that wear-and-tear the most, like the wheels and the handlebar grips, can easily be serviced and replaced, so that you can refresh your stroller between different children and seasons.
We wanted to learn more about the Mineral Collection and Bugaboo's design thought process so we got in touch with Senior Lead Designer, Aernout Dijkstra-Hellinga, to learn more.
How did the inspiration for the Mineral Collection come about?
Our styling team was inspired by the Japanese wabi sabi philosophy, which has a great love for nature and its process, it embraces the beauty of imperfection. "Wabi" is said to be defined as "rustic simplicity" or "understated elegance" with a focus on a less-is-more mentality.
"Sabi" is translated to "taking pleasure in the imperfect." In the mineral collection we have chosen for fabrics with different structures in a palette of neutral colors. Tranquility, harmony and beauty, it gently motions you to relax, slow down, step back from the hectic modern world and find enjoyment and gratitude in everything you do.
What do you think defines good design in the world of children's gear?
Well-designed products are products that have a perfect balance between beauty and performance. That does not only count in the world of children's gear, but goes for all products. A product should look pleasing to the eye and be a blessing to use. It should give both the parent and the child the confidence to explore the world and do what they like to do.
Next to that, in the world's current situation, I feel that it is of vital importance that a product is relevant and that it will solve problems for the child or the user. It should be used as much as possible, therefore being meaningful in the life of both parent and child. I believe the world has had enough of throwaway products. So good design in that sense are high-quality products that have longevity, classic style, reliable, easy to maintain, repair and be recycled.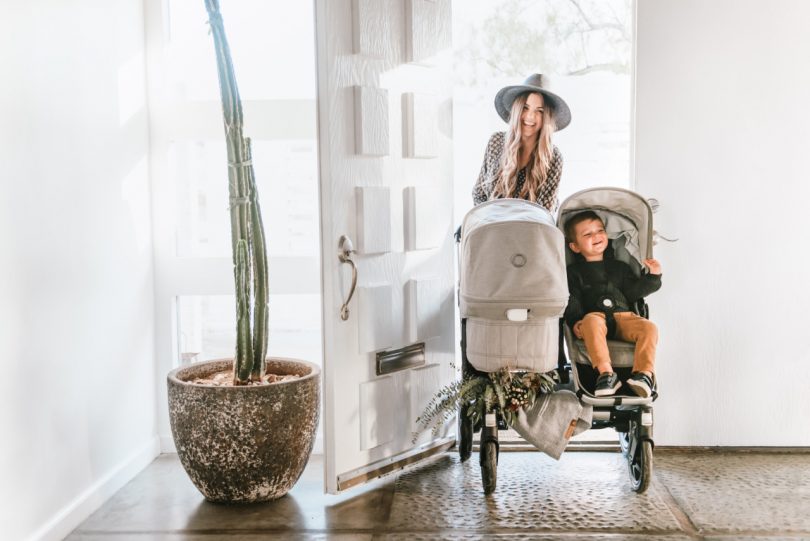 Sustainability is an important factor to consumers today. Tell us more Bugaboo's commitment to designing with that value in mind.
We at Bugaboo strive to reduce our environmental impact and add value where we can. We have a strong commitment and focus on sustainability throughout the whole company, but especially when it comes down to designing and producing our products.
We have developed and strengthened our design principle "designed to last" already from the start of our company in 1999. This principle means making the best possible product, solving existing and latent needs for the user and coming up with relevant and meaningful product that parents and children will use with pleasure and joy every day.
It also means making products using the best suppliers and the best materials we can find. This way, our products can be used for multiple children even multiple generations.
From the start, maintenance and easy repair is one of the key drivers in how we design our products. There is always a wide array of service parts available, even for our older models. We also support people that buy our product second hand, giving them the opportunity to update their stroller with new fabrics or new wheels. Undoubtedly, using an existing product is less harmful for the environment than buying a new product.
Concrete examples of this can be found in our latest model, the Bugaboo Ant. We decided not to use rivets any more, but screws instead. This makes repairing and replacing parts easier. We have also been able to use recycled content in some of our fabrics and even in some of our plastic parts. Next to that, we use plastics with significantly lower environmental impact. The end of life was already considered in the design phase, which is why more than 80% of the stroller can be recycled after use. Other examples are the use of recycled PET bottles in our fabrics for the classic collection and the premium fabrics of the Bugaboo Ant.
Congrats on recently celebrating your 20th anniversary! Bugaboo has changed a lot in the past 20 years but so have parents. In what ways are Bugaboo products made for the modern parent?
We've been at the forefront of stroller innovation since we started in 1999 and continue to invent, develop, test, and manufacture products that combine beautiful design with long-lasting functionality. Today we keep pushing our products forward – both by developing cutting-edge capabilities and by developing new products that go beyond just strolling to give every parent the confidence and freedom in their journey ahead.
Nowadays we listen even better to the needs of parents. This resulted in the brand entering the ultra-compact market by introducing the Bugaboo Ant. Consumers want compact without having to compromise on quality and functionality. The combination of a reversible seat which can be used from birth and the super-compact folding size to fit in the overhead of over 50 airlines is unique to the world and another example of how far we try to push the boundaries.
Next to that, we have a wide variety of colors and special editions to choose from. You can choose your own colors of canopy, seat fabrics, grips and even the rims of your wheels. Our users can also extend the functionality of their strollers with one of the many accessories we offer to fulfill their specific needs. This way, there is a Bugaboo for every parent.
Over the last 20 years, indeed a lot has changed in the field of parenting. There are different ways how to approach parenting and we at Bugaboo embrace the diversity. We know it's not easy but we listen to what parents want and create what they need. With our innovative products we make the lives of parents easier now and for future generations.
Where do you hope Bugaboo will be when you're celebrating its 30th anniversary? What's next for the brand?
In the upcoming years, the focus will be on our stroller portfolio. We will continue to improve our current models, based on the valuable feedback we get from our users. Nevertheless, we will also surprise future parents by introducing some amazing and unexpected innovative strollers.
We realized that parents want us to play a bigger part in their lives, so we will expand the brand, looking into different areas of modern parenting. We start already this year by entering a completely new category. We want to provide parents with products so that they can come to us more often and not only for a stroller. The next ten years will for sure be again surprising and exciting!