Cadillac Ventures Into InnerSpace While Teasing OpenSpace Exploration
Cadillac Ventures Into InnerSpace While Teasing OpenSpace Exploration
1/13 Photos
2/13 Photos
3/13 Photos
4/13 Photos
5/13 Photos
6/13 Photos
7/13 Photos
8/13 Photos
9/13 Photos
10/13 Photos
11/13 Photos
12/13 Photos
13/13 Photos
Like many automakers, Cadillac has migrated to the Consumer Electronics Show to reveal their most exciting concepts. It was a year ago that the automaker unveiled two Halo concept vehicles, each a preview of the brand's vision of personal transportation unbridled from current driving norms and limitations. The PersonalSpace, a single-seat, personal vertical takeoff and landing concept designed to literally move its passenger above the din and congestion of ground traffic, and the SocialSpace, a roomy, autonomous vehicle for up to six, designed to help passengers relax and recharge. In tandem, the concepts reframe Cadillac from its former repute of traditionalist luxury into a brand invigorated and empowered by future technologies already reshaping vehicles from the inside out.
This year's CES gave the American automaker yet another opportunity to tout their prognostications of an electric and autonomous future, with a vehicle wrapped in sleeker and more seductive sheet metal: the InnerSpace concept.
The third of the Cadillac Halo Concept Portfolio, the InnerSpace is an eye-catching windswept design exercise intended to showcase the freedoms and amenities permitted by autonomous technologies. In sum, relinquishing "the responsibility of vehicle control while dramatic design and advanced technologies maintain the sensation of arriving in a Cadillac." That it does so with a sports coupe silhouette should pique the general public's interest more so than its two more explorative design counterparts.
"Electrification and autonomous driving will fundamentally change the role of vehicles and the experiences customers have with them," said Bryan Nesbitt, GM executive director, Global Advanced Design and Global Architecture Studio. "We're exploring where that will go with these innovative concepts, envisioning mobility as an ally of wellness, giving customers the ultimate luxury, more personal time rather than taking it."
Cadillac's concept only has room for two, but the fortunate pair of the near future will be afforded quite the view thanks to a curved panoramic SMD LED display powered by an AI-driven biometric input and interfaces.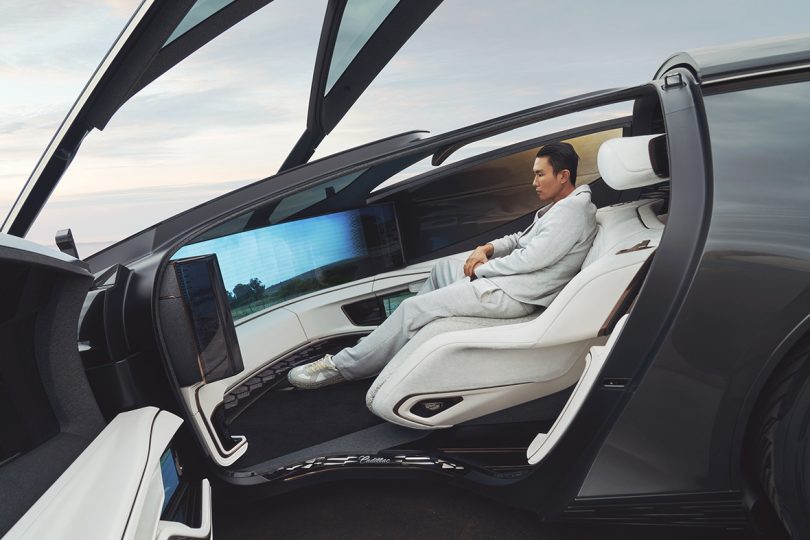 Equally interesting, General Motors teased a new upcoming Cadillac concept dubbed OpenSpace, with only a pair of intriguing images hinting of a luxurious two-story mobile interior setting. Could it be an autonomous Cadillac trailer or recreational vehicle – a luxe hotel room on wheels?